Sing Street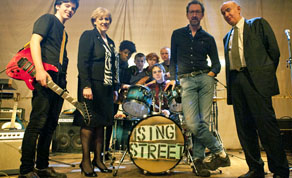 Feature Film
Completed
YEAR: 2015
DIRECTOR: John Carney
WRITER: John Carney

PRODUCTION COMPANY: Distressed Films Cosmo Films

PRODUCER: Martina Niland John Carney Anthony Bregman Kevin Frakes

CAST: Ferdia Walsh-Peelo Aidan Gillen Maria Doyle Kennedy Jack Reynor Lucy Boynton Kelly Thornton

LOCATION: Dublin

EDITOR: Andrew Marcus Julian Ulrichs
DOP: Yaron Orbach
COSTUME DESIGN: Tiziana Corvisieri
PRODUCTION DESIGN: Alan MacDonald
HAIR/MAKEUP: Barbara Conway Corinne Bossu Linda Gannon
SOUND: Niall Brady Peter Blayney Ken Galvin
MUSIC: Bono & the Edge (U2)

« Go back
'Sing Street' has been described as 'a semi-autobiographical tale inspired by the filmmaker's love of music'. Set in 1980s recession-ridden Dublin, it tells the story of a fourteen year old named Cosmo who finds life at home difficult. He decides to forms a band with school mates, whom he writes songs and shoots videos with. When family trouble strikes, he runs away to London with his fifteen year old girlfriend who aspires to be a model.


RECOMMENDED READING
Lance Daly on Directing
Daly has been nominated for his most recent project, Black '47, which picked up six noms in total.