It has been announced that the thrilling new six part 'EastEnders' spin-off drama 'Redwater' filmed in Waterford will first air on RTÉ One Sunday, May 14th at 9.30pm four days before its expected broadcast on BBC One on Thursday 18th May
Written and produced by a Bafta and Emmy nominated team, the new drama follows the story of Kat (Jessie Wallace) a mother who travels to Ireland in search of her lost son alongside her EastEnders screen husband Alfie Moon (Shane Richie).
An all-Irish cast join EastEnders Kat and Alfie for the brand new drama series which is a co-production between Ireland's Element Pictures for RTÉ and the BBC. Includes actors such as Ian McElhinney (Star Wars: Rogue One), Fionnula Flanagan (Song of the Sea), Angeline Ball (The Commitments), Peter Campion (Brooklyn) and more.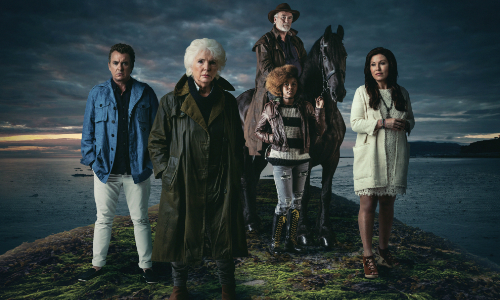 The soap spinoff described by Alfie actor Shane Richie as "never been done before" in EastEnders history. Will see the pair visit Redwater, a small Irish village, in search of Kat's long lost son. Their arrival threatens to unearth deeply buried secrets the villagers of this peaceful idyll on the Irish coast, untroubled by the trappings of modern life would rather leave hidden.
Six weeks of on-location filming took place in the village of Dunmore East, County Waterford, with Coliemore Harbour in Dalkey also used as a filming location.
The script called for a seaside town or village and out of the options found by the location management team, Dunmore East was chosen. Dunmore East was essentially renamed to Redwater during filming, with the local council and businesses getting involved.
Various locations in the village were used, including the beach, The Strand Inn and The Spinnaker Bar. The facade of The Strand Inn was transformed and is called Peter Dolan's in the series. A country fair, called The Winking Fish, was set up outside The Strand Inn for the purpose of filming.
Writers who came on board for the project include: Matthew Graham (Life on Mars); Julie Dixon (Trial & Retribution) Lauren Klee (EastEnders) and Matthew Barry (Death in Paradise).
Producer on the series is Vicky Wharton (Casualty) and Executive Producer is Dominic Treadwell-Collins (EastEnders). Dublin based RMR Music worked on the music supervision and licensing for the drama.
Redwater starts on RTÉ One, Sunday, May 14th at 9.30pm ahead of BBC One's broadcast on Thursday 18th May.
You can watch the recent trailer released by RTÉ for Redwater below.
Series Overview
Kat finds an ally in Lance (Ian McElhinney). He's been in Redwater forever, seems to know everyone and everything. Life and soul of the party Kat is in danger of exposing her identity and her secret.
Despite promising Alfie that she will keep a low profile, Kat can't rest – and is on the hunt for possible suitors who might be her son. Andrew (Peter Campion), son of Roisin (Maria Doyle Kennedy) and Padraig (Stephen Hogan) and wife of local Garda Bernie (Susan Ateh), seems the perfect fit. Could she have found him so soon?
Alfie urges caution and not to get her hopes up. But this is Kat Slater, not known for caution, and the inhabitants tongues start wagging and conspiracy theories form, as they wonder if the Moons really are visiting just for a holiday.
As Kat relentlessly pursues her quest for confirmation that Andrew is her long-lost son, she ruffles feathers with Andrew's mother Roisin at their family farm, further fueling the rumour mill – until Agnes (Fionnula Flanagan) intercepts and sends Kathleen politely on her way. Alfie once again has to play peacekeeper, pulling Kathleen into line and making peace with the locals, allowing the dust to settle.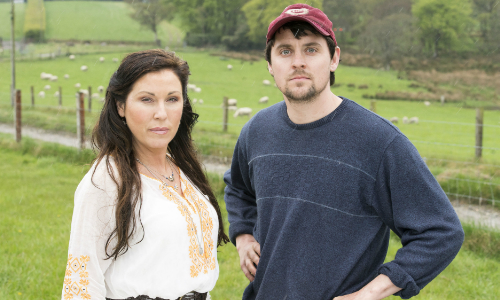 Distracted by her quest, Kat fails to notice that Alfie is hiding his failing health from her.
Twenty years ago, a boating tragedy ripped the heart out of this village's close-knit community. The deaths of Iris Dolan and her niece Aoife appeared to be an accident – but the truth was left buried at the bottom of the harbour.
For Kat Moon, an open-hearted woman from the East End of London, Redwater could be the key to finally making sense of her fractured past. She is in search of her son, a twin taken from her at birth without her knowledge. And a cryptic postcard has led her to Redwater to find him, with her husband Alfie in tow.
Redwater is in danger of collapsing under the weight of its secrets, until Kat begins asking tough questions that finally let the village embark on a cathartic reckoning. But this cleansing of Redwater's past will come at a great cost.
As Kat dives deeper into the private lives of the people here, she risks being fatally swept up in the storm she's started. Is one of the young men scarred by that tragic night really her son? And, if so, what sort of man has he become?
Cast
Starring the two EastEnders characters Jessie Wallace as Kat Moon and Shane Richie as Alfie Moon. There is a whole Irish cast made up of some well-known and upcoming actors that star throughout the new drama. These include; Ian McElhinney (Star Wars: Rogue One) as Lance Byrne, Fionnula Flanagan (Song of the Sea) as Agnes Byrne; Stanley Townsend (Florence Foster Jenkins) as Peter Dolan; Angeline Ball (The Commitments) as Eileen Harrington; Ian Toner (An Klondike)as Kieran Harrington; Peter Campion (Brooklyn) as Andrew Kelly; as Agnes Byrne; Maria Doyle Kennedy (Sing Street) as Roisin Kelly; Stephen Hogan (Handsome Devil) as Padraig Kelly; Susan Ateh (In Bruge) as Bernie Kelly; Ebony O'Toole-Acheampong (Into the Badlands) as Adeen Kelly and Oisín Stack (Mata Hari) as Father Dermott Dolan.
The first episode of the six part series Redwater, airs RTÉ One, Sunday, May 14th at 9.30pm.