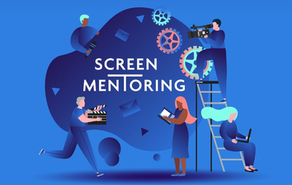 Screen Skills Ireland's third Screen Mentoring programme
Screen Skills Ireland has revealed the 25 screen professionals who have been selected as mentees in the third iteration of the Screen Mentoring scheme.
The programme will see the selected screen professionals take part in one-to-one mentoring with industry experts such as Once producer Martina Nyland, Wolfwalkers writer Will Collins, Herself producer Rory Gilmartin, and Kin creator and writer Peter McKenna.
The mentors will offer their mentees practical, tailored advice and guidance based on their professional experience, on a one-to-one basis.
Following a competitive selection process, the mentees and mentors are:
Evan Horan (producer) – Rory Gilmartin (producer: Herself, Love Yourself Today, Calm with Horses, Rosie)
Conor Dowling (writer) – Will Collins (writer: Wolfwalkers, Song of the Sea, My Brothers)
Garret Daly (producer) – Martina Nyland (producer: Holding, Float Like a Butterfly, Death of a Ladies' Man, Sing Street, Once)
Katie Murphy (writer/producer) – Paul Mayeda Berges (writer/director/producer: Beecham House, Blinded by the Light, Bend it Like Beckham, Viceroy's House)
Clare Dunne (writer/actress) – Lenny Abrahamson (director: Room, Normal People, Frank)
Gary Duggan (screenwriter) – Peter McKenna (writer/producer: Kin, Red Rock, EastEnders)
Jason Branagan (director/writer) – David Freyne (director/writer: Dating Amber, The Cured, The First Wave, Passing)
Tristan Heanue (writer/director) – Aisling Walsh (director/writer: Maudie, Elizabeth is Missing, An Inspector Calls, Song for a Raggy Boy)
Daniel Butler (writer/director) – Siobhán Ní Ghadhra (executive producer: Ros na Rún, Fir Bolg, Sanctuary)
Nathan Fagan (writer/director) – Kieron J. Walsh (director: The Racer, Finding Joy, Jump)
Irina Kuksova (art director/graphic artist) – Sammy Khalid (concept artist/illustrator: Aquaman and the Lost Kingdom, A Boy Called Christmas, Room, Black Mirror, War of the Worlds)
Thomas Ryan (director/writer) – Thaddeus O'Sullivan (director: The Miracle Club, Citizen Lane, Ordinary Decent Criminal, December Bride, Silent Witness)
Nell Hensey (writer/director) – Emma Norton (producer: Normal People, The Eternal Daughter, The Souvenir Part 2, Rosie, The Dry)
Eoin Cleland (writer/director) – Lena Byrne (script producer/story consultant/script editor: Becca's Brunch, Fair City, Zig and Zag's Zogcasts)
Oonagh Kearney (writer/director) – Lisa Mulcahy (director: The Legend of Longwood, Years and Years, Blood, Red Rock)
Juliane Wothe (producer) – Ruth Treacy (producer/director: Bring Them Down, Let the Wrong One In, The Lodgers, The Winter Lake)
Miriam Devitt (screenwriter) – Lauren MacKenzie (writer: Red Rock, The Daisy Chain, The Clinic)
Claire Dix (director) – Neasa Hardiman (director/writer: Sea Fever, Jessica Jones, Hit & Run)
Amy Carroll (development script editor) – Yvonne Donohoe (producer: Boys from County Hell, The Racer, Extra Ordinary)
Elaine Walsh (story producer) – Jerry Twomey (co-founder and finance director of Studio Meala, founder of Jerry Twomey & Co.)
Gemma Creagh (writer) – Jason Butler (producer/director/writer: Bridget & Eamon, Republic of Telly, Skip to the End)
Derek Nagle (producer) – Billy McGrath (producer/director: Citizens of Boomtown: The Story of the Boomtown Rats, The Secrets of Great British Castles)
Eoin Ryan (dubbing mixer) – Aza Hand (sound designer/recording mixer/composer: Son, Two by Two: Overboard!, Boys from County Hell, Never Grow Old, Game of Thrones)
Ivan Cush (screenwriter) – Malcolm Campbell (writer/executive producer: Herself, What Richard Did, Ackley Bridge)
Maria O'Brien (lecturer/film festival administrator) – Grainne Humphreys (director of the Dublin International Film Festival)
Speaking about the scheme, Gareth Lee, Screen Skills Ireland Manager, said: "Screen Skills Ireland is committed to the growth and development of upcoming talent in the screen sector, which is why we are delighted to announce the next 25 mentees to receive support through Screen Mentoring. We hope they will enjoy working with such highly experienced industry professionals, and we wish them every success as they develop their careers with the guidance of their mentors over the next 12 months."
Click here for more information about Screen Mentoring.