With the return of the IFTA award winning Irish goldrush drama to TG4 on February 1st, IFTN speaks to composer Steve Lynch of Stellar Sound about his experiencing scoring for 'An Klondike'.
He tells us how he went about creating those dark, resonating soundscapes to pull you closer into the midst of the storm as the western drama unfolds.
The storylines of the Connolly brothers and their struggle to forge an empire for themselves during the Klondike gold rush of the 1890's is explored in deeper plot twists of violence and deceit in season 2. The music plays an important sensory aid at the forefront and backdrop to reflecting the unfolding of these events and evoking the realm of storytelling through the episodes.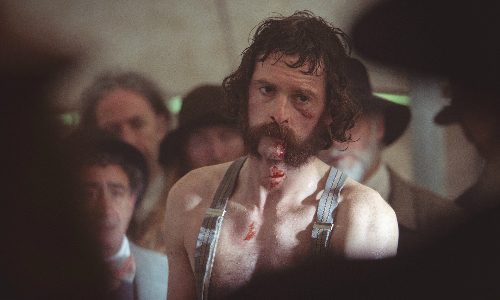 "Working on Season 2 of An Klondike was a lot of fun. Director Dathaí Keane and I had nailed down the style and instrumentation in Season 1, so it was a case of pushing the concept and tone to make it bigger and better. It's a darker story this time around with a lot of violence and lies, so the music needed to reflect that tension and action, and of course help with the more emotive moments," said Steve.
When asked about the musicians involved in creating the soundtrack Steve replied: "I had a crazy good group of musicians for the soundtrack, Colin Derham on clawhammer banjo and vocals, Adrian Hart on fiddle (both members of I Draw Slow), Robbie Harris (Afro Celt Sound system, Jiggy) on percussion, Kenneth Rice on viola and violins, and the incredible Larkfield Four on four-part vocal harmonies.
"I created the darker tonal elements using instruments such as the harmonium, steel guitar and bowed metals, played and processed in odd ways to give it an uncomfortable feeling.
"The town depicted in the story, Dominion Creek, is a gritty place, interestingly that needed to be reflected in the music and playing style, anything too clean or pure didn't stick to the images properly, it was almost as if the players needed a layer of dirt under their fingernails to get the tone right."
'An Klondike' the Irish speaking western goldrush drama series, returns for its second season starting Wednesday 1st February on TG4 at 9.30pm.
To listen to the 'An Klondike' 2 score on band camp. Click here
It will be available on iTunes and Spotify shortly. Keep up to date on Steve's upcoming projects on www.stellarsound.ie
StellarSound is an award winning music company that specialises in commercials and films. It was set up in 2004 by Steve Lynch.
Click here to view StellarSound's Profile on IFTN.
'An Klondike' Season 2 Soundtrack
Composed by: Steve Lynch
Produced and mixed by: Steve Lynch
Mastered by: Richard Dowling at WAV Mastering, Limerick.
Recorded at: StellarSound, Bray, Co. Wicklow, Box Room, Knocknacarra, and the Larkfield Shed, Donnybrook

Vocals: The Larkfield Four
Banjo & Lead Vocals: Colin Derham
Fiddle: Adrian Hart
Violins & Violas: Kenneth Rice
Percussion: Robbie Harris