Titanic is the disaster that just keeps on giving. 100 years on from the sinking of the Irish-born luxury liner, the public's appetite for revisiting the fateful night of April 14, 1912, shows no sense of dimming. Already a flood of Titanic documentaries, television drama series and feature films are to this week arrive on-screens having set sail from production houses all over the world over the past 12 months.
James Cameron's 3D revisit of his 1997 blockbuster 'Titanic' leads the charge at the multiplexes from tomorrow (April 6), with TV3 and Julian Fellowes' multi-million 'Titanic' TV series having already launched last month and been the focus of much of the worldwide attention.
That four-part series, which continues this Sunday (April 8) and concludes on April 15 at 9pm, was co-produced by TV3, who invested €300,000 into the €15m budget. It is executive produced by David Collins of Irish production company Samson Films and boasts a strong Irish cast, which includes Maria Doyle-Kennedy, Ruth Bradley and Peter McDonald.
The Irish connections to Fellowes' 'Titanic' (which was shot in Hungary) end there, but fittingly, like the liner itself, many of those productions that will travel worldwide from this weekend were shot in Ireland and made with Irish co-producers, crew and acting talent.
They include:
'Waking The Titanic'
'Saving The Titanic'  
'SOS - The Titanic Inquiry'
'Titanic Centenary Commemoration'
'Titanic: Blood and Steel'
______________________________________________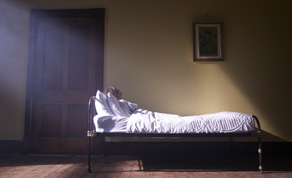 Waking the Titanic
'Waking The Titanic'
Friday April 6, TG4, 8pm and Sunday April 15, TG4, at 9.30pm
Shot on a budget of €180,000 over three weeks last spring and summer, 'Waking The Titanic' is the first of two Irish-made Titanic drama-documentaries which will bookend the Easter Bank Holiday weekend. Produced by Gillian Marsh for TG4 and her own GMarsh TV productions, this one-hour documentary-drama tackles Titanic's story from a unique angle focusing on Lahardane, a small village in north Mayo which saw 14 of its population set off on the Titanic, with only three surviving. The rural village lost a greater proportion of its people in the disaster than any other community.
Marsh calls it "the only real-people story being done around the Titanic". She adds: "I don't think that there's really been many true documentaries done about it."
With Frank Delaney on-board as director and editor, the docu-drama follows the local community as they remember their loss through a ceremony on the main street of the village. It also features interviews with relatives of the passengers, and re-enactments of life in the village for those who went.
Shot on Panasonic VariCam by Colm Hogan, Richard Kendrick, Frank Delaney and Gillian Marsh, it was filmed in Lahardane, with production also taking place in the US to visit relatives of surviving Lahardane passenger Annie McGowan.
The cast used were local, non-professional actors, with funding coming from TG4, Mayo County Council and Marsh herself. Moynihan Russell did the sound post and it was online edited and graded in Egg in Dublin.
It will premiere in Irish for TG4 at 8pm tomorrow (April 6) and repeated on the station on April 14 at 9.30pm.
______________________________________________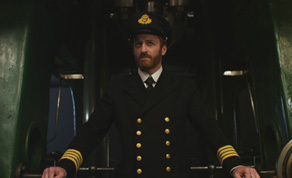 Saving the Titanic
'Saving The Titanic'
Monday April 9, RTÉ, 9pm
Having received its world premiere at the Jameson Dublin International Film Festival in February, IFTA award winning director Maurice Sweeney's 92-minute feature will be broadcast on RTÉ One this Bank Holiday Monday (April 9) at 9pm.
This Irish-German co-production was filmed in London and at Wicklow's Ardmore Studios. Tile Films' were the Irish co-producer with Stephen Rooke (Cromwell In Ireland) producing the €1.6m project.
Its selling point is that it's the first ever drama-documentary film to focus on the engineers of the doomed ship. Based on eye-witness accounts, it features dramatic re-enactments scripted by Britain's Colin Heber-Percy and Lyall Watson.
Sweeney (The Forgotten Irish) says that 'Saving the Titanic' gives a "human face to what happened below deck. The script and story are essentially a look at heroism and how men reacted in different ways."
Rooke adds: "I knew this film would be a real opportunity to bring this untold story of the Titanic to the screen for the first time. This story has never been told in a drama documentary; that's what makes this film unique and why I spent two years of my life putting it together."
The stellar ensemble cast of leading Irish actors includes David Wilmot (The Guard), Owen McDonnell (Single Handed), Ciaran McMenamin (Primeval), Jonathan Byrne (Primeval); Andrew Simpson (Notes on a Scandal), Hugh O'Conor (Killing Bono), Stephen Hogan (Earthbound, The Tudors) and Conor MacNeill (Five Minutes of Heaven). The script for the drama re-enactment is written by Britain's Colin Heber-Percy and Lyall Watson.
Shot on Red cameras, 'Saving the Titanic' features CGI created at Windmill Lane Pictures. Production began last August using purpose built sets in Ardmore Studios. It was shot by director of photography Richard Kendrick (Treasure of the Bogs).
The score was composed by Irish composer Steve Lynch of Stellarsound. Lynch, went to Slovakia in January where he recorded the Bratislava Symphony Orchestra before combining these lush string recordings with the harsh, eerie sound of bowed metal, courtesy of percussionist Robbie Harris at Dublin's Hellfire Studios.
Lynch said of his score: "The idea from the beginning was to use sweeping string motifs to represent the optimism of the time, and to contrast that with dark claustrophobic tones and moods once the disaster begins to unfold."
Lynch has worked with 'Saving the Titanic' director Maurice Sweeney on a number of projects in the past, including the IFTA winning 'Cromwell in Ireland'.
Some of the cues from the soundtrack can be heard here.
'Saving The Titanic' also features narration from Irish actor Liam Cunningham (The Guard). It was co-produced by Reinhardt Beetz and Keith Farrell.
'Saving the Titanic' is a co-production between Tile Films and Gebrueder Beetz Filmproduktion in Germany. Funding came from RTÉ, the BAI, Section 481, the Irish Film Board, AETN UK, ZDF Enterprises, ZDF & ZDF/ARTÉ.
______________________________________________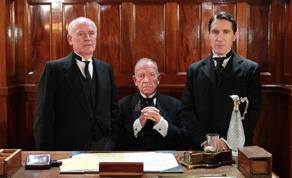 SOS - The Titanic Inquiry
'SOS – The Titanic Inquiry'
BBC One NI, April 16, 9pm
RTÉ Two, April 17, 7pm (as 'The Titanic Inquiry')
Produced by Hole In The Wall Gang Ltd for BBC Northern Ireland, this courtroom drama tells the story of the official British Inquiry into the sinking of the Titanic and its efforts to ascertain whether the SS Californian ship was in close enough proximity to the doomed vessel to help save some of the 1,517 passengers and crew who lost their lives.
Shot entirely over five days in Belfast's Masonic Hall on Rosemary Street, the one-hour drama features Paul McGann (Withnail and I) as well as local actors Stuart Graham (Hunger) and Owen McDonnell, who also stars in 'Saving The Titanic'.
It was written, produced and directed entirely by Northern Ireland's Hole In The Wall Gang, with Tim McGarry (Give My Head Peace), Damon Quinn (Dry Your Eyes) and Michael McDowell (Give My Head Peace) co-writing the script. Quinn also produced, while McDowell directed.
McGarry executive produced for the Hole In The Wall Gang, while Paul McGuigan was executive producer for BBC Northern Ireland. Post-production was carried out by Yellow Moon in Holywood, Co Down.

McGarry said of 'SOS – The Titanic Inquiry': "We shot it all in five days in one location. The crew was entirely local. Lighting cameraman was Jim Creagh (The Crush). We used network acting talent such as Paul McGann, Sam Holland, Iain Robertson and Terence Harvey as well as strong local actors like Stuart Graham (Hunger) and Owen McDonnell."
Describing the budget as "minute", McGarry said the project was funded by BBC Northern Ireland with assistance from Northern Ireland Screen and RTÉ. Network Ireland Television own distribution rights.
It will be broadcast on BBC One NI on April 16 at 9pm with RTÉ to broadcast it the following evening.
______________________________________________
'Titanic: A Commemoration in Music and Film'
BBC Two NI, April 14, 8.30pm
A film and music programme, this 90-minute live event will be broadcast from Belfast's Waterfront Hall on April 14 with a line up of performers that will include Bryan Ferry, Joss Stone, Armagh-born actor Colin Morgan (Merlin), Belfast actor Ian McElhinney (Game of Thrones), Belfast-born Kenneth Branagh and Derry actress  Bronagh Gallagher (Albert Nobbs).
Alongside the live music, the acting talent will read testimonials from survivors and readings. The live footage will be mixed with specially commissioned documentary footage shot in Belfast by director and producer Graham Strong for Britain's Whizz Kid Entertainment productions. The live event will be directed by Tim van Someren. It will be executive produced by Colin Anderson, Rachel Ashdown, Sally Atkins and Malcolm Gerrie.
For the documentary scenes shot in Belfast, a number of local Irish crew were employed. Speaking to IFTN, Wizzkid CEO Gerrie said that the use of local crew was important. He said: "We used a lot of people. There's a strong contingent of Irish people involved, particularly on the performance side. I think that we were all very keen that that should be the case. This is the city's event and it's important that the city is reflected."

The project has been commissioned by BBC Two and BBC Northern Ireland from Whizz Kid and Anderson Spratt Group Ltd and received funding from Northern Ireland Tourist Board and Northern Ireland Screen and is supported by Belfast City Council and Tourism Ireland.
______________________________________________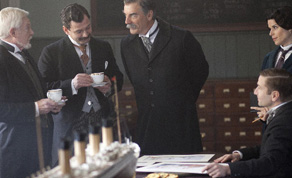 Titanic Blood and Steel
'Titanic Blood and Steel'
IFI, April 10, 6.30pm (IFTA members only)
Undoubtedly the most-anticipated of the Titanic projects shot in Ireland, this 12-part series has yet to find an Irish broadcaster. It will however be screened for IFTA Members next Tuesday (April 10) at the IFI in Dublin and will be broadcast by Italian State Broadcaster RAI towards the end of the month.
With a budget hitting €22m this Irish-Italian co-production was put together on the Irish end by producer Paul Myler (In America) and Epos films.
Directed by IFTA award winning Irish director Ciaran Donnelly (The Tudors, Camelot), with support from Robert Quinn (Primeval), the series began shooting in Serbia last August and September before moving to Dublin in October where it filmed in locations such as Henrietta Street, Dublin Castle, Howth Castle, Earlsfort Terrace and the Guinness Storehouse until last December.
Employing more than 200 people in total on its Irish leg of production, the Irish cast on the project includes Gerard McCarthy, Ian McElhinney, Liam Cunningham, Michael McElhatton and Martin McCann.
They join an international cast led by Kevin Zegers (Dawn of the Dead), Derek Jacobi (Gladiator), Neve Campbell (Wild Things) and Chris Noth (The Good Wife),
Irish crew used included director of photography James Welland (Spooks), production manager Jo Homewood (In America) and Tom Conroy overseeing production design.
Post and full VFX was carried out by Windmill Lane. The editorial team for picture post production was led by Stephen O'Connell (Camelot) and includes Windmill's editor Philip Cullen (Proof) and assistant editors Niamh Burke-Kennedy and Stephen Kidney.
For the period drama the Windmill Visual effects recreated the Belfast ship yards and the building of the Titanic led by supervisor Ciaran Crowley (Inception. Dark Knight).
The show is being produced by Italian De Angelis Group, DAP with RAI in partnership with Paul Myler and Epos films.