Adapted from Lionel Shriver's bestselling novel, 'We Need to Talk About Kevin' focuses on the horror left with Eva (Tilda Swinton), following the mass murder committed by her psychopathic teenage son, Kevin. Touching on issues of subjectivity and the nature/nurture debate, the story is told to us through Eva's uneasy eyes. What was written in epistolary form in Shriver's novel is transposed into visual methods of communication in Lynne Ramsay's bleak adaptation, removing the need for obvious dialogue.
"She doesn't rely on words,"
says Cinematographer Seamus McGarvey of director Lynne Ramsay,
"her filmmaking is extraordinarily cinematic."
McGarvey compares Ramsay's work to the French concept of camera-stylo ('camera-pen'), with even her early shorts such as the BAFTA nominated 'Gasmen' and 'Kill the Day' showing a
"very singular voice and a photographic signature."
Ramsey and McGarvey teamed up for an intense two-month preparation period before the 30 day shoot for 'Kevin', with Lynne and her husband Rory Kinnear moving in to Seamus' New York apartment. It was here that the unique visual style of 'Kevin' was solidified as Ramsey and McGarvey went through the film scene by scene with a fine tooth comb. "Because the production had such a difficult birth, we weren't sure up until the very last minute that we were actually going to be able to make it. As part of this process to ensure it got made, we worked out a very precise shot list and worked out ways to be economic - but economic in service of the script." It was through this process McGarvey became immersed in Lynne's vision. Visiting exhibitions, going to bookstores, looking at art and films were all methods used by Ramsay and McGarvey to cement the visual themes. But ultimately, it was the friendship formed between the two during this period that aided the time-tight production. "When shit hits the fan on a film set and you suddenly have to have a shorthand – you have to almost inhabit the director's mind and work with autonomy. This worked out well for us because by the time we came to shoot the film, we were very in tune with each other."
It was also during this prep period that several of the memorable flashback scenes were born. Distinct from the main body of the film, which is mostly 35mm anamorphic, the flashback scenes of a joyous couple on the streets of New York are shot on the Canon 5D and emerged from a test shot taken in a deluge following a few drinks in a Spring Street bar. "She (Tilda Swinton) and Rory (Rory Kinnear) playacted in the role of Tilda and John. I had my Canon 5D with me and I shot wide open on a 50mm f/1.2 lens. It had such a free form approach, possibly because we were all a wee bit tipsy. The light was extraordinary - dancing off the street. When we came back and watched it, we realised how beautiful it looked." Following the impromptu test shot, McGarvey had a print struck to see if the footage could sustain being blown up. The results were "jaw dropping. The digital had this lovely dreamlike quality, particularly how the focus ebbed in and out. It was almost like the lens renders things that you can't see in this way. It is entirely unique and dreamlike."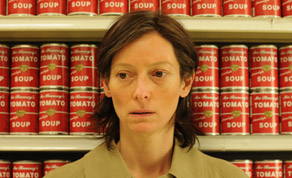 Tilda Swinton in
We Need to Talk About Kevin
McGarvey then went on to shoot several other 'Kevin' scenes on the Canon 5D, which allowed him the freedom to shoot intimate scenes "just inches" from Tilda's face, including John and Tilda's lovemaking scene and the disturbing Halloween scene, where Tilda drives back to her house surrounding by masses of children in costume. For McGarvey and Tilda Swinton, this freedom of movement and distance brought them back to previous collaborations with the legendary British Filmmaker Derek Jarman, "shooting on Super Eight chasing Tilda down a beach. That kind of filmmaking is a real rush."  This spontaneity and free form approach seeped through onto the 'Kevin' set, despite the carefully planned shot lists. Weather difficulties, location changes and the difficulties of working with children all brought some "wildness" to the shoot. The input of Tilda Swinton also inspired changes to the pre-planned scenes, explains Seamus. "Tilda Swinton comes up with ideas on the spot and they get woven into the film. They might be ideas for shots or for staging the very thing we had imagined very often shifted and altered for the better with Tilda's input. She's an amazingly collaborative actor when it comes to the staging of the scene and the choreography. That was wonderful!"
We Need to Talk About Kevin
The main bulk of the 'Kevin' scenes were shot in 35mm anamorphic. An unusual choice for a low-budget film, it was a choice that director Lynne was initially wary of, thinking it may be too grandiose for the dark subject matter and the mundane locations. "What I loved about 35mm anamorphic is that it had negative space. There was space to play the characters off of each other. This space between them became volatile and full of tension when you play the peripheral edges on the plain," says Seamus.
"But there are other ways of achieving that compositionally. What is particularly peculiar about anamorphic 35mm is the way the optics renders depth of field; it is a much shallower depth of field. We were able to use that to express interiority or what is in someone's mind. This is partially because the context and the environment falls off into softness so quickly, leaving just a head, or an eye in the foreground."
The opening scene of 'We Need  To Talk About Kevin' shows Eva writhing in a mass of tomatoes at what we presume is Spanish festival La Tomatina. The colour red continues to appear in various forms throughout the film, from the dried red paint which Eva attempts to scrape off her house to the jam squelching out of Kevin's sandwich. This motif of red was another factor that influenced McGarvey's choices. "We wanted to create distortions with flare and with colour. Particularly red, which has psychological oscillation and also a vibrancy to it. The anamorphic clarity and the extended negative area - particularly in low light - allowed us to use the colour and for it to have a very deep seated saturation."
McGarvey also played with light and flares, using little torches with coloured gels to visually communicate some of Eva's distortions in perception. "It was almost as if the cinematic eye of the protagonist (i.e. Eva) was corroded with light. The light might represent truth or it could have been a memory, it could be anything." With light and colour being so central to the visuals of 'Kevin', McGarvey and Ramsay were both heavily involved with the grade, which took place at Lipsync in Soho, London. "I always make sure I am available for the grade," says Seamus. "So much can happen during the process. With photochemical grading at the laboratory, there used to be less done to the images. Now it is extraordinary how an image can be altered. For that reason, I make sure that what me and the director intended gets there in post production and in the grade."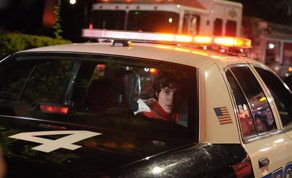 We Need to Talk About Kevin
As an Oscar-nominated Cinematographer, McGarvey's credits run an impressive list including films such as 'Atonement', 'Nowhere Boy', 'Charlotte's Web', 'World Trade Center', 'Sahara' and 'Love You More'. Straight after shooting 'We Need To Talk About Kevin', he joined the set of upcoming Superhero blockbuster 'The Avengers'. When I ask McGarvey for advice on equipment for aspiring cinematographers, he says that every piece of kit should be tailored to what you are trying to achieve. "The beauty of photography or cinema is that you make every choice based on the content at hand. I understand that sometimes there is no choice and you have to go for the cheapest option, but if you are limited for choice, you can still make poignant decisions that will effect the look of the film," adds McGarvey.
Seamus is currently shooting for Joe Wright's adaptation of the Tolstoy classic 'Anna Karenina' starring Keira Knightley, Jude Law and Aaron Johnson. McGarvey, Knightley and Wright all previously worked together on the set of 'Atonement'.
'We Need to Talk About Kevin' is released on October 21st at Cinemas nationwide.