Irish cinematographer Seamus McGarvey and Irish producer Fodhla Cronin O'Reilly have both been nominated for an Oscar for their work on 'Anna Karenina' and 'Head Over Heels' respectively.
The news comes just a day after Armagh-born McGarvey received an IFTA and a BAFTA nomination for his work on the Joe Wright period drama, which stars Keira Knightley and Aaron Taylor Johnson.
It is the second Oscar nomination for McGarvey, who previously received one on another Wright and Knightley collaboration 'Atonement'.
'Anna Karenina' was nominated for four Oscars in total: Cinematography, Costume Design, Production Design and Music.
Fodhla Cronin O'Reilly's short animation 'Head Over Heels' has been nominated in the Best Animated Short Film category. Cronin O'Reilly shares the nomination with director Timothy Reckart.
It is Cronin O'Reilly's first Oscar nomination for the animation which sees a married couple live on opposite sides of their house; one lives on the ceiling the other on the floor.
The Academy of Motion Picture and Arts announced its 2013 nominations today (January 10). Steven Spielberg's 'Lincoln' dominated the nominations list, earning 12 in total, with Irish-based actor Daniel Day-Lewis receiving his fifth Best Actor nomination.
The Oscars will be held on February 24 and will be hosted by 'Family Guy' creator Seth MacFarlane.
Seamus McGarvey, Kris Kelly, Evelyn McGrath, Eamonn O'Neill and Martin McDonagh Nominated For BAFTA Awards.
Irish filmmakers Seamus McGarvey, Kris Kelly, Evelyn McGrath, Eamonn O'Neill and Martin McDonagh have all been nominated for BAFTA Awards, which were announced today.
Armagh-born McGarvey has received his second nomination today for his cinematography work on Joe Wright's period drama 'Anna Karenina', having been nominated for both an IFTA Award and a BAFTA Award in the same day.
'Anna Karenina', released in 2012 to critical acclaim, stars Irish actor Domhnall Gleeson and Oscar-nominee Keira Knightley. The film was McGarvey's second time to team up with both Wright and Knightley, having previously worked on 'Atonement' together, for which he received an Oscar nomination.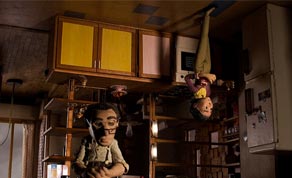 'Head Over Heels' is nominated for an Oscar
IFTA-winning McGarvey is up against 'Game of Thrones', 'Citadel' and 'What Richard Did' in the 2013 IFTA's, and 'Les Miserables', 'Life of Pi', 'Lincoln' and 'Skyfall' in the 2013 BAFTA's.
Belfast-based duo Kris Kelly and Evelyn McGrath have also been nominated for a BAFTA Award for their short animation 'Here to Fall'. Kelly directed from McGrath's script for the Blacknorth production. The short sees a girl connect with her father through a digital connection, only for her to soon realise she is falling into darkness after she falls far behind her father.
The short previously won the Quijote Prize at the 2012 Galway Film Fleadh. It is up against 'I'm Fine Thanks', directed by Irish animator Eamonn O'Neill, a graduate of IADT and the Royal College of Art. 'I'm Fine Thanks' previously won the Best Irish Short Film at the 2012 Corona Cork Film Festival.
Martin McDonagh makes the fifth Irish filmmaker nominated for a BAFTA with his comedy 'Seven Psychopaths' nominated in the Outstanding British Film category. The film starring Colin Farrell, Sam Rockwell, Woody Harrelson and Christopher Walken is up against 'Anna Karenina', 'The Best Exotic Marigold Hotel', 'Les Miserables', and 'Skyfall'.
Other projects which made the BAFTA cut include Ben Affleck's 'Argo', which received a total of seven nominations, and Steven Spielberg's 'Lincoln', which received the most nominations, earning nods in 10 different categories.
Stephen Fry will host the BAFTA Awards in London on February 10.
For the full list of IFTA 2013 nominations, which were also announced today (January 9), click here.
Brendan O'Carroll, Dara O'Briain and Emmett Scanlan Nominated For National Television Awards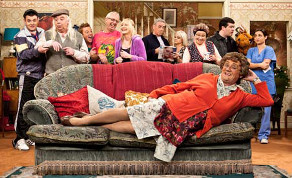 'Mrs Brown's Boys' success continues
The British television awards ceremony, the National Television Awards, have released the nominations for this year's awards. The eventual winners are decided by the public and there are plenty of Irish talents in the running for awards this year. Brendan O'Carroll's hugely popular comedy 'Mrs. Brown's Boys' has been nominated in the 'Situation Comedy' category, while'Mock the Week', presented by Irish comic Dara Ó Briain, has been nominated in the 'Comedy Panel Show' category. Also, Irish-born comedian Graham Norton's BBC comedy chat show 'The Graham Norton Show' has been nominated in the 'Entertainment Programme' category.
There are also two Irish nominations in the acting categories: Armagh-born actor Colin Morgan has been nominated in the 'Drama Performance: Male' category for his performance in the BBC TV series 'Merlin', which recently drew to a two-part close on Christmas Eve. Elsewhere, Dublin-born Emmett J. Scanlan has been nominated in the 'Serial Drama Performance: Male' category for his portrayal of Brendan Brady in 'Hollyoaks'. Scanlan recently shot scenes from the popular soap here in Dublin.
Overall, it was 'Doctor Who' who received the most accolades with 3 nominations in total. while 'Downton Abbey' picked up a nod for 'Best Drama' but was snubbed in all acting categories. The awards will be shown live from the O2 Arena on ITV on Wednesday, January 3, and hosted by Dermot O'Leary.