Beginning today, Monday April 24th, the second season of IFTA award winning Irish drama 'An Klondike' (aka Dominion Creek) by Abú Media will be available to U.S. audiences on Emmy® nominated streaming service Acorn TV.
Season 2 of Dominion Creek picks up a few weeks after the climactic events that brought the first season to a close and continues the story of the Connolly brothers (played by Owen McDonnell, Dara Devaney, and Seán T. O Meallaigh) as they struggle to forge an empire for themselves during the Klondike gold rush of the 1890's.
"Our ambition with An Klondike was to create a drama series that could be shown anywhere in the world," said Dathaí Keane, series creator and director. "It is a series that tells a uniquely Irish story but in a way that will appeal to audiences worldwide and it's a testament to the quality of the production, and the very high calibre of the work of everyone who was involved, that international broadcasters and platforms like Acorn and Netflix have acquired the series."
The Connolly's are united and have established themselves as a force to be reckoned with in the territory, but against a backdrop of growing lawlessness, the Connolly's must face a challenge that threatens all they hold dear, family, friends and gold.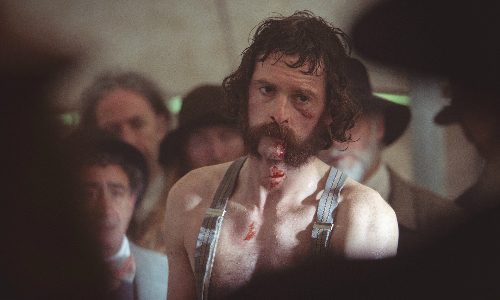 In a previous interview with IFTN, the IFTA award winning Director of An Klondike spoke about the darker story developments within the second season. "We left some major dangling threads at the end of the first season that propels the action across these new episodes and allows us to really get under the skin of the Connolly brothers. The relationship between the brothers is the emotional centre of the story and we wanted to explore the impact that a town like Dominion, where civilisation hangs by a thread, has on them. Their old world of Irish tradition, family and God is gradually replaced by this New World - a world where all those values are lost," said Dathaí.
"Acorn TV is thrilled to offer the U.S. Premiere of Dominion Creek," said Don Klees, RLJE's Vice President of Programming, Acorn brands. Klees added, "There's probably no genre that's more iconic for Americans than the Western. Seeing that kind of story being filtered through another cultural lens and portrayed by a great cast made the show irresistible."
An Klondike is created and directed by Dathaí Keane. It is produced by Galway based company Abú Media and the producer is Pierce Boyce. Season 2 has been written by Marcus Fleming, line producer is Cathleen Dore, the production designer is Mark Kelly, director of photography is Cathal Watters, costume designer is Triona Lillis, editing is by Julien Ulrichs and music is by Steve Lynch.
An Klondike was funded by TG4, the Broadcasting Authority of Ireland (through its Sound and Vision scheme), Content Media Corp, Abú Media Teo, and tax incentives under the Government of Ireland's Section 481 supports. Check out the An Klondike website for further updates.
"An Klondike is not like anything else that has been made in this country," Director Dathaí Keane
Click above to read IFTN's full interview with the IFTA award winning Director as he talked about the challenges associated with the expansion of production scale and character storylines for the second series of An Klondike.
IFTN also spoke to IFTA nominated An Klondike composer Steve Lynch about the second season. Read the full interview in which he offers insight into scoring and creating those dark, resonating soundscapes to pull you closer into the midst of the storm as the western drama unfolds. "An Klondike is a gritty place, that had to be reflected in the music."