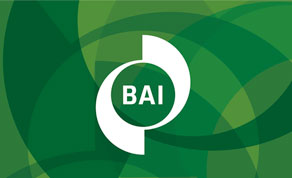 BAI event takes place on Thursday, November 12th
The Broadcasting Authority of Ireland (BAI) will host a public conversation in Cork on The Relevance and Future of Irish Content in the Broadcasting Media on Thursday, 12th November 2015 at 6pm. The event will be held at the River Lee Hotel, Western Road, Cork as part of the Cork Film Festival.
Moderated by broadcaster Claire Byrne, a panel from Irish television and radio services will explore the importance of Irish content to viewers and listeners. It will also examine if media outlets believe Irish content is necessary to attract Irish audiences; if such programming represents a multicultural Ireland; and, audience expectations for quality Irish content. The conversation will also focus on the future for Irish content, and the value of promoting and / or protecting it, both in Ireland and abroad. The Irish Times reviewer, Bernice Harrison will stimulate discussion with scene-setting opening remarks.
The panel includes:
John Purcell, Chairperson, Independent Broadcasters of Ireland
Proinsias Ní Ghrainne, Commissioning Editor, TG4
Margaret Gillan, Chairperson, Community Television Association
Ciarán Murray, Committee Member, CRAOL – The Community Radio Forum
Glen Killane, Managing Director Television, RTÉ
Lynda McQuaid, Director of Content, TV3
Speaking ahead of the event, Chief Executive of the BAI, Michael O'Keeffe said: "There has never been more content available to viewers and listeners on a wide range of radio and television services, as well as on other platforms. Given the level of choice available, a key question that arises is what level of value is placed on 'home-grown' content, unique to Ireland, by both audiences and broadcasters."
O'Keeffe continued: "A key strategic objective of the BAI is to engage with the public and broadcasters in discussion and debate on relevant broadcasting issues. This public conversation event, which will examine the relevance and future of Irish content is a very topical issue, and certainly has a strong public interest. We anticipate a lively and stimulating debate during our Cork conversation, and the BAI will take note of the key issues emerging in the context of our future work."
This event is now fully subscribed and an audience waiting list is in operation. A video of the event will be available to view online in the week after the conversation.