Northern Ireland's VFX and animation sectors are currently enjoying a rise to prominence, helped by factors such as a skilled graduate base, upcoming tax breaks on animation production and world-class facilities.
The unique vision of companies such as Flickerpix Animation have also contributed to this growth, with the studio having beaten off strong competition from Brown Bag Films and others to win the Best Animation category at last week's IFTA Awards.
Flickerpix's short film 'Macropolis', shot in an unusual combination of stop motion, CGI and time-lapse photography, was animated on the streets of Belfast using real world locations. Commissioned by the Unlimited Programme for the London 2012 Festival and Cultural Olympiad, 'Macropolis' is the story of two physically impaired toys that are discarded from a factory production line.
In this week's Making the Cut series, technical director at Flickerpix and CG generalist Nathan Mateer tells us how he chose animation as a career, and why this is such an exciting time for the industry in Northern Ireland.
Generally, working across VFX or as a technical director in studio, the start of my week begins with... a Monday morning meeting with the rest of the team at Flickerpix and Waddell Media, (so we can get updates on all the projects). This week was a good one as I was handed the IFTA Award since the Director Joel Simon was away at Kidscreen.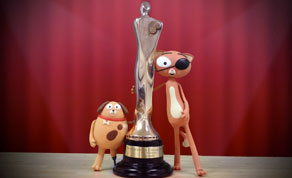 'Macropolis' & the IFTA statuette
Generally I'd check with my production manager or schedule and see what needs to be done. Every project we do at Flickerpix is different so I've no set task that I do every day. The most useful thing that I do every day is to be available for the rest of the team.
The most common misconception people have about my job that I've noticed... mainly from work experience students, is that they'd assume we always know what we're doing.
It's always a learning process when it comes to animation because every project is so different. I really noticed this with 'Macropolis'. There was a ton of research and development done as it was a very unique and technically ambitious project.
If you're looking to break into the animation industry... I'd definitely recommend getting a showreel out there and sharing it with whoever you can. Even if it's only a few shots that you've made in your own time, it really helps studios see your skills at work.
I remember when I first started working with Flickerpix I had a shot in my reel that was just what they were looking for, and I got a job working on a series called 'Days Like This' which aired on BBC NI. I happened to have that shot because I had worked on a small film with a guy called Jason Morris from Digital Shadow Films, he was just starting out then too.

It's always a learning process when it comes to animation because every project is so different "
That's the other thing that I'd recommend, look for other people who are trying break into the film industry and help each other out if you can.
The greatest person/helps/influences in my career who/which helped me get where I am today have been… I'd probably be doing a much more boring job if it wasn't for the support of my parents. I remember especially my dad always asked me how effects were done when he took me to the cinema growing up. If I didn't know the answer I'd find out somehow.
I remember him telling me "someone has to do it" when talking about VFX, so I was definitely encouraged to aim high when it comes to choosing the career path I wanted.
Of course now with the recent IFTA win, I'd have to say the director of 'Macropolis', Joel Simon, has influenced my career a lot. He's a very passionate director and has really pushed everyone at Flickerpix to try new things.

'Macropolis'
Another great influence these days has been the talent here in Northern Ireland. Having friends that worked on amazing shows like 'Game of Thrones' and films like 'Looper' (Black North did VFX), even last year's CG student of the year Gerard Dunleavy, is from Belfast, so it's been amazing seeing people do so well in this industry and has really influenced me and the technical standards at Flickerpix.
I love the variety of projects I get to work on with Flickerpix... and I get a real thrill from problem solving. I remember especially on 'Macropolis' when I gave the talented stop motion animator Johnny Schuman a wireless controller for animating with. It was a huge help and such a simple solution.
If you're looking for websites you should surf for tips, and to observe other great animation... I'm always recommending www.digitaltutors.com, it's really helpful whether you're starting out in animation or more experienced.
Vimeo is another great site that I'm on almost every day. There's some really inspiring stuff out there by both giant production companies and individuals. It's a nice community too as a lot of the people on there will respond to messages or comments with useful tips, especially with tutorial videos. You can get me on Vimeo here.
Click below for previous 'Making the Cut' interviews:
Lorraine Glynn: 'Albert Nobbs' Hair Stylist
Poll Moussoulides: Dialogue Coach Poll
Roisin Derrane: 'Deception' Makeup Artist
Lorna Marie Mugan: 'Ripper Street' Costume Designer