Irish composer Ray Harman almost chose the rock star path, spending the 80s and early 90s as the guitarist in Tom Dunne's band Something Happens, who are known for their hits 'Parachute' and 'Petrol'.
Taking a more mellow career path would prove to be rock's loss, and the Irish television industry's gain, as Harman is now seen as the country's most prominent composer.
With a career spanning more than a decade in the television world, Harman has picked up two IFTA Awards; in 2004 for 'Timbuktu' and 2011 for 'Na Cloigne'; and today can boast to composing music for all kinds of TV genres, from gangland thriller 'Love/Hate', to kitchen drama 'Raw', and lifestyle documentary 'Three Men Go To War'.
Here he gives an exclusive insight into what makes a great composer and why working in his pyjamas is a perk of the job.
Generally, as a composer my day begins… Ryanair [flight time] early, in a barely contained panic. There always seems to be a lot to do or to catch up with so I try to start early to get ahead. Years ago I read about how Ennio Morricone walked to his studio through quiet streets at seven in in the morning, at the time I thought 'What? Musicians can't work that early!' Now I know he'd probably just had a lie in...…
I like early mornings for writing, it's quiet, I try to put down ideas quickly and move on. I will have the director's thoughts in the back of my mind, informing what I'm doing but it should be quite a freeform process initially. You need to get into a calm, positive and open frame of mind that acknowledges the practical requirements of the project, but just as importantly allows for unexpected and quirky ideas to pop through. These little oddities are the things that ultimately help give character and uniqueness. So some time is spent following ideas that never work out or are just too out there for the project.

Listen to Johnny Greenwood, Nick Cave and Warren… if you want to feel naked on the edge of a cliff. "
It's important to keep pushing for the magic though. Every cue has to start out as the best you've ever done. It only happens occasionally but they have to be chased. At any moment it could go wrong, but if it works it's so worth it. It's like teetering on a chair, or chewing toffee with a loose filling; polonium toffee.
The common misconceptions people have about my job are… that it is a mysterious, highbrow art. It's not. Everybody can write music. You just put one note after another and on top of one another in interesting and hopefully, emotionally affecting, sequences. It's amazingly satisfying when it works and I still get happy attacks on a daily basis when something clicks and the effect that the director requested suddenly happens.
Another is that music comes from flashes of inspiration. Well, occasionally it does, but mostly it takes a lot of bum hours on a seat, trying ideas, binning them and going back to square one. I love it though, and I'm going to keep doing it until I'm found out.
The practical tips I would give to somebody trying to break into the industry as a composer would be to... Write a lot. Write a lot in very different styles. Record and produce in a lot of very different styles. Years ago I read that John Williams aimed to write two minutes of music a day, I thought 'What? That would take me a week!' Now I realise he was taking it easy!
Often on a show you will be required to replace commercial music that couldn't be cleared for use, so in any day you might be required to write and record Juju music, conventional orchestral music, rock, and all sorts of oddness in between, in a very short space of time. You need the skill sets, experience and equipment to make these cues convincing, interesting and emotionally effective with the pictures.
Technology has drastically changed composing methods and expectations. In the past, a conventional TV and film composer might have worked with copyists, arrangers, producers, recording engineers and music editors. Nowadays just one nerd has to do all these jobs – the composer. Technology has made the task a lot easier in some ways but a lot more is expected from composers consequently. Big investments in computers, instruments, sample libraries and software are needed along with the ability to compose to a brief very quickly. You are a one-stop shop.
Try develop a unique voice; nobody wants to hear Hans Zimmer or John Williams sound-alikes. Your duty as composer is to help each film and episode gain the most unique identity possible. That means pushing yourself to try reinvent the wheel every time. You'll be glad you tried.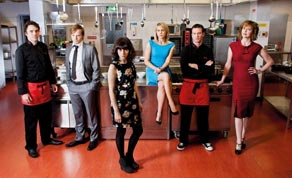 Ray has scored RTÉ series 'Raw'
It's another misconception that film and TV scores should have huge soaring melodies and thumping action cues. It's been done to death; try find a different way to achieve the same effect. Don't be afraid to chuck out the perceived ideas of how scores should sound, the next really cool score that everyone is buzzed about will come from the most unexpected place.
The industry people who helped me are… still on my payroll. I really thought they would just be once off bribes! Well, everyone who hires you puts another little stamp on your passport. That trust gives future directors and producers reassurance and confidence in you. Among the first brave souls who hired me were Emer Reynolds, Alan Gilsenan, Robert Quinn, James Flynn, Dearbhla Walsh, Suzanne McAuley, John Murray, David Caffrey. These people not only gave me jobs but confidence to pursue film and TV music my own way. I'm eternally grateful for those breaks.
The best things about my job are... making something new that wasn't there yesterday, and ideally enhancing the filmmakers and actors hard work. Hopefully injecting a modest amount of magic. It's very exciting to get files from the cutting room, the prospect of unknown emotional adventures and tunes ahead. While I'm writing I feel like one of the cast even though I never meet them. Also, I can go to work in my pyjamas.
Websites you should surf/film and TV scores you should listen to for inspiration is are… www.filmmusicmag.comis a great jumping off point. Composers, probably because of enforced solitude and underdeveloped social skills, seem to love blogging so there are endless pages full of good advice online.
It's always nice to daydream in the magic of Morricone, Herrmann, Williams etc, but listen to Johnny Greenwood, Nick Cave and Warren Ellis, Howard Shore, Nico Muhly ,Jerry Goldsmith's 'Planet of the Apes', Carter Burwell etc if you want to feel naked on the edge of a cliff.
Click below for previous 'Making the Cut' interviews:
Suzie Lavelle: 'The Other Side of Sleep' DoP
Nathan Nugent: 'What Richard Did' Editor
Louise Kiely: 'What Richard Did' Casting Director
Mark Geraghty: 'Ripper Street' Production Designer
Ronan Hill: 'Game of Thrones Sound Recordist