For actors stepping into character, dialects and accents can often be the trickiest parts of their performance to get right. So when Hollywood A-list actors want to perfect the nuances of a difficult screen accent, it makes sense that they turn to Ireland's leading vocal coach, Poll Moussoulides.
Moussoulides has an enviable reputation as a vocal communication and personal performance specialist, having honed his expertise through companies such as RTÉ, The Gaiety School of Acting and Trinity College Dublin, before establishing his own businesses Voice Coach Training and Voice Matters International. He has also worked on over 55 feature films and TV series as a dialogue coach, including on-set work with talent such as Mia Farrow, Whoopi Goldberg, Jon Voight, Kim Cattrall, Richard Dreyfus, Elijah Wood, Diane Wiest, Angela Lansbury and Martin Sheen.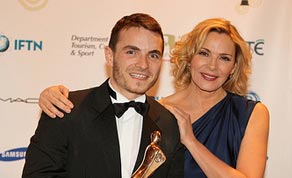 Poll has worked with Kim Catrall, pictured with IFTA-winner Martin McCann
In this week's Making the Cut segment, he talks exclusively to IFTN about his typical day on set with actors, and just what makes a good vocal coach.
Generally, working on set as a dialogue coach, my day begins with… early starts! Before, during or after the actors are going through hair and make-up I will work with each of them for five to 15 minutes on the scenes of the day. Sometimes I will work with actors the night before or at weekends. It can often feel like being on call 24/7.
The most common misconception people have about my job is... that accents or developing character vocality is something that can be done in a short five minute session. The voice is dependent on a series of muscles, and helping actors to find their character's voice is a process similar to getting fit or rehearsing stunts.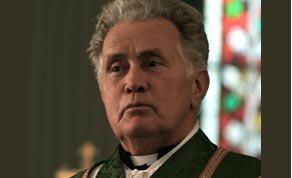 Martin Sheen sought Poll's help
It takes time and requires mental and vocal agility for actors to become comfortable when breathing life into their new creation. Ideally I would work with actors four or five weeks before shooting begins, which almost always eliminates the need for on-set coaching. Unfortunately this rarely happens as cast members often arrive days before they are due to shoot.
The practical tips I would give to somebody trying to break into the film industry as a voice or dialogue coach are… learn as much as possible about human behaviour, emotional intelligence and cognitive psychology. Being a good voice coach is often more about recognising the actor's learning patterns, motivational profiles and states of mind as they transition from rehearsal to performance mode. Knowing when to step back is equally as important as knowing how to step in to give constructive advice and support.
When the film or TV series is eventually on screens it is never about you – it is about the actor giving his/her best performance. If you can facilitate that, you've done your job well. For someone trying to break into the industry, my advice is to learn your craft as a voice coach long before stepping into film work – ideally in a theatre environment. In film, the stakes are higher, the face time with the actor is shorter and as much experience as possible will help you to manage the many demands and responsibilities coming at you from producers, director and cast.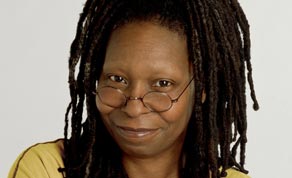 Poll worked with Whoopi Goldberg for a stage performance
The greatest person/helps/influences in my career who/which helped me get where I am today have been… voice coach Cicely Berry, who took me under her wing and was an invaluable mentor at the start of my career; the hundreds of students that I taught in the Trinity College and Gaiety School of Acting programmes – I learned my craft from working with them; producer Morgan O'Sullivan who demonstrates a deep respect and understanding for all members of a crew and the importance each one has in making films happen; and finally my family, who make things wonderfully normal after working crazy hours.
The best thing about being a vocal coach in film and TV is... being part of a family that works hard, laughs often and never fails to moan about the weather!