Five Irish productions will be represented by global sales houses at this week's American Film Market (AFM).
Irish co-production 'Kelly + Victor', which is produced by Dublin's Venom Films and the UK's Hot Property Films, will be represented by The Works International for the film's international sales.
The Works International will showcase the feature at AFM this week, along with a screening of Northern Irish feature 'Good Vibrations'.
'Kelly + Victor' stars Northern Irish actress Antonia Campbell-Hughes and English actor Julian Morris. Based on the novel of the same name by Niall Griffiths, the film depicts the love story between Kelly and Victor (Campbell-Hughes and Morris) as they struggle with alcohol, drugs and violence.
Andrew Freedman produced for Venom with Janine Marmot for Hot Property. Irish cinematographer Piers McGrail worked on the project, which Kieran Evans directed. The film was shot in Liverpool in 2011.
It received its premiere at last month's BFI London Film Festival, and earned both Campbell-Hughes and Morris a Rising Star nod from the festival.
The film was funded by the Irish Film Board, the Film Agency for Wales and Domino Publishing Company, and was co-developed by Film4 and Hot Property Films.
The second Irish co-production represented at this year's AFM is Newgrange Pictures' 'A Thousand Times Goodnight', which is currently shooting in Ireland with Juliette Binoche and Larry Mullen Jr.
According to Screen Daily, German sales company Global Screen will represent the feature, which is being directed by Norwegian director Erik Poppe and produced by Jackie Larkin and Lesley McKimm for Newgrange, with Finn Gjerdum and Stein Kave for Norway's Paradox, along with Sweden's Zentropa International.
The feature is currently shooting in Howth in Dublin, with Irish actress Maria Doyle Kennedy and 'Game of Thrones' actor Nikolaj Coster-Waldau also starring.
The film is based on real events from Poppe's own experience as a war photographer in the 1980s. After Ireland, the shoot will continue in Morocco, Kenya and Afghanistan.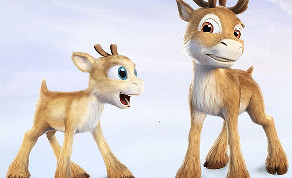 'Niko II: A Family Affair' will be represented by Global Screen
Global Screen will also represent the Irish co-produced animation 'Niko II: A Family Affair', which Tidal Films worked on with Finland's Animaker Oy, Denmark's A-Film and Germany's Ulysses Film.
The animation is centred around the young reindeer Niko, who must look after his younger brother while his mother gets remarried. Ardmore Sound looked after post-production on the cartoon earlier this year, and the project was funded by the Irish Film Board, the Finnish Film Foundation, YLE and TV2 Denmark.
The final two Irish films which will be showcased at AFM this week are Causeway Pictures' horrors 'Vampires vs Leprechauns' and 'DEADlocked'.
As already reported on IFTN, LA-based Inception Media has already bought the rights to the two Northern Irish-set features, in a deal brokered by UK-based sales agents 7&7. 7&7 is now representing both films at AFM this week.
'Vampires vs Leprechauns', a comedy horror set in Belfast, sees a bunch of vampires wreak havoc on an unsuspecting Northern Irish village. 'DEADlocked' sees a group of wealthy bankers trapped in their high-rise building after a deadly virus breaks out in the town.
'Red Mist' writer Spence Wright penned both scripts, with actor and director Allan Gildea (The Patrol, The Goldfish Bowl) directing 'Vampires vs Leprechauns'. Brothers Ryan and Andrew Tohill (Eye-Line) will direct 'DEADlocked', with Chris Patterson and Paddy McCarney producing both films for Causeway.
AFM kicked off in Santa Monica in California on October 31 and will run until November 7. This morning it was revealed FilmNation would shop upcoming Michael Fassbender and Colin Firth film 'Max Perkins: Editor of Genius', at the market.