We caught up with IFTA and BAFTA winning editor Úna Ní Dhonghaíle to discuss her latest project Misbehaviour, for which she recently received a British Film Editors (BFE) Award nomination, working with Kenneth Branagh on Belfast & Death on the Nile, and some insight and advice on the craft of editing.
Having studied Film & Media in D.I.T Aungier Street, Úna turned her attention to editing, studying the craft for three years at the National Film and Television School, IADT. In 1999, Una brought five of her graduate films to premiere at the Cannes film festival, one of which, Secondhand, won the top prize in the Cinefondation section of the festival.
Over the past 20 years, Úna has edited on a variety of projects, from documentaries to film and television drama. Her body of work contains editing credits on some of the biggest shows in television including The Missing, Doctor Who, and Ripper Street, all of which have earned Úna IFTA Award nominations for Best Editing Drama, as well as BAFTA TV Craft nominations.
Ní Dhonghaíle has edited several major international projects including Netflix's hit series The Crown, and Stan & Ollie; the Laurel and Hardy biopic starring Steve Coogan and John C. Reilly.
More Recently, Úna worked with Kenneth Branagh on his passion project All is True, a look at the final days in the life of renowned playwright William Shakespeare. Ní Dhonghaíle is currently collaborating with Branagh on his semi-autobiographical drama Belfast and his adaptation of Agatha Christie's Death on The Nile. In 2020, Úna's most recent project Misbehaviour, starring Keira Knightly and Jessie Buckley, released in cinemas, and has since earned her a BFE Award nomination last month.
"I am honoured to be nominated alongside such illustrious films as Parasite, The Trial of the Chicago 7, Rocks, St Maud and I am very proud of Misbehaviour," Úna told IFTN when discussing her BFE nomination.
Unfortunately, like many other films due for release in early spring 2020, Misbehaviour's theatrical release was short-lived with the initial lockdown restrictions coming into play across Europe. "This film was released in Ireland and the UK on March 13th, just as the pandemic was announced and cinemas closed three days later, so, unfortunately people haven't managed to see it (it's on all VOD platforms)," Ní Dhonghaíle explained.
Úna feels it is particularly disappointing, as Misbehaviour is a film that would have thrived in that now unfamiliar cinema environment; "On the opening weekend, my friend went to see it at Notting Hill cinema and he said that the crowd were applauding and cheering when it ended, so I think it works best in the communal surround of the cinema," Ní Dhonghaíle recounted. "It's a joyous rebellious affair."
Misbehaviour saw Ní Dhonghaíle rekindle her working collaboration with director Philippa Lowthorpe, having worked with her on BBC drama series Three Girls, which saw Úna win her second IFTA Award for Editing, followed by a BAFTA TV Craft Award, Women in Film and TV Award, and a RTS Craft & Design Award.
"I adore working with Philippa Lowthorpe, we had worked together on Three Girls, followed by The Crown, and whilst working on the latter, Philippa was developing Misbehaviour with the lead producers of The Crown: Suzanne Mackie, Andy Harries, and the writer Rebecca Frayn," Ní Dhonghaíle told IFTN.
Misbehaviour is based on actual events when the Women's Liberation movement decided to infiltrate and disrupt the 1970 Miss World competition. "The film is told from their perspective and also from the point of view of two of the contestants, Miss Grenada and Miss Africa South, the first black women, or women of colour, to represent their countries in the Miss World competition."
"The film deals with serious issues of race and gender, but in a light-hearted way because the women, on whom the film is based, share these anarchic, mischievous, and light-hearted qualities," Úna explained. "Each of them, in their own way, overcame any injustices or feelings of discrimination and had fun whilst doing it."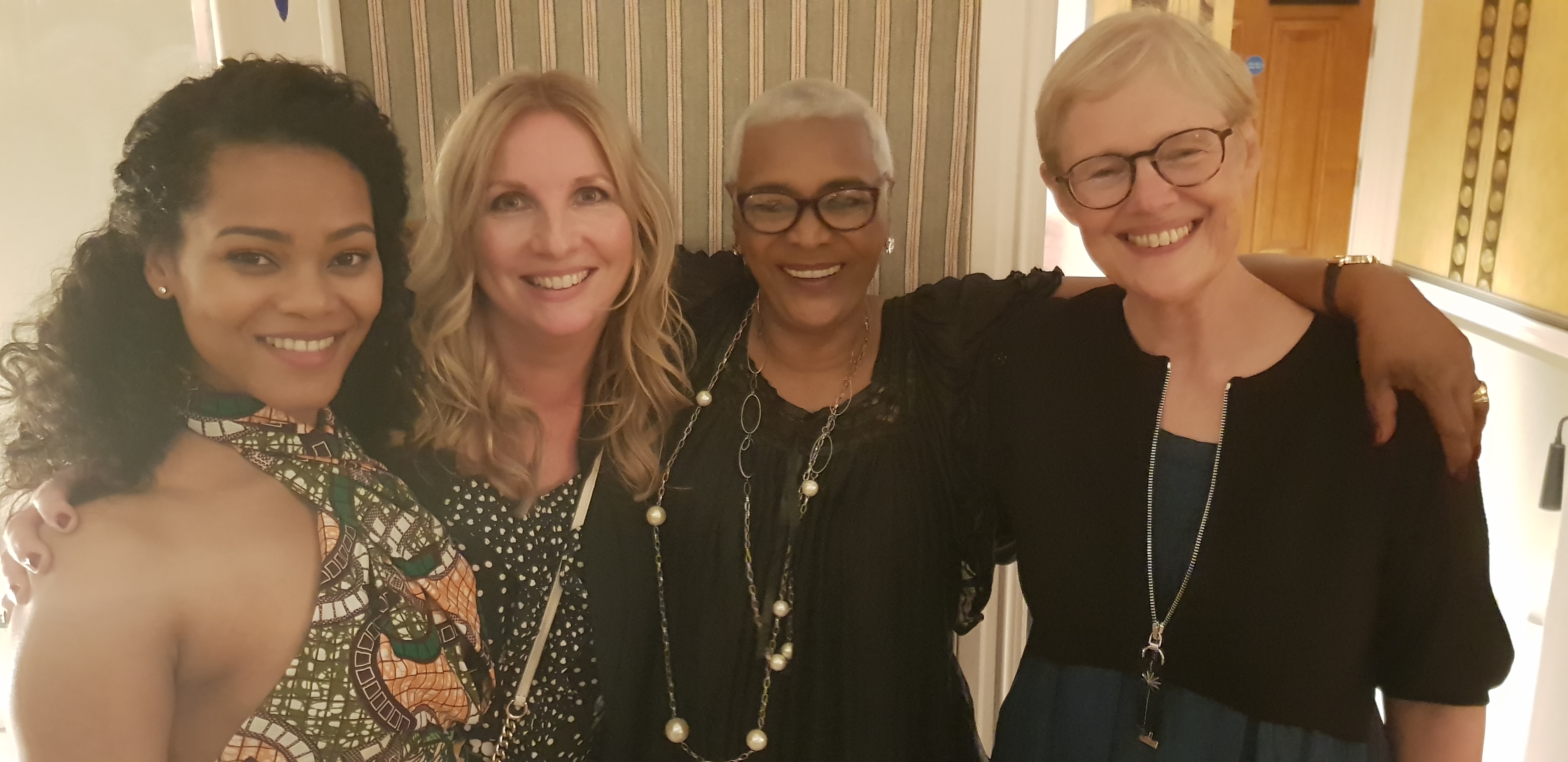 Úna with Philippa, Pearl Jansen the original Miss Africa South, and Loreece Harrison who starred as Pearl.
"This was an important element to the film," Ní Dhoghaíle continued. "We wanted the film to appeal to the widest audience so their story, which lay untold for fifty years, would be heard. Philippa is brilliant at encouraging the real people to share their memories and they in turn were gracious and generous with their advice in helping us tell their collective stories."
Irish editors Nathan Nugent and Stephen O'Connell have also been BFE nominated for Best Edited Series or Miniseries - Drama for their work on Normal People. What do these nominations say about the standard of editing in Ireland at the moment? "I think that we've always had a wonderful reputation for film-making in this country and it's brilliant that Nathan and Stephen are nominated too, I've always admired their editing styles," Úna told IFTN.
"My family always had a strong oral story-telling tradition and I think many Irish people would say the same, our grandparents and parents can sing or tell a story better than anyone! Film-making, for me, is an extension of this skill – mainly because I cannot sing!"
Collaborating with Branagh
In a little over two years, Ní Dhonghaíle has also worked with Sir Kenneth Branagh on All is True, Death on the Nile, and his new semi-autobiographical film Belfast, the latter two of which are due for theatrical release this year.
"Well it has been a real privilege for me to work with Ken on these three films, Misbehaviour was edited between All Is True and Death on The Nile. I've always loved Ken's work having seen Henry V and Dead Again when I was starting out in my film studies at DIT Aungier Street," Ní Dhonghaíle explained.
Over the course of these projects, Úna has developed a detailed shorthand with Branagh; "Ken is a brilliant collaborator, he knows his own mind and has great taste, but he also welcomes new ideas and explores the material."
"We share a similar sensibility when it comes to film and anywhere we may differ, is always interesting and helps us to interrogate the film more," Ní Dhonghaíle explained.
"Úna was in the middle of editing Death on the Nile in Longcross Studios when the pandemic struck in March last year. "We had wrapped shooting December 20th and we were fortunate enough to have had a few screenings together in January and February before the studios closed and I returned to Dublin," Ní Dhonghaíle told IFTN.
"We continued working remotely; Ken in London, me in Dublin, and my assistant Simon Davis, and VFX editor Matt Glen working from their respective homes in the UK," Ní Dhonghaíle recounted. "We finished Death On the Nile in this way and Ken and all of our 20th century and Disney executive producers were so supportive and it made the process so easy."
"With Belfast, we actually cut and finished the entire film remotely because the second lockdown in September began just as we were shooting," Úna explained. "This is a very special film and it was a real joy for me to work with Ken on this."
"I love working with him and our producer Tamar Thomas, I have learnt a lot doing so," Úna continued. "I hope that the world can stay safe and this autumn, the cinemas will be open again for the theatrical release of Death On the Nile and Belfast."
Honing your craft
"The best advice I can give any aspiring editor is to edit creative documentaries, short films, recaps and teasers, low budget features, anything that they can do to continue to hone their craft," Ní Dhonghaíle told IFTN.
"Assisting is a traditional way to get into editing, but in our modern world, this may be less hands on than it used to be with film and unless there is an opportunity to assemble edit, it can prove a little frustrating," Úna admitted. "I've championed all of my assistants to edit and I have encouraged them not to stay with me too long because if you don't give it a go, you may lose a little confidence. Practice makes perfect."
To what degree do you reference the screenplay when editing? "I always read the screenplay before the first day of principal photography and then the film invariably takes on a life of its own. I work instinctively with the material as I receive it; I edit from the first day of the shoot so I can give the director feedback and advise on pick-ups, if needed, daily," Ní Dhonghaíle explained.
"If ever a scene is not coming together as easily as one might hope, I might refer to the script, to remind myself of the original intention or the subtext of the scene," Úna continued. "A great script is an incredible springboard for the success of any film."
How do you maintain tone and pacing throughout an edit? "Well that is the challenge – how do you maintain tone and pace, whilst keeping the characters alive and allow the audience to empathise with their plight! You just have to try your best," Ní Dhonghaíle explained.
"Our audiences are sophisticated in storytelling devices now, whether it is sound or music, or complex narrative structures, so you can have confidence in them that they will follow the story without over-egging too much. Like a fine haiku!"
"Pacing sometimes necessitates collapsing scenes and intercutting more, as I did with the final Miss World riot sequences in Misbehaviour. These scenes were written and shot in a more linear way, but we found by intercutting them and reducing them to sometimes two or three shots, we were able to create a more visceral, exciting riot, where everything was happening at once and the audience experienced it from many points of view," Úna continued. "With an ensemble film like Misbehaviour, the subjective point of view is always important to keep an eye on throughout the edit, as the story moves between different character's experiences."