Ian Fitzgibbon's dark comedy Dark Lies The Island will be released in Irish cinemas by Break Out Pictures this autumn.
Dark Lies the Island is an Irish comedy about a family spinning out of control in a small rural town where two brothers (Moe Dunford and Peter Coonan) try to crawl out from the shadow of their domineering father (Pat Shortt) while his young wife (Charlie Murphy) is trapped in a whirlpool of sexual jealousy.
It is a story about life and death, sex and violence, dark memories, murderous intentions, jealousy, guilt, and betrayal – it's a story, in other words, about a family.
Dark Lies the Island comes from the imagination of prolific and award-winning novelist, playwright and screenwriter Kevin Barry who has recently been long-listed for the Booker prize for his novel Night Boat to Tangier. Barry penned the script, drawing inspiration from characters in his collections of short stories.
It is the fifth film for director Ian FitzGibbon (Perrier's Bounty, Death of a Superhero), who has helmed hit TV shows such as Moone Boy, Raised By Wolves and People of Earth.
Produced by Michael Garland (The Legend of Longwood, Death of a Superhero) for Grand Pictures, the black comedy's has an incredible ensemble cast including Pat Shortt (Garage, Queen & Country) Peter Coonan (Penance, The Drummer and the Keeper), Moe Dunford (Handsome Devil, Patrick's Day), Charlie Murphy (The Foreigner, Philomena), Tommy Tiernan (Derry Girls, Dave Allen at Peace), and Jana Mohieden.
Speaking on the upcoming release, director Ian Fitzgibbon said:
"I'm delighted Break Out Pictures is releasing our film. It feels like the perfect home for Dark Lies The Island. Written by one of our top writers and with a cast of great actors like Tommy Tiernan, Pat Short and Charlie Murphy. I hope the audience will find something refreshing and exciting in our film."
In a joint statement, Nell Roddy and Robert McCann Finn of Break Out Pictures said:
"Dark Lies the Island has a wealth of Irish creative talent working both on and off screen and we are privileged to be bringing it to the big screen this Autumn and hope Irish audiences will enjoy it as much as we did"
Dark Lies the Island is supported by Fís Éireann/Screen Ireland , RTÉ, the Broadcasting Authority of Ireland, Quickfire and Egg Studios Ltd.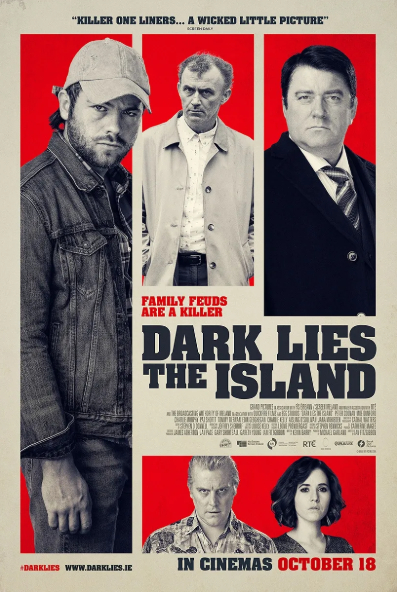 Dark Lies the Island releases in Irish cinemas on October 18th.