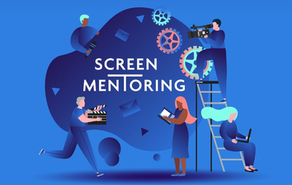 Screen Skills Ireland's Screen Mentoring Scheme.
Screen Skills Ireland has announce the names of 25 screen professionals who have been selected from a high number of applications, as mentees in the second iteration of the Screen Mentoring scheme.
The selected mentees have been matched with a highly experienced industry mentor from the Screen Mentoring panel, with Michael Inside director Frank Berry, Sea Fever director Neasa Hardiman, Rialto writer Mark O'Halloran, and Normal People producer Emma Norton, among those who will mentor upcoming talent in this round of the scheme.
The mentors will offer their mentees practical, tailored advice and guidance based on their professional experience, on a one to one basis. The mentoring will take place remotely online due to the ongoing situation with COVID-19.
"We are delighted to announce the latest recipients of the Screen Mentoring scheme, which provides a unique opportunity for upcoming Irish talent to learn one-to-one from highly experienced industry professionals," said Screen Ireland Chief Executive, Désirée Finnegan. "We wish the participants every success as they develop their careers with the guidance of their mentors over the next 12 months."
"We are thrilled to offer a further 25 screen professionals the opportunity to access the support and guidance of an experienced mentor," added Gareth Lee, Screen Skills Ireland Manager. "Screen Skills Ireland is committed to the development of talent in the Irish screen sector and mentoring is an important initiative to support the professional growth of industry professionals at key stages of their career."
The mentees and mentors are:
Niamh Heery (Director) – Frank Berry (Director/ Writer/ Editor; Micheal Inside, I Used To Live Here, Ballymun Lullaby)
Rioghnach Ni Ghrioghair (Director) – Neasa Hardiman (Director/ Writer; Sea Fever, Jessica Jones, Happy Valley)
Maureen O'Connell (Director) – Emma Norton (Producer; Normal People, The Souvenir Part 2, Rosie)
Niall Murphy (Head of Business Affairs & Legal Affairs) – James Hickey (Producer/Consultant; Former CEO Screen Ireland, Media and Entertainment lawyer)
Antoin Beag Ó Colla (Screenwriter) – Mark O'Halloran (Writer/ Actor; Rialto, Viva, Adam & Paul)
Ian Hunt-Duffy (Director/ Producer) – Lee Cronin (Director/ Writer; Evil Dead Rise, The Hole in the Ground, 50 States of Fright)
Gwendolyn Forde (Producer/Director) – Jacqueline Kerrin (Producer; Never Grow Old, Wisting, She's Missing)
Darach McGarrigle (Screenwriter) – Michael Zam (Screenwriter; Feud: Bette and Joan, Grace, Vivling)
Kevin O' Farrell (Writer/Director) – Mark O'Connor (Writer/Director; Cardboard Gangsters, Darklands, King of the Travellers)
Michael Donnelly (Producer) – Ailish McElmeel (Producer; The South Westerlies, Dead Still, The Last Right)
Gavin Ryan (Screenwriter) – Brock Norman Brock (Screenwriter; The Mustang, Bronson, Yardie)
TJ O'Grady Peyton (Director) – Kieron J Walsh (Director; The Racer, Finding Joy, Jump)
Janna Kemperman (Director) – Juanita Wilson (Director; Tomato Red, As If I Am Not There, The Door)
Aisling Corristine (Screenwriter) – Yvonne Donohoe (Producer; Boys from County Hell, The Racer, Extra Ordinary)
Aisli Madden (Creator/Owner) – Alix Wiseman (SVP Business Development & Acquisitions at 9 Story Distribution International and Brown Bag Films)
Paul Webster (Writer/Director) – Anna Rodgers (Director/Producer; The Story of Yes, Somebody to Love, When Women Won)
Tania Notaro (Screenwriter) – Michael Kinirons (Screenwriter/ Director; Strangerland, I Can't See You Anymore, Lowland Fell)
Ewen Glass (Screenwriter) – Paul Walker (Screenwriter, Professionals; Red Rock, Stardust)
Steven Benedict (Writer/Director/Lecturer) – Catherine Magee (Producer; Normal People, Dark Lies the Island, Resistance)
Daire Collins (Shooting Producer/Director) – Luke McManus (Director/Producer; The Lonely Battle of Thomas Reid, Jump Girls, I Am Immigrant)
Eoghan Mckenna (Producer) – Julianne Forde (Producer; The Lodgers, The Winter Lake, Stitches)
Sheena Lambert (Screenwriter) – Mary Kate O'Flanagan (Writer/Story Consultant; Heart of Darkness, Luna)
Kira Fitzpatrick (Producer) – Ailish Bracken (Producer/Line Producer; Extra Ordinary, The Young Offenders (LP), The Queen of Ireland)
Sylvia Cullen (Screenwriter) – Shannon George (Creative Director at Daily Madness Productions; Blue's Clues, Kody Kapow, Ollie)
Sally O'Connor (Music Supervisor) – Juliet Martin (Music Supervisor; Normal People, Rosie, A Date For Mad Mary)
For more information about Screen Mentoring, please visit the website.