Fresh off the plane from the New York premiere of Brendan Muldowney's 'Pilgrimage', McConnell talks us through the beginnings of his career in stunts for some of the most high profile drama and cinema to come out of Ireland in the last number of years.
With 'Pilgrimage' heading to the Galway Film Fleadh this year following its first screening at the Tribeca Film Festival, and the production quality of Irish drama only set to rise, it seems learning to become a skilled stunt artist and actor is a smart move.
IFTN: When did you first know you wanted to be involved in the industry and what were your first steps? "I trained at the Gaiety School of Acting and started off mostly in theatre, but soon developed a greater love for film. The subtleties and nuances you can play to camera appealed to me. Like Michael Caine said, 'Theatre acting is an operation with a scalpel, movie acting is an operation with a laser.'
"At drama school one of my teachers was Paul Burke, an Irish stunt co-ordinator, who trained us in different weapon and combat systems. After graduating he took me under his wing and gave me the low-down on what qualifications I had to get in order to be considered as a professional stunt performer. So I started my training and never looked back."
IFTN: What are the key skills you feel someone in your field should have, to maintain a steady career in the industry? "I'm a member of Stunt Register Ireland, there's a bunch of different skill-sets and qualifications that you must have to join. As a teenager I was into sports and martial arts, I trained up to black belt in TaeKwonDo and was obsessed with rock climbing, so I had a head start. For my additional skills I chose to do specialised training in horse riding and swimming, I become a PADI Divemaster, a certified rock climbing/abseiling instructor and I also passed my exams in advanced sword fighting.
"I also love shooting and editing action, and stunt co-ordinators often get me to film rehearsals and to cut together pre-vis, which I've done on shows such as Vikings and Penny Dreadful. It's something only a few in this industry do, so any specialist skill besides the basics is key to staying in demand."
IFTN: Do you feel the recently increased emphasis on Irish storytelling and period drama is helping people in your sector, with the organic need for stunts and fighting scenes in series such as Vikings? "Absolutely. 'Vikings' has been and continues to be an amazing show for the Irish film industry, and it employs an exceptional and highly skilled stunt team. But with huge shows like 'Game of Thrones' (and its recently announced spin-offs), 'Into the Badlands', 'Star Wars' and 'Artemis Fowl', plus the many local productions, it looks like the Irish film industry is going to be very busy for the next few years. The new studio opening in the old Dell factory in Limerick and the proposed major film studio in Ringsend gives me hope that things will only get busier."
IFTN: Talk us through the different roles you've had in productions such as Game of Thrones and the very recent Into the Badlands and Pilgrimage? "As a stunt performer I've worked on all five seasons of 'Vikings', well over thirty episodes at this stage, which has been a blast. The stunt co-ordinators Franklin Henson and Richard Ryan have been great to work for. They get me out to perform mostly in actor fights but we also have full body burns, high falls, horse stunts, water stunts, you name it.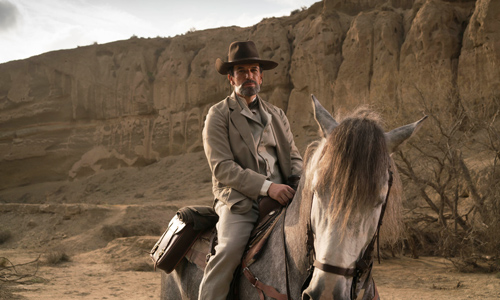 "I also worked on all three seasons of 'Penny Dreadful' as Timothy Dalton's stunt double. The stunt coordinator, Pete Miles, is an amazing boss. I'm very grateful for the opportunities he's given me. Last year we filmed the final block of 'Penny Dreadful' in Almería with stunt legend Vic Armstrong as 2nd unit director. We filmed a lot of horse scenes, as cowboys galloping through the same locations used in many western classics shot fifty years ago. It was surreal and a tick off the bucket list.
"We recently filmed a big sword fight on Reign, stunt co-ordinator Joe Condren had a group of us out, it was a lot of work but loads of fun too. Becoming a stunt performer was the best thing that could have happened to my acting career. Combining the two has given me a niche as an action actor. It was thanks to my stunt background that I was cast in 'Game of Thrones' alongside local actor Laurence O'Fuarain to fight Stephen Dillane (Stannis Baratheon).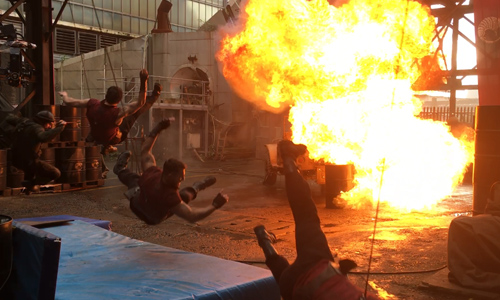 "For the same reason Louise Kiely cast me in season two of 'Into the Badlands', and again when Dan Hubbard got me in to read for a part in Brendan Muldowney's upcoming feature film 'Pilgrimage'. The role demanded horse riding and some heavy fight choreography, so they were specifically looking to cast an actor who had experience in stunt work.
"I'm just back from the Tribeca Film Festival in NYC where 'Pilgrimage' had its world premiere, and its European premiere will be at the Galway Film Fleadh this Summer. It has an amazing cast, including Tom Holland, Jon Bernthal, Richard Armitage and includes local talent John Lynch, Lochlann O'Mearáin, Hugh O'Conor, Rúaidhri Conroy and Tony Condren. I played the mercenary Dugald, right hand man to the movie's antagonist, played by Richard Armitage. At the end of the movie I have a one on one fight scene with Jon Bernthal who, shortly after the movie wrapped, was cast as the new Punisher on Netflix. He's an awesome guy and an incredible actor, and he really gets into character...There are moments during our fight that I'm pretty sure are real."
IFTN: What is a typical day like on set for someone in your department? "In stunts each job is different, there can be less glamorous days when you're on location being a dead body in a freezing cold lake at the crack of dawn, fending off hypothermia, or times when you're carrying mats or heavy equipment up the side of a muddy mountain in the rain. There are also more exciting days when you get set on fire, or have a high fall (which always gets the adrenaline up), or there are jobs with choreographed fights or wire work or car stunts or horse falls or explosions.
"As an actor you're usually treated like royalty, with your own trailer and ADs making sure you have everything you need, it's a pampering but it can also get boring very quickly. I much prefer to be lugging around mats or hanging out with mates as a stuntie."
IFTN: Finally what can we expect to see from you in the near future? "I've applied for my O-1 Visa to work in the U.S., and there are a few jobs for me over there. In the meantime 'Into the Badlands' Season 3 and 'Vikings' Season 6 return in late summer, so one way or another things will be busy!"