With the wonderful success of the recent 'Camino an tSáile' broadcast of the 'Camino By Sea' mini-series on TG4. Irish filmmaker Donal O Ceilleachair says he is now seeking crowdfunding and looking towards completing an international feature-length version of the film.
Almost 200 hours of footage, shot in 5 different countries, over 3 years Donal says, "It has been an epic journey and I'm looking forward to finally completing it with this international feature-length version of 'Camino By Sea'. Even if you can't contribute don't worry! You can still help in other ways by helping us to get the word out and letting others know about this film via Facebook, email and word-of-mouth."
'Camino By Sea' follows four Irish men as they embark on an extraordinary version of the Camino, in a traditional boat. An inspiring, and often dangerous, 2,500 km modern day Celtic odyssey all the way from Ireland to Spain.
This intimate documentary charts the trials and tribulations of a voyage that came with its own risks and dangers, and in the words of Irish writer and poet Danny Sheehy, took "sweat, blood and blisters to complete while deepening and renewing friendships, creativity and spirituality in the process."
Those who feature in the filming and along the journey of the Camino include; Oscar-winning musician; Glen Hansard, renowned Irish musician; Brendan Begley, celebrated writer & poet; Danny Sheehy, distinguished artist; Liam Holden and skilled stonemason; Brendan Moriarty.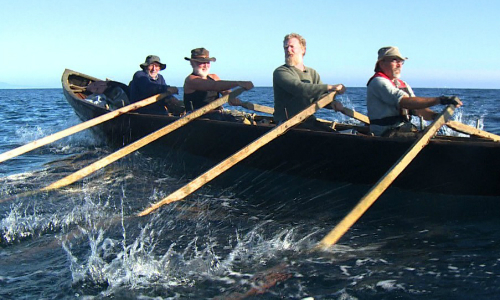 Donal believes "Crowdfunding is a wonderful platform for reaching the audience directly by cutting through the often overwhelming maze of distributors, sales agents, financiers and funding bodies needed to make films.This allows us filmmakers to concentrate on what we do best; making films!"
The crowdfunding campaign offers an opportunity to order the film on DVD in advance of its official public release date and support its completion in the process. For more information about the film and to visit the crowdfunding campaign link click here.
About the Camino
The Camino (the Way) is the name of any of the pilgrimage routes to the shrine of the apostle St. James (Santiago in Spanish) in the Cathedral of Santiago de Compostela in Galicia in Northern Spain.
About this documentary film
For hundreds of years people sailed from Ireland to A Coruña in Northern Spain and from there completed the Camino by foot. This inspiring crew have undertaken their own version of this historical voyage in a Naomhóg - a traditional wood-framed canvas covered boat - that they built themselves.
This Camino took place in three 6-week long stages over three years (2014-2016): across the Irish Sea and the English Channel and all along the coasts of France and Northern Spain covering over 2,500 km to Santiago de Compostela.
Camping in coastal towns and villages en route, this eclectic crew forged many new friendships; and surprised those they met with a boat that seems to come straight out of the middle ages.
Every community that they have connected with en route have opened their doors and their hearts to this crew. In exchange, the men have inspired their new-found friends with their courage, endurance, storytelling, music, poetry and song in a coming together of people in the most fundamental and ancient of ways.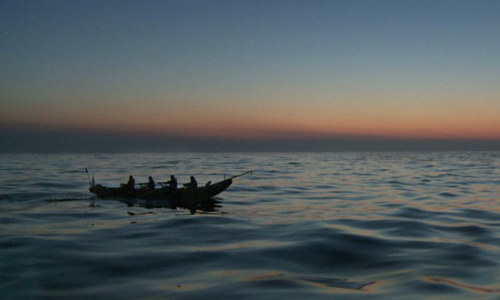 The films journey so far
Over the three years of this unique and historical Camino, almost 200 hours of original material were filmed, documenting the celebrations and the challenges of this extraordinary journey.
Following the crew all the way from their native Dingle Peninsula, across the Irish sea and the English Channel, down the west coast of France from Brittany to the Basque country, and across the length of Northern Spain, stopping off in Cantabria, Asturias and Galicia en route.
Anú Pictures working in association with Phoenix Films, received support from Irish broadcasters TG4 and RTÉ and from the Broadcasting Authority of Ireland towards production and to make an Irish-language, 3-part mini-series for TG4 'Camino an tSáile' broadcast in March and April of this year.
For more information about the film and to support the crowdfunding campaign link click here.