Kavaleer Productions are one of several Irish exhibitors in France this week attending MIPTV 2017 in Cannes. They are showcasing an array of their children's and pre-school animated series, which include 'Alva and the Trolls', 'Dougie Noir' and 'Kiva Can Do!'
The Irish animation studio is amongst content makers and production companies from around the world who are attracted to the event for the opportunity to share their production slates of programmes to the large global TV & online distribution market.
Alva and the Trolls is one of there (52 x 11mins) animated television shows about a 5-year old called Alva Doon. Like most kids her age, Alva doesn't have much problem letting everyone around her know when something isn't quite up to snuff. But unlike most five-year-olds, Alva has one small problem, make that, seven troll problems.
Wearing a magical bracelet made from beads with trolls faces, it can activate at the most unexpected times and before she knows it, the seven petrified trolls from her bracelet are running amok and causing all manner of mischief. And worse, only Alva can see them. Keeping calm on a good day can be tough, keeping the cool around this bunch is another matter entirely.
Next on the Kavaleer slate of productions being showcased at MIPTV is Dougie Noir, a (52 x 11mins) animated detective show with a difference for 6 – 8 year olds. It's a combination of mystery-solving, figuring out how to fit in, what to say and what to do.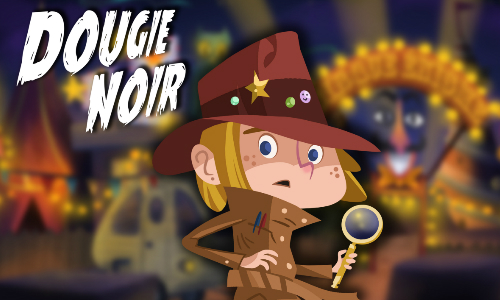 It tells the tales of 8-year-old Dougie with ADHD who wants to become the world's greatest detective. He calls the fantastical Park Noir Amusement Park his home, but with peculiar goings on becoming a regular occurrence Dougie is on the scene when a crime wave threatens the Park's very survival and it's up to him along with his best friend Mnemonica, to gather clues, solve mysteries and bust the latest crimes.
Kiva Can Do! is a (52 x 11mins) animated show for pre-schoolers whose heroes need only a cardboard box, some bits and bobs, and a whole lot of imagination to have a grand adventure.
Kiva is a 5-year-old girl who knows how to make her own fun and whose imagination knows no bounds. Along with her best friend, Saul Dunne and her dog Angus (whom Kiva built out of shoeboxes and paper towel rolls), Kiva can create absolutely anything and go absolutely anywhere. When Kiva uses her imagination the ordinary turns into the extraordinary.
Kiva's Nanni Praveena voiced by actress Nina Wadia (Bend It Like Beckham) is an innovator who can turn her hand to almost anything. Through the episodes, you see how much her natural innovation skills run in the family and have definitely rubbed off on Kiva.
About Kavaleer Productions: Based in Dublin city-centre in a multi- floor studio they are providers of animation, interactive and design services. Aside from creating their own TV shows, Kavaleer is equally adept in the role of co-producing and while TV and web content forms the mainstay of their activities, Kavaleer are also a seasoned provider of interactive content and apps for the e-learning and games sectors.
Other Irish production companies attending MIPTV in Cannes this week with slates of their programmes include; Element Pictures, Telegael, Like It Love It (International), Metropolitan Films, Ripple World Pictures, Kite Entertainment, Screen Scene, ShinAwiL, JAM Media, Tyrone Productions, Monster Entertainment, Kite Entertainment, Fitzpenny productions, Soho Moon Pictures, Storyful and broadcasters TG4 and RTÉ.