Maximum Media officially opens the doors of its new purpose-built broadcast studios at it's headquarters in Dublin. Its first live TV-style show will be 'SportsJOE LIVE', a weekly sports show featuring contributors such as Ronan O'Gara, Paul Galvin, Andy Reid, Stephen Ferris and many more.
The first episode designed for social distribution, will go out live via Facebook Live and Periscope on Wednesday 15th March at 9.30pm.
The Maximum Studios is a stand-alone, full HD studio capable of 10 camera multi-cam live broadcast. The technology will enable live broadcasts from anywhere at any time using the very latest in mobile broadcast technology.
Under the direction of Mick Brennan (former Broadcast Technology Co-ordinator at UTV Ireland), who will take on the new role as Head of Production, 'SportsJOE Live' will also utilise the latest in Virtual Reality gaming capabilities to set guests and panelists sporting challenges with a twist.
As the show will be broadcast over IP internet there is no expense of satellite uplinks. A signal of the faster, economical direction of on-the-go live streaming that online broadcasting content is taking.
Presented by The GAA Hour host Colm 'Wooly' Parkinson and Australian born comedian Damien Clarke, 'SportsJOE Live' is the first socially distributed broadcast show of its kind in Ireland. With no weekly sports show being broadcast on linear TV in Ireland currently, the show aims to be the largest live sporting show in the Irish market.
The show's format envelops a diverse cross-section of compelling sporting personalities that aren't afraid to say exactly what they think. Sports personalities involved include Ronan O'Gara, Andy Reid, Stephen Ferris, Ashling Thompson, Paul Galvin, and Dion Fanning.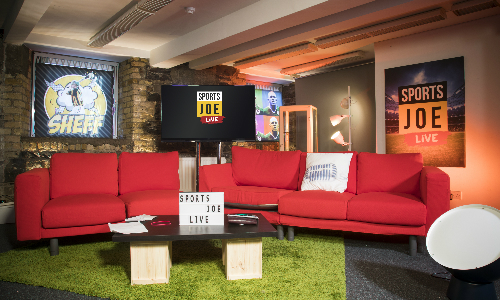 It will be shared across both SportsJOE and JOE's social channels, with a combined reach of over 1.5 million. It is one of a number of new shows to be launched this year across its channels, which include Her and HerFamily. Most recently, JOE premiered its new rugby podcast, 'The Hard Yards', and its first foray into business media, with its new podcast, 'The Capital B'. All shows are produced at Maximum Studios.
Paddy McKenna, Broadcast Director at Maximum Media said: "I'm delighted with the cast we've assembled for SportsJOE live. In his time with JOE, Wooly has developed into an outstanding broadcaster, Dion Fanning is the best sports' writer in Ireland, and in Damien Clarke and Conor Moore we have two brilliantly unpredictable comic talents. The final component is our viewers who are crucial to the unique format of the show - both in the comments and interactions on social media, and in the live studio audience. Anything can happen, which is exactly what we all want. In addition, having a great brand like Screwfix.ie on board is a perfect fit - we're excited to be working with them on this."
In partnership with MEC Wavemaker and Screwfix.ie, the weekly sports show will go out live from Maximum Media's new purpose built studios, via Facebook Live and Periscope at 9.30pm each Wednesday.
Expected duration of episodes will be about 45 minutes, although being an online interactive stream running time can be flexible.
The first episode of its first ever live show designed for social distribution, 'SportsJOE Live' will go out live via Facebook Live and Periscope at 9.30pm each Wednesday.