Dublin Web Fest starts this evening at 6pm in Filmbase. The festival is held from the 18th to the 20th of November. Itís the festivalís second edition and it will feature entries from all over the world, including several world or European premieres.
Established by French Filmmaker and Web Series Creator, Mikael Thiery and Videography Ireland Director, Erol Mustafov, The Dublin Web Fest (DubWebFest) unites digital media and tech worlds. We showcase screenings, host Youtube panels and welcome TV and Film production professionals to Dublin's Filmbase over the course of three days.
"The age of smart TV and online films has arrived, Dublin has a strong connection with storytellers and the digital world. The web fest celebrates and acknowledges the importance of this new phenomenon of online storytelling," said Mikael Thiery.
The first Webseries Festival in Ireland, Dublin Web Fest is an event to celebrate and acknowledge excellent digital content and web series, as we connect industry and audience in a celebration of the digital story.
IFTN spoke with Karen Healy of Pondering Media, winner of the Irish Post's 'London's most Creative Irish Minds' and whose credits include RTE's IFTA-nominated 'Irish Pictorial Weekly'. Karen will be in attendance for the screening of 'Listen to the Experts' which is nominated for the Filmbase Best Irish series Award, Karen will also be a panellist on this evening's Actors Panel.
"I'm really looking forward to the festival and speaking with people attending. There is just so many festivals and events out there for shorts and film that it's so great to have an event that focuses on the work and production behind digital and online content for the web and it's amazing that it's happening in Dublin too," said Karen.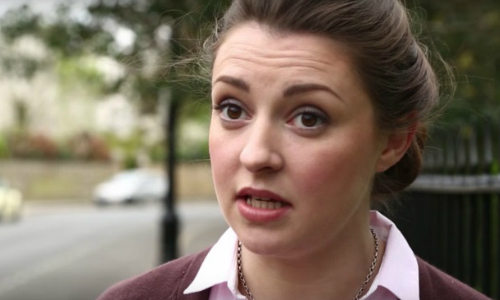 Other special guests on the night include actors Eddie Jackson (Game of Thrones/Vikings) and Aoibheann McCaul ( Fair City, Bitter like a Lemon) who will take part in the Actors panel.
Recent You Tube sensation Melanie Murphy whose charismatic lifestyle channel has accumulated over 23 million views in just two years will be in attendance to present her new project 'Femme', a spoken word film about bisexuality. Comedian Tony Kelly, writer and star of the hilarious Irish Web Series "The Hurler" will present the premiere of the 2nd season of this hit series.
Also premiering at Dub Web Fest Opening night this evening, 'The Players', a fictional web series created by EMMY nominated writer Nuno Bernardo ( Sofia's Diary, Beat Girl) and produced by beActive. Also in attendance will be Ryan Wyer the 12 year old genius director of Aphex Twin's first music video since 1999 Cirklon3. A selection of Ryan's accomplished digital works will be screened.
As TV and Film production professionals gather in Dublin for this unique annual event bringing together web series from all over the globe including USA, Canada, New Zealand, Australia, Japan, Norway and France.
The first ever Dracula web series Mina Murray's Diary will have its festival premiere with its writer James Moran conducting a screenwriting workshop and sound designers behind Irish Oscar winning film "Room", Niall Brady and Steve Fanagan will discuss and examine how sound can be vital in visual storytelling.
The engaging and eclectic programme will culminate on Sunday 20th with an Awards ceremony in Filmbase followed by the official after-party in the Liquor Rooms. All entries are judged by a panel of media and filmmaking experts including Edwina Forkin (Zanzibar Films) who recently produced award winning Irish feature "Sanctuary" and BAFTA nominated Director - Jack Jewers (Trailermade Films).
Full festival schedule and tickets can be found at www.dublinwebfest.com
Festival Passes are €80, Day Passes €20, Screenings €8 and Workshops €10 - €20.
More information can be found on their social media channels: Twitter and Facebook.
Dub Web Fest is supported by Filmbase, L'Ambasse de Francais en Ireland, The Irish Academy of Public Relations and The Liquor Rooms.