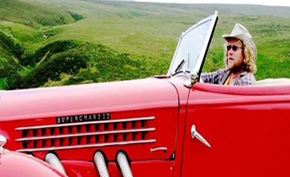 First Assistant Director Luke Johnston
Luke Johnston, known to many in the Irish film and television industry for his fantastic work on films such as 'In The Name of the Father', 'Becoming Jane' and 'Bloody Sunday', has passed away peacefully.
The many other film and television credits that Luke has as first assistant director include 'Stella Days', 'Studs', 'Man About Dog', 'Cowboys & Angels', 'Disco Pigs', 'Lassie', 'Raw', 'Single-Handed', 'Line of Duty', 'The Silence', 'Killinascully' and 'Inspector George Gently'.
He was known in the industry as a very popular and hard-working figure, one that never compromised and always gave 100%. He is survived by his parents, Pat and Micheal; his siblings and their partners, Brigid, Becky and Scott, Anna and Ferdia and Josh; his nephews and nieces Zac, Megan, Aoife, Matthew, Ben and Fern; his large extended family and his many friends and colleagues in the Irish film world, Irish rowing, Fortyfoot swimmers, and many more.
A celebration of his life will be held in the Victorian Chapel in Mount Jerome, Harold's Cross at 3pm Monday, 20th July. If you wish, garden flowers or donations to RNLI. Wear bright clothes, please, and odd socks.