Designing hair styles on movie sets often conjures up images of beauty, often making it glamorous work. Hair styling has long contributed to transforming well-known actors and achieving iconic, unforgettable film looks. From Princess Leia's buns in 'Star Wars', to Bo Derek's cornrows in '10' to Uma Thurman's bob in 'Pulp Fiction', hair styling in films is often overlooked, but is an integral part of the filmmaking process.
However in reality, the process of styling hair on large movie sets or in difficult locations can sometimes be as far away from that alluring image as possible. Hair stylists are often tasked with styling hundreds of extras through the small hours of the night in order to have them ready on set for the start of shooting, or can spend literally weeks on end painstakingly designing intricate details on period wigs or hairpieces.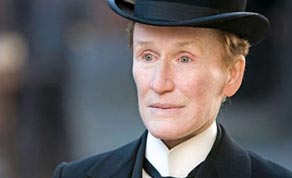 Lorraine transformed Glenn Close into Albert Nobbs
One Irish industry professional who has experienced all this and more is IFTA and BAFTA-winning hair stylist Lorraine Glynn. Having started off working in salons, she made the jump into working for films in the mid-90s. Several large feature films followed, including 'Intermission', 'Bloody Sunday' and 'About Adam'. Lorraine won her first IFTA in 2007 for her work (with make-up artist Lynn Johnston) on transforming Cillian Murphy's character into drag queen Kitten in 'Breakfast on Pluto'.
Since then, she has won two more IFTA's (2010's 'The Take' and last year's 'Albert Nobbs' respectively) and a BAFTA TV Award for her work on 'My Boy Jack'; the true story of author Rudyard Kipling. She has also worked on Sofia Coppola's high-budget period piece 'Marie Antoinette', 'Tristan and Isolde' and fantasy epic mini-series 'Neverland'. Here, in another exclusive interview for IFTN, she tells us who her influences are and how to break into the industry.
Generally, as a hair stylist for film and TV, on set, my day begins with… early rising, getting to the makeup truck a half hour before cast arrive to plug in all equipment then begin creating the looks for the cast for the scenes to shoot each day.
The most common misconception people have about my job is… it's glamorous!
The practical tips I would give to somebody trying to break into the hair department in film industry are… become qualified as a hairdresser, eager to learn and watch and prepared to work long days.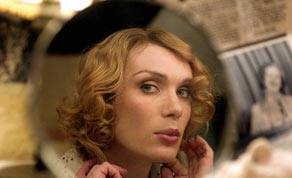 Lorraine worked with Cillian Murphy for his role as Kitten in 'Breakfast On Pluto'
The greatest influences in my career have been… Italian hair designers: Aldo Signoretti, Mirella Ginnoto, for their fantastic work on wigs in period films.
The best thing about being a hair stylist for film and TV is… working on fantastic productions, meeting creative people and getting an opportunity to design and create the look for the actors for each production. Also, working in countries and seeing places you might never have been able to see or visit normally.
The resources I use and observe for inspiration… depends on the film I am working on at the time. If it's a period film I look up classic paintings of the period, use Google to search the year of the hairstyles of that time and numerous sites will inspire me.
Read an interview with 'Deception' makeup artist Roisin Derrane here.
Click below for previous 'Making the Cut' interviews:
Lorna Marie Mugan: 'Ripper Street' Costume Designer