Saoirse Ronan's 2011 feature film 'Violet & Daisy' has been acquired by US distribution house Cinedigm and will be released theatrically in all international territories in 2013.
US-based Cinedigm, with offices in New York and LA, will release 'Violet & Daisy' in North America in 2013, while Wild Bunch in France is handling all other international sales.
The action comedy sees Carlow-native Ronan play teenage assassin Daisy, who, along with her assassin colleague Violet, is tasked with taking out a sad-case target called Michael. Both girls soon find that their job proves harder than imagined.
'Mad Men' actress Alexis Bledel plays Violet and 'The Sopranos' stars James Gandolfini plays Michael. Fellow TV stars Danny Trejo (Sons of Anarchy), Cody Horn (The US Office) and Marianne Jean-Baptiste (Without a Trace) also star.
Oscar-winning screenwriter Geoffrey Fletcher penned the script and directed the film on location in New York in 2010. The action thriller is Fletcher's directorial debut, having penned the Oscar-winning screenplay for 'Precious'.
Fletcher also produced the feature with Bonnie Timmermann and Steve Kempf for The Magic Violet and Greenestreet Films. John Penotti (In the Bedroom) was the executive producer.
Cinedigm will also release the feature on video on demand and DVD following the cinema release.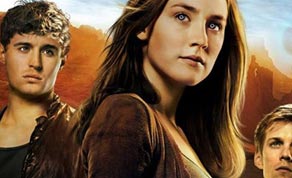 The first official poster from 'The Host'
Ronan will be seen next in the alien-based thriller 'The Host', of which the first poster has been released (pictured). The Oscar-nominee has also just been cast in Wes Anderson's upcoming feature 'The Grand Budapest Hotel', alongside Bill Murray, Ed Norton and Owen Wilson.