Cork-born filmmaker Pat Collins has made a name for himself directing factual documentaries such as 'Oileán Thoraí', a film which gives a rare insight into one of Ireland's most famous islands Tory Island, and 'Gabriel Byrne: Stories From Home', the intimate film following Irish actor Byrne through both his personal and professional lives.
Collins however has most recently teamed up with his wife, Sharon Whooley, and writer and actor Eoghan Mc Giolla Bhride, to write and direct his first feature film.
'Silence' follows one man's return to Ireland after 15 years to find a space where no man-made sound is audible. Ahead of 'Silence's' cinema release this Friday (July 27), Collins discusses why now was the right time to make the transition from factual to fiction, and how, after all these years, he still finds shooting a film "very difficult to do".
The concept behind 'Silence' is quite original for the techno-cultured world we live in today. Did you want to develop a concept beyond the technology and gadgets that we use in everyday life?
I didn't really think about technology much at all, I was more thinking of the natural world and our relationship with that. I wasn't thinking about technology really.
We see a lot of rural locations in 'Silence', did you source the locations yourself?
We used Baltimore, the Burren, Connemara, Clare, Inishbofin, Ballycroy up in Mayo and Donegal and then Tory Island, so I'd been to all the locations before, or I would have at least seen photographs of them from research. I worked with Paddy Cahill, the location researcher, who would have went to some of them before too. I was familiar with Tory Island, I made a documentary there before.
Did you have the areas in mind when you were writing the script then?
Yeah, not every one of them, it would have changed a little bit. But more or less we knew that we wanted to film all along the west coast. I knew we weren't going to film in Wexford or in Antrim for example.
How involved were you in the casting? The role of Eoghan (played by Eoghan Mac Giolla Bhride) requires a lot of responsibility…
Eoghan would have been cast from the first day we started working on the script because he was co-writing and I would have felt that it was important that the person who was going to be the main actor would have been involved in the writing as well. I always knew that he was going to be the main actor. I don't think another actor would have done what he did. Then the rest of the cast were people I or Sharon Wholley came across. Anna Rogers (casting director) found a couple of characters too and we held some casting sessions in a couple of schools.
Was it a whole new experience for you working on a feature film, sourcing cast members, locations etc compared to working on a documentary?
It was much more difficult in a way doing fiction, there's something else going on, a different kind of grammar I suppose. The things that would have worked in documentary wouldn't have necessarily worked on this, and I was only kind of finding that out as I was going along really, what was working and what wasn't working. It's in between the world of fiction and documentary. I wouldn't say it's more difficult, it's just different, very different. I'd almost say it's almost the difference between writing and making a film.
Why did you decide to make a feature film now after not just so many documentaries, but so many successful documentaries?
I wouldn't have been interested in the subject matters of 'Silence' as a documentary really, I wasn't interested in making a documentary about somebody doing that kind of work. Sometimes I think you can get to a 'truth' as much in fiction as in a documentary and even with some documentaries these days there's so much that is fabricated, or it seems like it has been scripted or work shopped. When it's over-developed, that kind of documentary doesn't interest me. With 'Silence', through fiction, I just thought it would be more effective. It's not that I'm turning away from documentary or anything, I think my next film is going to be a documentary.
Would you have an example of a documentary that you would consider over-developed, or perhaps one that you think is done well?
I don't actually watch a lot of documentaries! I like a lot of the old Cinéma Vérité stuff, like Fred Wiseman I really like a lot. I liked 'The 3 Rooms of Melancholia' which I only saw recently. I have a lot of respect for TV documentaries, people like Adam Curtis and films like that and I really like a lot of Irish filmmakers. There's a lot of good stuff in Ireland too.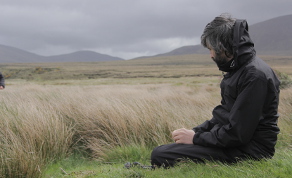 Eoghan Mac Giolla Bhride in 'Silence'
If you don't watch a lot of documentaries, would you watch a lot of film or TV series?
I don't ever watch TV drama really. I watch television. I have watched some great documentaries over the years but I'm kind of 45 minutes from the nearest cinema now. I suppose I watch films on DVD now. I wouldn't say I watch a lot of films, I don't go to the cinema as much as I used to, but if I'm in Dublin or Cork city I try to get to the cinema as much as I can.
So where does your inspiration for filmmaking come from then?
I don't know actually! Somebody asked me that before and I actually don't remember. I wouldn't have had much experience of cinema when I was young. I would have only got to the cinema maybe once before I was 15. I think the second film I saw was 'Porky's Revenge!'. I wasn't raised on [film] anyway. I think I was kind of more raised on television… RTÉ One basically.
But I think there's an awful lot of great stuff that I remember from that time, from history programmes and political programmes that I used to watch as a young fella. I think that's the main thing that got me into documentary at first. I had an interest in history. When I was 18 I moved to Cork city and I watched a lot of film from that point on. and when I was editor for Film West Magazine for a number of years I learned an awful lot about film then. But I'm still learning. There are dozens of great directors whose work I have yet to see.
Where did you learn the craft of filmmaking?
On the job really. I wouldn't have gone to college or anything like that but I kind of picked it up. I didn't make a documentary until '98 and I was probably 30 before that happened. I mean if I'd had made a film when I was 22 I think it would have been an absolute disaster. But I had matured a little bit by 30, by that stage I kind of knew what I wanted to do.
I remember the first documentary I made, the cameraman Donal Gilligan and David Power the producer helped me an awful lot in terms of me trying to find my fee, giving me space to make mistakes. It was a very good to learn that way. But I do think that if you really like film, college would be an amazing place to be, to have people talk about film for three years, it would be great.
Has it been important for you in your own career to mix it up with different genres?
I keep it as broad as possible. It's the quality of the films that you need to be watching, rather than the quantity which is important.
Do you find it easier directing from a script you've written yourself?
Well I've only directed one fiction film so who knows? The script for Silence was only about 25 pages so it was scene by scene - there was no dialogue written or anything like that. I kind of approached it like a documentary in a way. And when I'm working on a documentary, all I'm ever working from is two pages of an outline or three pages, so that's the way I like to work. I enjoy that way of working, of finding the film as you go along. It's hard to convince other people that that's the way it should be done.
Your worked with your wife (Sharon Whooley) on 'Silence', is it easier to work with someone you know so well or can it be more difficult to get things done as you wouldn't be as cautious expressing opinions?
I trust her a lot, and she had great suggestions, on all aspects of the film, so I suppose when you get on anyway, it's good. And other times you can both see that it's kind of dominating the house too much, that too many conversations are about the film, but we tried to separate it as well. But I really do enjoy working with her, and we work a lot together anyway, she's been the silent partner for a long time.
We're actually co-directing something next and we'll see how that goes! It's a film in the Fastnet Lighthouse that's funded by the Arts Council. I don't know if it's experimental or not, but it's non-narrative I suppose. It's a short film on the Fastnet Lighthouse. Again, like 'Silence', it's half fiction half documentary in a way. We're free to experiment as much as we want and we'll know what it is when we see it I suppose!
What technological aspects do you need to take into account when shooting a feature film compared to a documentary?
Well with 'Silence' we kept the crew to a minimum, there was only 10 [crew members] in total. Tina Moran was the producer, and there were four in the camera department, including the trainee, and two in the sound department, so it was a little bit more than I'd normally work with. But in documentary we work with maybe three or four people. I wanted to keep it as small as possible because I'm not sure that I would like to direct a big 70 crew shoot. I can't see myself in that kind of role.
Why is that?
It just wouldn't suit me. I wouldn't be comfortable with it. I mean maybe, if I get more confidence when I'm 60 or something. But I just feel that it's too much of a machine. Working with a small crew does actually make it harder for the people who are working in the crew, everybody has to work a little bit harder maybe. But I think I'll always be working on smaller stories and I just can't see myself in that kind of role. So I always try to keep it like a documentary if possible and that kind of model is good.
Even with 'Silence', the edit was six months, which would have been the longest I've ever spent editing. Normally for an hour long documentary you try to get 10-12 weeks if possible. Some people are cutting documentaries in six weeks which I don't think is enough. I think people are trying to cut it too quickly in a way, but even with 'Silence' we were cutting it like a documentary because the dialogue wasn't fixed, whereas normally with drama you're trying to just get the best takes, and with a documentary we're actually kind of rewriting the dialogue in the editing.
What crew did you work with on the editing process?
Tadgh O'Sullivan edited. I'd worked with him before, on documentaries. I've worked with mostly, the same three or four people: Gordon Brick, Isobel Stephenson, and Keith Walsh, who recently edited the Tim Robinson film. But the relationship with the editor is absolutely crucial. For me anyway, I like the whole collaborative thing, and I think editors bring a fantastic amount to any project. It's such a crucial relationship. I've been very lucky over the years that I've worked with really intelligent editors who actually push me very hard as well which is needed sometimes.
How long did 'Silence' take to shoot?
Six weeks in total, there was one week in Berlin, and four weeks from Baltimore to Donegal, and we'd a week up in Donegal and Tory Island, we'd a break because of the weather at one time. It was longer than I'd normally spend but again you need it really.
How long would you normally shoot for a documentary?
It varies really, it depends on the subject, three weeks, but then again if you're doing something observational, I made a documentary on Tory Island years ago and that might have been four or five weeks over the course of 18 months, so it varies really depending on the subject.
Are you still mentoring with the Cork Film Centre?
Yes, that's going to continue for the rest of this year. I mentor three filmmakers. What it means is I maybe meet them once a month and see how they're getting on and talk about the project and just offer whatever advice I can give them. It's good for me as well because it makes me examine my own work and my own approach.
Would you have been interested in a mentor from an organisation such as the CFC when you were starting out?
My first encounter with film was a seven-weekend course in the GFC and that's really how I started. Then I got a work placement out of that as a trainee editor with Art Keating, he was an editor in Dublin. I was there for four or five months just mooching around so I would have had a little bit of training as an editor at the beginning, but I've never actually cut any of my own films myself.
'Silence' is a South Wind Blows and Harvest Films Production. The feature was directed by Pat Collins from a script by Collins, Eoghan Mac Giolla Bhride and Sharon Whooley. It was edited by Tadhg O'Sullivan (About Beauty), with Richard Kendrick (An Crisis) as director of photography. Tina Moran was the producer. The project was funded through the Irish Film Board, the Broadcasting Authority Ireland, RTÉ and tax relief scheme Section 481.
Element Pictures Distribution are distributing 'Silence', which will be screened in the Light House Cinema and Irish Film Institute in Dublin; and the Gate Cinema in Cork from this Friday (July 27). See IFTN's Cinema Release Diary for all upcoming releases.
The IFI in Temple Bar, Dublin, is holding a Poetic Truths: The Cinema of Pat Collins event to celebrate the filmmakers work. Events begin on July 27 with a screening of 'Silence', and will end with a public interview with Collins himself on August 14.