The Irish Film and Television Awards saw Neil Jordan's 'Ondine' walk away with four IFTAs - Actor Colin Farrell, Supporting Actress Dervla Kirwan, Production Designer Anna Rackard and Sound for Brendan Deasy, Sarah Gaines and Tom Johnson. The film receives its general theatrical release on Friday, March 5th, an occasion IFTN marks with a Q&A session with the film's acclaimed Irish writer and director, Neil Jordan.
'Ondine' is the story of Syracuse, a simple fisherman, played by Colin Farrell (In Bruges), who catches a beautiful and mysterious woman, played by Polish actress Alicja Bachleda (The Absinthe Drinkers), in his trawler's nets. The woman seems to be dead, but then she comes alive before Syracuse's eyes and he thinks he may be seeing things. However, with the help of his ailing, yet irrepressible daughter, Annie, played by newcomer Alison Barry, he comes to believe that the fantastical might be possible and that the woman (Ondine) might be a myth come true.
With 'Ondine', Oscar winner Neil Jordan brought filmmaking to the small town of Castletownbere on Cork's Beara Peninsula – the landscape that Neil says inspired the story in the first place. IFTN caught up with the story teller to ask him about the film – it's production, the stars involved and the many inspirations he drew on to create the story.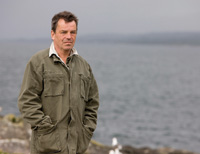 Neil Jordan in Castletownbere
IFTN: 'Ondine', is very much an 'alternative fairytale' with a lot of modern idiosyncrasies and human weaknesses. Where did the inspiration for the story come from?
Neil Jordan (NJ): I had this image in mind of a fisherman pulling a little girl out of the water and began to write the story and it all fleshed itself out from there really. There's a sense of fairytale all around Castletownbere where I spent a lot of time. I was about to do 'Heart Shaped Box' when the writers strike happened and some of the crew decided to wait for it to finish but I thought "I can't be waiting around here for months". So I came back, showed the script to Colin who loved it and it came together very quickly.
IFTN: James Flynn, the producer, has described it as a 'Classic Neil Jordan' film. Is there such a thing as classic Neil Jordan?
NJ: I suppose in terms of films there is always reference to some kind of mythological sub-structure going on in my films. Even 'Angel', my first feature was like a fairytale gone wrong and then with 'Mona Lisa' a lot of people compare it to 'The Princess and the Frog'. I like to conceal the story around some mythic thing that is a little bit deeper than reality so there is some element in the story that could be unreal.
IFTN: So there is always an underlying, almost subconscious need in you to bring fairytale elements into your films?
NJ: I think my father told me too many stories when I was a kid, mainly ghost stories, terrifying ones actually. So that's what this movie was anyway. I think I was more driven by the character of Ondine - What is she? Is she real? Should he keep her a secret? So, no, I think, with this film anyway, it's a series of tiny subtle ironies developed into a love story.
IFTN: It seems like, of all your films, this one is especially and personally close to your heart.
NJ: I care for this tremendously because it is so integral, such a special experience, but I suppose you can't expect the world to share your feelings for your own work. You can't make a film - be it a huge Hollywood movie or a tiny little one like this - without caring about every single thing in it, you know. That's the problem with big Hollywood movies sometimes you do put the same care, attachment and concentration into them but often you are not allowed finish your job correctly because often there are other elements involved. So that's why often it is so heartbreaking making big Hollywood movies because you can't make any movie without caring about it.
Ondine
IFTN: Taking on Colin Farrell as your lead actor obviously helped a lot with the financing of the film but you were adamant that someone who was lesser known, if at all, would play the lady in the net. Would it have been an easier process, finance-wise if nothing else, to have hired a better known actress?
NJ: Yes it would have been easier. I suppose I could have asked Keira Knightly, not that she wanted to do it. Lots of people asked about it and it might have been easier but I said to Susie Figgis ('Ondine' casting director) "I want to meet every East European actor I've every heard of" and Alicja walked in one day and she gave this amazing performance. And of course there must have been some sort of serendipity going on because now they, Colin and herself, have a child together so it's all good.
IFTN: Another risk you took was in the hiring of Alison Barry who is, again, unknown. How did you find her?
NJ: With the casting we, as always, tried to see many, many kids. Frank and Nuala Moisselle ('Ondine' casting directors) brought in loads of kids and usually the minute they came in and someone reading with them, you could tell the ones that have been through the little schools of acting - there is a little barrier between their own natural selves and the part they are playing. Then Alison came in and just read and she was marvellous, she was lovely.
IFTN: As you have explained 'Ondine' has been a long time coming. Does it look like you thought it would way back when you first envisioned it?
NJ: There are several ways of doing a film like this. I could have prettified the landscape and the town, made it more generic or more fairytale or whatever, but I decided not to do that, I just said "We're going to use the place exactly as it is." And we left almost no footprint at all - the only real bit of set design was a caravan we built in a bay.
IFTN: You wrote the script for 'Ondine' a long time ago – did you revise it at all when it came to the shoot?
NJ: No, I just kept it quite simple. I rewrote the ending a little bit because I wanted to include the area where Ondine is kept. That alternative 'Mosney' environment is bizarre and grim but not entirely an oppressive place so I just said "Lets end the movie there."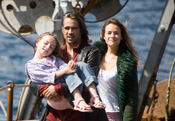 Ondine
IFTN: Moving away slightly from 'Ondine' can you tell us how things are going with your upcoming project 'Borgias' with Jeremy Irons?
NJ: It's brilliant! I have never done anything like this before but the cable series are getting so good, if you look at 'The Wire', 'Mad Men', 'Dexter' and obviously 'The Sopranos' it's becoming clear that some of the best writing and film making the United States is happening inside those shows and every director who does the same thing that I do are all gravitating towards them. They seem to be so consistent and are all done by different directors. Where 'Borgias' is concerned, this is a script I have had for a long time and Dreamworks said "Why don't we make a cable series out of it" so I said "Yes, let's try and do that". Since then Showtime have taken it on and its going to be a very interesting journey it will be really exciting and it's a new one for me.
IFTN: And we can expect Jeremy Irons to be as excellent as always?
NJ: Yes, I just did some tests with Jeremy and he looks marvellous!!
IFTN: Finally Neil, does the release of 'Ondine' - the ultimate modern fairytale - mean the genre is finally out of your system?
NJ: No, not at all - I'd like to make a whole series of them but I just can't think of another! Wouldn't it be lovely to make a sequence of three movies that were all slight perversions of Irish fairytales or Irish folklore? We'll see, but if I can think of another original story I will do it.
'Ondine' is released in cinemas nationwide by Paramount on Friday, March 5th. The Oscar nominated (and IFTA winner) animated short 'Granny O'Grimm' will screen with Ondine during its theatrical release.