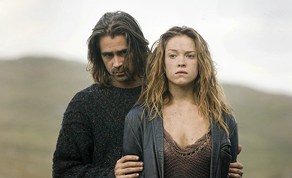 Ondine
The IFTA nominated film 'Ondine' has been picked up for U.S. distribution by Magnolia Pictures. 'Ondine' was written and helmed by Neil Jordan (A Film With Me In It) and stars IFTA nominated actors Colin Farrell (In Bruges), Stephen Rea (Nothing Personal) and Alicja Bachleda (The Absinthe Drinkers).
The feature premiered at the Toronto Film Festival and takes the format of a modern fairytale which tells the tale of an Irish fisherman who discovers a woman in his fishing net - many mysteries surround the identity of the woman but the fisherman's daughter knows her secret.
'Ondine' has sold to numerous territories to date with Paramount Vantage securing many deals in recent months including Ireland, Germany and France. The film will be released in Ireland on March 12th 2010.