Familiar as Ireland may be with the Eurovision Song Contest, a new comedy documentary 'Sounds Like Teen Spirit' to be released this week explores the little known subject of the Junior Eurovision. IFTN meets with the film makers; producer Stephen Woolley (producer of features including 'The Crying Game' and 'Michael Collins') and director Jamie J Johnson.
UK producer Stephen Woolley has a long affiliation with Irish production, producing many of Neil Jordan's films including 'The Crying Game', 'Michael Collins', 'Breakfast on Pluto' and 'The Butcher Boy'; in addition to other successful Irish features such as 'Intermission', 'The Actors' and Ian Fitzgibbon's upcoming 'Perrier's Bounty'.
Woolley's most recent project however has been in the realm of documentary filmmaking - 'Sounds Like Teen Spirit', directed by Jamie J Johnson. This light hearted documentary follows the journey of four aspiring pre-teens from very different backgrounds to Europe's biggest child song-writing contest, The Junior Eurovision. In the lead up to the show, the film reveals, through the entrants candidly open stories, the struggles of growing up and the excitement and difficulties of being a kid in a battle of songs and sequins -singing their hearts out in the hope of winning the contest.
Both Jamie and Stephen chat to IFTN, on how the concept of the film emerged, the young contestants involved and Stephen's long history with filming in Ireland.
IFTN: Jamie, where did the idea for a film about the Junior Eurovision originate from?
Jamie: I had broke my two legs and I was watching the adult Eurovision contest when Lordie – the heavy metal latex monster band from Finland won. I was thinking "Oh my god this is gone beyond a pantomime; somebody has to do a comedy documentary on this!" I had previously done a sort of comedy / documentary about the British mini-golf team trying not to loose the Mini-Golf World Championships and I thought maybe I could do something like that but around the Eurovision. Then when I was researching the adult contest I discovered the kids one and started reading about it. I thought 'Somebody has to make this film,' so that's how it started.
The film focuses on four young entrants, how did you choose the four?

Jamie: I basically flew to about fourteen different countries. We had a couple of local crews and a British crew that hopped to a couple of countries too. I met nearly all the kids who had won their national finals in their own countries and who were going to the finals. We looked at them all on camera and saw which ones were the most natural, that seemed the most open and to be themselves and that the audience would like. I had to go and spend time with them in their homes, hang out with them and so they were my favorites in a way.
There must have been a huge amount of editing involved in the project?
Jamie: We had like ninety important hours which were of our main characters but overall we had two hundred and twenty hours. It was pretty heinous. It took about seven months to do it.
What were the difficulties involved in filming the kids who, in addition to preparing for the song contest, were going through their own personal struggles?
Jamie: Yes it is difficult because you kind of get involved with them emotionally and get caught up in what they are going through. There are moments, for example Marina the Bulgarian girl, who when we first went and filmed with her, her mum and dad were still together but when we went back her dad had moved out. We did an interview where she is saying how she thinks it is better to have no feelings because then you won't get hurt. To hear these things coming out of a fourteen year old's mouth was for me so shocking and a couple of the things she said like that I started welling up! She was like "Oh come on Jamie, it will be fine, don't be stupid!"

Sounds Like Teen Spirit
So there were those little moments where it was difficult because when you shoot a documentary you become their therapist, best friend, dad and brother - all these different things and it gets all blurred. There were bits we didn't put in the film to protect her and some of the kids because we felt that was our responsibility. I think the kids were all very much in control of how they were perceived. They are all really bright kids. I mean, Marina, she is probably the most complicated of our characters but she very much wanted to talk about the situation with her dad and she was very aware that lots of other kids who would see the film had either been through that situation or had friends that were going through that situation. I think that, in a way, she wanted us to be a witness and be like this is how it feels for me and it was really moving.
Stephen, this would be your first time producing a documentary. What attracted you to the project?
Stephen: We really enjoyed Jamie's short films and he came to see us and we thought he was a very unique kind of guy. I loved the idea of making a documentary on people who don't necessarily win. Following their journey was interesting and also the opening up of the Eastern block - countries like the Ukraine, Bulgaria, Romania and Georgia have been under this veil of the Soviet block for so many years. I realised that I had these cultural blocks, like I wouldn't have really known where the Ukraine was in relation to Latvia. I just thought it was a fascinating idea for a documentary which was to follow the kids through this new Europe and I love Eurovision…I don't like flags but I love Eurovision.
So what was it like producing a documentary having produced so many feature films?
Stephen: Yes it was very different. The thing with a feature film is you have a script and you keep pretty much to that script. 'Sounds Like Teen Spirit' didn't really have a script. Jamie, like all mad professors, had a plan. That plan didn't go accordingly, it went other places but he chose those kids, he followed their journeys, he wanted to choose the most interesting characters rather than necessarily the winners and that meant that the film took on a different kind of hue.
I was saying to someone earlier when we cut 'The Crying Game' it got nominated for an Oscar for editing. It was crazy because we only had so much footage and you couldn't edit it any other way. This film was brilliantly edited by Jamie and Lucien (our editor) and they had to impose their own discipline whereas on a feature film the script imposes the discipline. We had to enforce that discipline to try and make sure we got a cut. They were working through the clock all the time coming up with different versions of the film. We had the various screenings for our financers and investors, like BritDoc, who were very heavily involved.
Yes, how did you raise the funding for the film?
Stephen: We had BritDoc and UKFC. With UKFC we have a very strong relationship and the Irish Film Board were also part of the development of this project. We raised the money on the back of the Simon Pegg film 'How to Loose Friends and Alienate People' which I'd made with Aramid and they very kindly gave us the line share of the finance against the projected share figures that we would get for the film around the world. It was a big risk they took and we are very beholden to them that they have helped us make the film.
What was also important was that we obviously had a theatrical distribution in the UK and in Ireland. Warner Brothers Music took the film project on after we had made it so without sounding like The Godfather, we pulled in a few favours to get the funding and to make it work. Having said that Jamie did work like a dog, or a Trojan depending on which way your want to look at it! He went to fourteen out of the seventeen countries to film the local competition with a camera on his shoulder all the time.
How do you think the Irish will take to it given the country's soft spot for Eurovision?
Stephen: We are really excited about playing here in Ireland because Dublin has been like my second home really and I love Ireland and Irish people. One of the things that always amazes me is how much Irish people love music and the Eurovision!
We didn't want to make something tacky and Jamie never had that intention to do so. There is a lot of humor in the film and it's funny, warm and it's the humor of growing up, like those boys from Belgium who can't dance, that stuff is really funny, it's real. There is the addition of the music from Abba, through to The Who, through to the crazy pop songs that these kids write.
You've filmed here so many times. What do you think Ireland offers as a shooting location?
Stephen: I don't know, I am not a very nationalistic person. I saw a TV movie called 'Angel' Neil Jordan made in 1982 in Cannes and we made 'The Company of Wolves' together and through that process kept coming back here all the time. I think what I got from the people here is a respect for the written word - like literature from Joyce to Beckett through to the screenplays of Neil Jordan and Neil's writing. It opened up this lovely perspective of pleasure and a sort of intellect, that people are intellectually very inspiring here but also still know how to have a laugh. It was that spirit of friendliness which one would associate with the West Indies. Personally, growing up as a kid I always thought the closest place to Dublin was probably the West Indies or Jamaica which has this thing of being laid back, it's cool, everything is going to be fine.
But when it comes to it, the Irish are smart, they have really got it. Pat McCabe is another great character. His writings like 'The Butcher Boy' and 'Breakfast in Pluto' are so funny and clever but heartfelt and really, really smart. I suppose I just adopted Ireland and Ireland adopted us.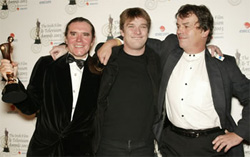 Wollley with Alan Moloney and Neil Jordan at the 2003 IFTAs
When we made 'Michael Collins' here it was just a dream because it opened every door. No cab driver in Dublin ever got annoyed with us because they were being held up. As soon as they heard it was 'Michael Collins' – they were like 'Oh that's fine'. How many free pints of Guinness I had being the producer of 'Michael Collins', I can't tell you.
I think that film meant so much to people here and people around the world who were Irish. I felt that I was in a very privileged position to give something to the history of the nation and I think through working on 'Michael Collins' and reading the stories of the history of Ireland it really touched my heart. It was thrilling to win the award in Cork for my contribution to Irish Cinema, that was so nice, I don't know if they have done that for too many foreign producers.
What has been your most recent production in Ireland?
Stephen: We have just finished 'Perrier's Bounty' which is similar to 'Intermission'. It is written by Mark O'Rowe and it has Cillian Murphy again who, by the way, is known as "Sillian" in America. I am planning to keep working here and I'm sure Neil and I will do some more things together.
As I say, it is a good opportunity at the moment as there is money here in Ireland and there is real talent. It is just a case of finding the right movie. I was telling a story earlier about the film 'Absolute Beginners' and how well it played here in Ireland which is a film I made with David Bowie, Paul Weller, Ray Davies and the Kinks. There are so many of the films that I made that have had a second life in Ireland because they have been so well appreciated. Am I beginning to sound like the Film Board? Yes I am!