IFTA winning Irish actor Andrew Scott (Dead Bodies, John Adams) stars in the RTÉ drama 'Little White Lie', airing on RTÉ One on Monday, 4th August at 9.30pm. IFTN caught up with the busy actor to find out why this project brought him back to his home turf.
Dublin-born actor Andrew Scott was last seen on Irish cinema screens in Robert Quinn's 2003 thriller 'Dead Bodies'. Since then, the actor has been busy across the water, appearing in BBC TV series 'My Life in Film' and recently acting alongside Paul Giamatti in Emmy-nominated TV drama 'John Adams'. A prolific theatre actor, the last few years have seen him star in a string of plays including Brian Friel's 'Aristocrats' at Lyttelton Theatre; Christopher Shinn's 'Dying City' in the Royal Court Theatre and Bob Evan's 'A Girl in a Car with a Man' at the Royal Opera House, which earned him a prestigious Olivier Award. He made his Broadway debut in 2006 opposite Julianne Moore (The Hours, I'm Not There) and Bill Nighy (Love Actually) in the award-winning play 'The Vertical Hour' directed by Sam Mendes.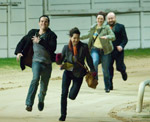 Little White Lie
It was Stuart Carolan and Barry Murphy's witty writing in 'Little White Lie' that drew Scott back to Ireland. The comedy, directed by Nicholas Renton (A Room with a View, Silent Witness), follows the story of a down on his luck actor, Barry, who has recently split from his girlfriend. Wallowing at home in his pyjamas, he becomes fixated on a children's TV presenter (Cassidy) he sees on daytime television. The pair accidentally meet at an awards ceremony and in order to impress the object of his affection, Barry decides to lie about his profession, leading to all sorts of difficult situations for the down on his luck actor.
The Element Pictures film, produced by Ed Guiney and Catherine Magee (Prosperity), was shot on location in Dublin over 20 days in December 2007, and features well known Dublin haunts Slattery's and Bruxelles. So had Scott been on the look out for a project that would bring him back to Ireland for some time?
"A little bit, not actively but it's always been in the back of my mind particularly over the last couple of years," he says. "I live in London but I haven't even been working there much lately, I've been in America quite a bit and I really missed Ireland. It's important to me that I get to do Irish projects because I'm very proud of being Irish, you come to realise that when you're away more so than when you're at home, so I was looking to do something, the right thing in Ireland."
It's important that the young Irish playwrights and screenwriters are nourished by the industry, because I do think there's a real gift within the Irish, whatever it is in our makeup, that makes us extraordinary writers."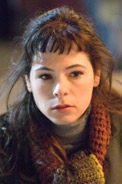 Elaine Cassidy
Scott's co-star, IFTA winning actress Elaine Cassidy (Disco Pigs, The Ghost Squad) has also made a name for herself in the UK and the US, starring in TV dramas 'The Ghost Squad' and 'A Room with a View' and recently landing a role in US TV series 'Harper's Island'. Cassidy, like Scott, was previously named one of European films' Shooting Stars by the European Film Promotion.
"Elaine is tremendous, she is one of the best for a reason," he enthuses. "She's really pragmatic and a pleasure to work with. For a romantic comedy, I think one of the most important things is that the chemistry between the two heroes is there. She's really funny and we had quite a tough schedule so it's really important that you have someone who is going to just be up for it and ready to go with whatever they throw at you and she was brilliant."
Scott came to 'Little White Lie' fresh from a stint in hit HBO TV series 'John Adams', which has received 23 nominations for this year's Emmy Awards. The series features a stellar cast including Paul Giamatti, Tom Wilkinson, Laura Linney and Sarah Polley and chronicles the life of John Adams, the second president of the United States. Scott appeared in four episodes of the series as William S. Smith, the husband of John Adams youngest daughter.
"It was an absolutely extraordinary experience because you are working with people at the total top of their game," he says. "The production values were totally extraordinary. They spared no expense on getting the authenticity of the period. For a while they even had an etiquette person on set that showed us how to bow and greet a lady and all that kind of stuff. The most difficult thing about it was the accent, they didn't have what we would call a naturalistic American accent, they had a mixture between a Devon accent and a half American accent. It has already aired in the States and I heard it went down a storm!"
So how did Scott prepare for the role? "I believe in diving off the deep end, not knowing too much and using your own instinct. The ability to be able to listen to what other people are saying is very important too…people respond to a truthful moment on screen, when something comes alive and I think getting endless amounts of background information is less important."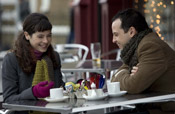 Little White Lie
Scott always knew an actors life was for him. He began treading the boards in a local theatre group while still at school, before being hand picked by casting agents for his first professional role, aged 17, in Cathal Black's 1994 film ' Korea'. The film was released while the young actor was in his first year of a Drama degree at Trinity College, and Scott left the course in favour of practical training at the Abbey Theatre.
"I had an amazing run at the Abbey. It was just such a brilliant time to learn and I still look back at that as the foundation for whatever has happened since. I think having been to drama school can breed a little bit of competitiveness within the industry, which I just don't possess. I think it's really important that we all support each other and what's for you won't go by you."
He credits his early Abbey training with giving him a confidence in his acting ability that has seen his career go from strength to strength. "I'm of the opinion that a bit of theatre is an absolutely brilliant thing for a young actor, because theatre is very much the actor's medium - you learn how to time a laugh, how to be confident and walk through a whole play, whereas I suppose being on screen you have to give a lot of the power up. A lot of the time with film it is made in the editing room, so a certain amount of the film is created by the director. From an actors point of view the theatre gives you a tremendous amount of confidence."
Scott has remained true to his theatrical roots, alternating between theatre, film and TV over the last ten years. His Broadway run in David O'Hare's 'The Vertical Hour' saw Scott play Philip Lucas, a young man caught between his go-getter professor girlfriend (Julianne Moore) and his estranged physician dad (Bill Nighy).
"That was really the best experience I've had theatre wise. It's always been a dream of mine to do a play on Broadway and to do it with those people and in a play by David O'Hare was really amazing. The first day of rehearsal I was thinking 'Oh my God!' because you find yourself in a room with these really, really talented people.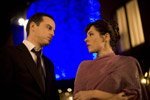 Little White Lie
They have a wonderful tradition on Broadway where the critics don't all come on the same night, we have a couple of preview weeks where they come in, so when the opening night comes, they invite the great and the good from New York, all these amazing people, we had Lauren Bacall and David Bowie! If I had known the people that were sitting in the audience beforehand I don't think I would have gone out on stage!"
Does he use a different approach to acting on stage then he does on film? "When you are a young actor they always say to you 'Don't be too big on screen'. But then you end up doing this kind of quite bland naturalistic performance. I think the most important thing on stage and on film is that you are truthful. Sometimes we're very big and hugely expressive in real life, and if that's truthful on screen then that's fine. I believe that there's no great method and whatever works for you, works for you."
Scott's next project will see him play a tortured hero on screen in Chekhovian drama 'The Duel', produced by Donald Rosenfeld. The US writers strike meant another upcoming project was put on hold, but Scott remains philosophical about what can be an unpredictable profession.
"The plan is not to have too much of a plan because I think that is the big thing with actors. You can get down in between jobs, but what I've learned is that the most unexpected things lead to even more unexpected things and you just have to try and be open to things and learn to live with knowing that you're not always going to know where the job is going to take you next. I suppose that is the exciting thing about it."