Paddy Breathnach's home-grown horror 'Shrooms' is set to reach Irish cinema screens this weekend. IFTN caught up with the trippy movie's director and one of its stars, Jack Huston, to discuss the shoot, and why the flic breaks the horror-movie mould.
'Shrooms' was shot on location in Northern Ireland in April/ May 2006. The €3.5 million budget movie was filmed in Monaghan, Armagh, Derry and Cavan, with Gosford Forest Park, Armagh used for the movie's eerie lake scenes.
Breathnach's directorial credits include the IFTA winning 'I Went Down' and 2004 smash hit comedy 'Man About Dog'. Penned by Irish screenwriter Pearse Elliott, 'Shrooms' is the third time Breathnach has collaborated with the writer, their first project being 'Man About Dog' and Breathnach produced Elliott's directorial debut 'The Mighty Celt'.
Partly funded by the Irish Film Board, the film showcases a cast of young up and coming American actors – Lindsey Haun (Village of the Damned), Max Kasch (Right at Your Door), Alex Gerczyn (The Dukes of Hazzard), Robert Hoffman (She's the Man) and Maya Hazenk. Irish actors Don Wycherley (Bachelor's Walk, The Running Mate) and IFTA winner Sean McGinley (Dead Bodies, Man About Dog) also feature.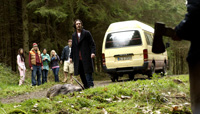 Shrooms
'Shrooms' follows a group of American students who arrive in Ireland, having been promised the 'trip' of a lifetime by their old college friend and mushroom expert, Jake. Despite Jake's warnings about the mushrooms they shouldn't eat, things start to go horribly wrong as the group begins suffering horrific visions. They realize something in the woods is after them, and the lines between fantasy and reality become increasingly blurred.
'Shrooms' has plenty of spine-chilling moments, as expected of any horror flic - but these come from a well thought out storyline, rather than relying on guts and gore.
"A friend of mine coined the phrase 'It's more dread than red'," explains Breathnach. "Originally it was a little more comedic and a bit more slasher film, but myself and the producers felt that the idea of Shrooms had the possibility for a lot of psychological uncertainty and the angst, fear and dread that comes with a psychological thriller or horror. So we went much more in that direction, we lost the more slasher side of it and pushed it into a different terrain."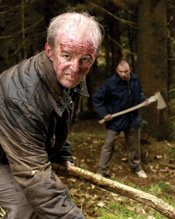 McGinley & Wycherley in Shrooms
Comic relief in the pic is provided in the form of Ernie and Bernie (Wycherley and McGinley), the hideous, socially inept brothers who reside in a small hut in the woods the students camp in.
"They're like Podge and Rodge in a way, but I wanted to sit the comedy on them so that the comedy is darkly wicked. I wanted it to be so they didn't just play for the laughs, you are aware of an uncomfortable-ness as well, they are loathsome in many ways too, they're grotesque."
The American cast was chosen after Breathnach viewed some audition DVD's sent to him from an LA casting director. Haun and Huston soon won the title roles, with the rest of the cast joining later.
"Lynsdey and Jack had just fantastic emotional ability," says Breathnach. "Lyndsey could connect with the fear, she was really precise about the type of fear she needed - she could really hone in on that, even down to a very specific type of breathing. She developed a specific type of breathing for specific types of situations in the film, that type of attention to detail was really fantastic."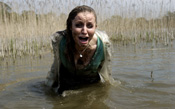 Lyndsay Haun
This is the second time the Irish helmer has directed a predominantly American cast, having directed Josh Hartnett and Rachael Leigh Cook in 2001 comedy 'Blow Dry'. So how did he find the experience?
"I think working with good actors, whether they're American or they're Irish, it's not different, if they're good actors they're good actors," he states. "A good actor, you can bring them to a certain place, you can tweak on that and you can massage their performance. But a bad actor, all you do is try to create the absence of bad in a way.
"With an amateur actor, someone with no experience, it's easier to change them a little bit, rather than somebody in the middle. I prefer to work with really good actors, or someone with no experience – in the middle, it's harder to work with, I think."
Jack Huston (Factory Girl) plays cool-headed Jake in the flic. The grandson of the late acting/directing legend John Huston, son of Oscar nominated screenwriter Tony Huston (The Dead) and nephew of Oscar winner Anjelica Huston (Seraphim Falls, Prizzi's Honor) it was a natural progression that Huston would make his way to the silver screen.
Tall, with dark good looks, the 24 year old actor bares more than a passing resemblance to his striking aunt, and has inherited his family's love for Ireland.
"I've been to Ireland many, many times," he enthuses. "My father grew up here until he was sixteen, and I used to come here most summers with a friend of mine. We used to go to Clonakilty, down south, and I went back to where my father grew up, just outside Galway, a place called St. Clarens. I feel very close to Ireland, it almost seems like a second home."
"I love it here, I really do," he continues. "There's something magical about it so it's always nice to come to somewhere like that, you sort of feel like you're a little more creative."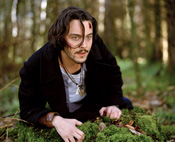 Jack Huston
Huston was attracted to 'Shrooms' by its well thought out script, and his character's laid back nature.
"It was an original take, I thought. It had a good scare element as well as being interesting. I liked my character very much, he was almost the relief in a sense that he's not a stereotype, he's more easygoing, he's the chilled guy."
So did the cast sample any shrooms, in the name of research?
"No, sadly not," says Huston. "We decided to skip that part because I think turning up on a set with a bunch of people you don't know and then taking mushrooms, we were advised was a very bad idea. Having a bad trip on a movie set would probably mean you wouldn't be able to do anything, you'd probably never work again!" [laughs]
Huston attended a 'pre-drama' school from the ages of sixteen to eighteen, Hurtwood House. With actresses including Emily Blunt amongst its alumni, Huston was in good company.
"It was great, you go there and you're doing plays, constantly putting on things, so you know it was a good place to have a go at."
Now based in LA, the British born actor says he would love to return to Ireland for another film.
"I would love to make more films here, I would do anything in Ireland actually….[pauses to think] well, obviously not porn, but I love it here, the more projects the merrier.
"I think there is a massive passion for filmmaking out here and I think people love their jobs and I think that basically, anywhere in the world, if you get people who are having a good time with what they're doing it runs smoother. If people aren't having a great time then it doesn't work the same. It was great here, everyone worked really hard and pitched in."
The young actor's star is about to rise dramatically, with three of his movies set to hit cinema screens in 2008. He will star opposite Mena Suvari (American Beauty) and Richard E. Grant in John Irvin's 'The Garden of Eden'; will be seen alongside John Hurt and Jim Caviezel in Howard McCain's 'Outlander', and act opposite Stellan Skarsgård (Good Will Hunting, Pirates of the Caribbean 2&3) in Duncan Ward's 'Boogie Woogie', a satirical look at the London arts scene.
And what's next for Breathnach?
"I'm not sure what's going to happen next. There are two things I'm working on: one is a western set in Tipperary in the 1590's, that's in the Irish language actually, and there's another which is being written by Mark O'Halloran set in the world of transvestites in Cuba. It could be one of those, or it could be something else…I would like to do something towards the middle to the end of next year if I can."
'Shrooms' is released nationwide on the 23rd of November through Buena Vista International (Ireland).