We caught up with writer-director Alan Friel ahead of the World Premiere of his feature debut Woken at the Newport Beach Film Festival.
This film marks Alan Friel's feature debut, having written and directed numerous short films such as The Wind and Sophie at the Races. Maxine Peake (The Theory of Everything) joins the cast of Woken, having previously worked with Friel on his latest short film Cake, written by Andreas Hadjivassiliou, where she starred alongside Letitia Wright (Aisha).
Woken follows Anna, a woman who wakes up on a remote island with no memory of who she is. She is forced to re-learn everything about herself, her husband, and the baby she is carrying. When two disfigured people arrive on the island and there is a violent altercation, she discovers that the human race is close to extinction and goes searching for the truth herself.
The cast is led by Erin Kellyman (The Falcon and the Winter Soldier) as Anna. She is joined by Peter McDonald (The Batman), Ivanno Jeremiah (Humans), Corrado Ivernizzi (Indiana Jones and the Dial of Destiny), and Oscar Coleman (Bridgerton).
Stephen Kelliher and Sophie Green are executive producing for Bankside Films. Brendan McCarthy, John McDonnell and Deirdre Levins are producing for Fantastic Films, and Marina Marzotto and Mattia Oddone for Propaganda Italia, with the support of the Italian Ministry of Culture. Phil Hunt and Compton Ross are acting as Executive Producers for Head Gear Films with Niamh Fagan as Executive Producer for Screen Ireland.
We sat down with director Alan Friel to discuss where the initial idea for the film came from, the filmmakers that have most influenced Friel, and his experience of shooting a lo-fi sci-fi film in The Burren.
IFTN: This is your first feature film, how did you find the transition from shorts to features?
ALAN: "I loved the transition and the opportunity to tell a longer story. A friend told me at the start of the process that shorts are a sprint and a feature is a marathon and it's a very good analogy. My short films definitely helped by equipping me with the skills I needed to take on a bigger project and communicate well with everyone. I've made commercials but they don't offer much in the way of performance and it was directing shorts where I realised how much I enjoy working with actors and honed some skills. Another advantage of having experience with shorts was the knowledge that there is never enough time - the importance of preparation and the need to arrive on set with all your homework done and ready for the day."
IFTN: When did the idea for Woken first come to you?
ALAN: "About ten years ago, I met up with a director friend of mine, Billy O'Brien, for lunch. The night before, we set each other the task to bring three new ideas and Woken spawned from that. The script was honed and developed over the years but I remember the core idea was 'woman wakes on an island with no memory of the family looking after her'. I was looking for a one-location idea but failed miserably on that one."
IFTN: What filmmakers, or other artists, have influenced your work the most?
ALAN: "I find questions like this difficult as there are so many, especially now that there is so much good TV out there. I guess because I started my career as a fine artist, I have always been drawn to filmmakers who not only get great performances but also have a visual flair. The Coen Brothers, Ridley Scott, Lynn Ramsay, Michel Gondry, and Denis Villeneuve have all been big influences. I'm a sucker for any Hitchcock, Kubrick and Billy Wilder film. I am excited to see what Chloé Zhao, the Daniels and the Safdie brothers do next."
IFTN: What was your approach to filming a sci-fi thriller in Ireland? What impact did the locations in Clare and Limerick have on the film?
ALAN: "We shot in The Burren, which I've always thought would make a great setting for a sci-fi film, given its almost extraterrestrial landscape. It was an amazing place to be based and adds a barren beauty to the film. We didn't have the budget to construct sets, so our locations were vital and fortunately, we had a great location manager called Sean Flynn who spent a lot of time scouting. I was delighted when I walked into a house that had been derelict for ten years and hadn't been decorated since the 1960s. This would become Anna's home and play a big part in creating the flaking atmosphere of the first act."
"As ours is a lo-fi sci-fi film, Sean searched high and low for the more futuristic locations and found great spaces in the University of Limerick that felt right for the world we were creating. All in all, shooting on the West Coast gave us some truly unique locations that greatly enhanced the film's visual style."
IFTN: What was the biggest challenge you faced during this production, and what was your favourite moment on set?
ALAN: "The obvious one was COVID which I caught the week before the shoot. This impacted heavily on my rehearsal time with the cast and I spent the first three days directing from my car, which I greatly enjoyed thanks to my amazing first A.D Drew Maitland."
"I had an amazing cast and crew, so it was a very happy and creative set with lots of laughter. I have two favourite moments. One was a dinner I had with the cast halfway through the shoot, where I remember crying because I was laughing so hard, and the other was by the monitor on the final day, knowing that we had managed to get everything we needed."
IFTN: How does it feel to have Woken have its World Premiere at the Newport Beach Film Festival?
ALAN: "It feels very special indeed. It's a wonderful festival, and because Woken is set on a small island, it feels right that this film should premiere at a festival by the sea. This is a homegrown film for me, as we shot it in Clare. I edited the film in Westport, where I'm from, and the town next to Westport is called Newport, so it feels like some weird serendipity that Woken should have its premiere at Newport Beach. It's very exciting to be sending the film out into the world and I couldn't imagine a better start for it than at The Newport Beach Festival."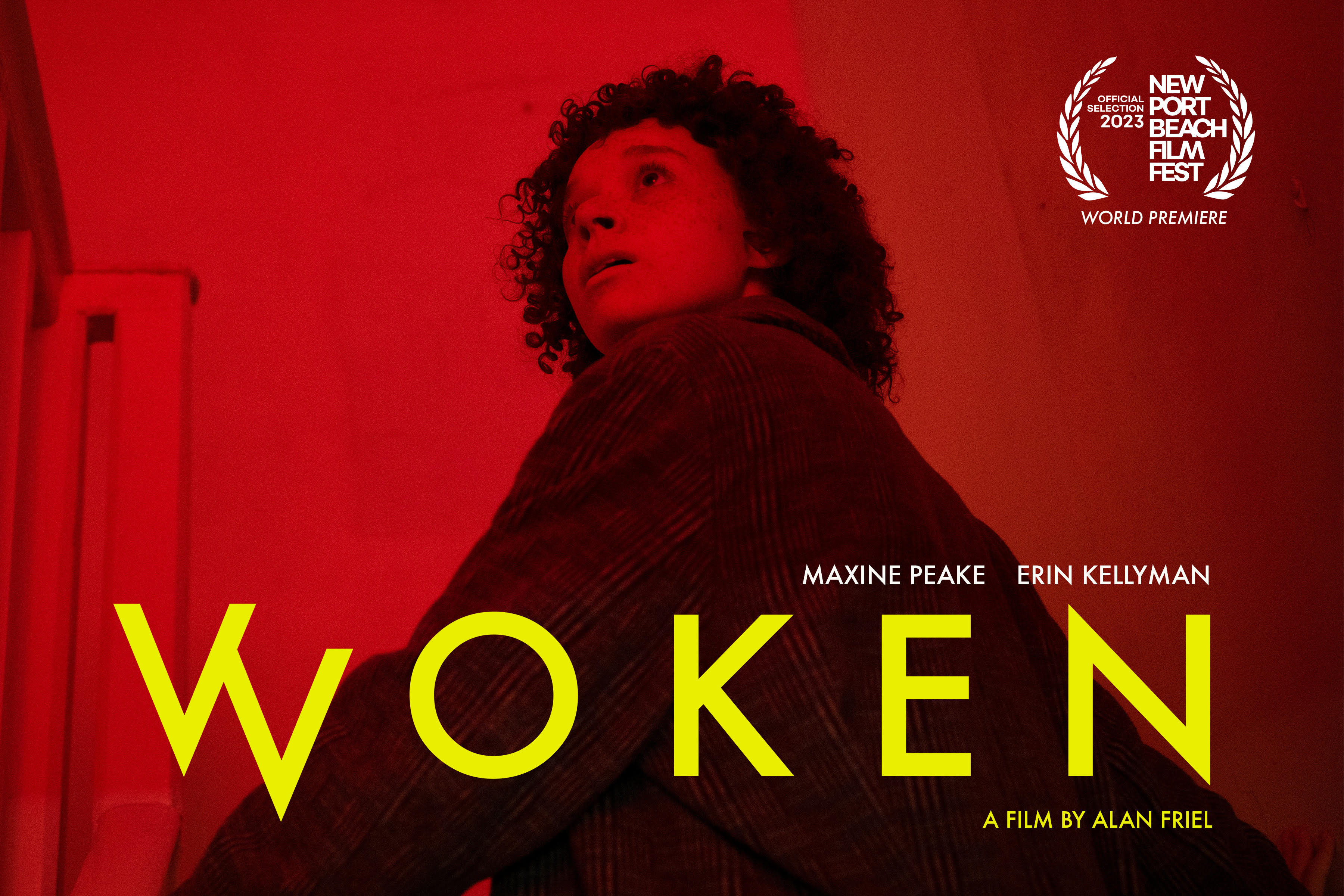 Woken will have its World Premiere at Newport Beach Film Festival on October 15th, 2023.