On the currently cramped set of 'Ireland AM', presenters Mark Cagney and Sinead Desmond's eyes light up when they discuss the prospect of introducing new segments to the breakfast show.
"We'd love to do more music. At least record them or film them," says Cagney. "If we have the opportunity and the space we would definitely [introduce new segments] you can see how tiny this place is. We do an awful lot in a very small space as it is so if we got the chance yeah by all means," says Desmond.
The chance may be sooner rather than later, as the set, which is currently home to 'Ireland AM's' soft seating area and news desk, the TV3 news desk, the 'Midday' desk and Vincent Browne's desk, will soon have space to fill, as plans to move 'Tonight with Vincent Browne' into TV3's new studio get underway.
'Ireland AM' executive producer Victoria O'Brien also admits she has "loads of ideas". O'Brien envisages a breakfast show similar to ABC's 'Good Morning America', which is broadcast live from Times Square seven days a week.
"We'd be meeting with the technical teams and really seeing what we'd do with that extra space. I've loads of ideas. We've been in the same space for 13 years, and there are loads of sets that we would love to develop and make segments out of, so it really just depends on when that move takes place and what happens," says O'Brien.
"I'd love an entertainment section, I think we're really missing that. The soft area is a really nice area I think it has a lovely feel, we do a lot of the human interest and the serious angles on that, but entertainment is a huge portion of the show and is really enjoyed by viewers so we really need to capitalise on that.
"If there was a set that could convert to showbiz, celebrity news, film and DVD, so it would look completely different, the background could change completely. So maybe for a film or DVD you'd be in the cinema, for showbiz you could be anywhere in the world, maybe Times Square. I'd love to get in that virtual element in a different area in the set."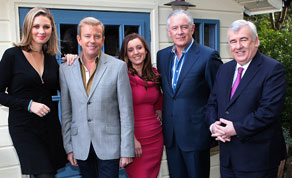 'Ireland AM' has been on-air for 13 years
While it may seem O'Brien, who has been executive producer of 'Ireland AM' for the last five years, is getting ahead of herself, one is inclined to believe her, as she is responsible for making 'Ireland AM' the number one breakfast show in the country, snatching viewers from ITV's 'Daybreak' and 'BBC Breakfast' in the space of just a few months.
Listening to her speak of the different backdrops, live segments, celebrity-filled interviews, it's easy to see why 'Ireland AM' now has a 40 per cent share of viewing among adults, and reaches 225,000 viewers each day, with an average of 62,000 viewers.
It took a seven month-long maternity leave stint for O'Brien to observe 'Ireland AM' from her own home.
"I think it's a luxury to be able to step out of the show for once and not be involved. You don't have that luxury to step back and go 'What is working and what is not and why should we be doing that?' Maybe in the first hour we used to do one topical item, when there were six other stories that we should be covering, that I really want to know about, and just because I'm a mum at home doesn't mean I don't want to know about them.
"So I started looking at all that and looking at the way we presented it and just had an itch to completely come back and say 'Come on let's just completely start from scratch'," says O'Brien.
From thereon in it was out with the old and in with the new, as the show's format transformed from a light breakfast show to a heavy slap up of the day's news.

The idea is to try and give people their best media breakfast as much as you possibly can "
The most notable change is the first hour of the show, from 7am to 8am, where long-term presenters Cagney and Desmond; Cagney has presented since its establishment in 1999 and Desmond has been his longest serving TV wife coming up to five years; give viewers a snippet of that morning's news as they leave for work or sit down to breakfast.
Cagney says: "It felt a little bit strange at first because we'd been doing it a long time. The product hasn't changed, it's been dressed up, we're doing things in different areas. The first hour is much newsier. The idea is to try and give people their best media breakfast as much as you possibly can. What do you need to know, do you want the weather, traffic? Then later on in the day you can select from other outlets."
"The changes have really invigorated the whole team, from the producers to the researchers it's amazing what those guys outside do," says Desmond. "It's like a newspaper, you've got your hard news, you've got your features in the middle, and then you've got your fluffy stuff at the end. You've got cooking and your lipstick and all the rest of it. From a female perspective, I get my news hit, I get my human interest hit, and then I get fashion, so from my perspective it's kind of dream gig," she added.
Other new aspects introduced to the show include live weather and traffic updates from presenters Alan Hughes, Aidan Cooney and Anna Daly, an international news round up and a viewer poll, where audiences are encouraged to get in touch to discuss topics covered on the show.

We'd love to be doing really huge things but we've always to scale back "
As well as the news-filled hour from 7am to 8am, O'Brien says she is most proud of the live elements which have been introduced as part of her transformation. TV3's recent investment of a metrocam allows Daly meet with various different celebrities for breakfast in Dublin's city centre, with footage streaming back to TV3's studio via the wireless camera, and without the use of a satellite van.
"'Ireland AM' is in Ballymount, we're not in the city centre so it's to get that live element into it without being in the city centre. I feel we've achieved that using our metrocam, we can go places every morning, come from another live location, so that we're throwing from studio to give that impression that we're up with you we're getting ready to go to work with the traffic behind us to give that feel," says O'Brien.
Apart from the new Sony HD Studio Dublin which cost the station almost €10m in total, the changes at TV3 Group have been implemented on a shoe string budget. "We'd love to be doing really huge things but we've always to scale back," says O'Brien.
O'Brien said to ensure she and her team doesn't have to go through the intense format changes again she'll hold off on baby number two: "It's been a real challenge. It's trying to come up with something different everyday with the small resources I have. It's taken a good bit of a push to get everybody motivated and thinking in the same way so I definitely won't be doing this again for a little while!"
'Ireland AM' airs on TV3 Monday to Friday from 7am. Mark Cagney, Sinead Desmond, Anna Daly, Alan Hughes and Aidan Cooney present daily.