Cinematographer Seamus McGarvey is already an IFTA Award-winner, Oscar nominee and 3D convert, but he can now add masterclass extraordinaire to his CV after wowing a packed audience at IFTA's 'In Conversation With…' event at the IFI yesterday.
McGarvey took the hot seat in front of a capacity crowd of IFTA Members and guests to discuss his illustrious career with his friend and photographer Perry Ogden (Pavee Lackeen), in a James Lipton-style session. Cinematographers, directors, producers and fans alike filled out the IFI screen as McGarvey talked them through some of his earliest films as well as his latest blockbuster, 'Avengers Assemble'. The crowd looked on with intent as McGarvey shared some behind-the-scenes secrets as clips were shown from some of his most celebrated films.
Speaking to IFTN after the masterclass, McGarvey expressed his delight at so many familiar faces in the crowd, "I loved it. It was lovely to see my friend Perry again and to have a photographic discussion with fellow practitioners. It was just lovely to see friends who I haven't seen in years coming along to have a blather."
Avengers Assemble
The first clip to be shown was of 'Avengers Assemble', which premiered at the Savoy Cinema on Monday night, with McGarvey the special guest of honour and IFTA Members among the enthusiastic crowd.
Comic book giant Marvel has an in-house creative 3D digital team called Stereo D, which previously created 3D formats for other Marvel box office hits 'Thor' and 'Captain America', and most recently provided full 3D editorial services for James Cameron's epic 'Titanic'. With Stereo D's up-to-date technology, McGarvey and Whedon chose not to shoot 'Avengers Assemble' in native 3D, but instead used Stereo D's algorithms for a "more sophisticated [post-production] process," according to McGarvey.
Comparing the Marvel action adventure to his previous work, which includes 'Atonement', for which he received an Oscar nomination, and 'We Need To Talk About Kevin', the intense murder drama starring Tilda Swinton (The Golden Compass), McGarvey eventually relished in the challenge the 3D shoot brought.
"For me it was a different challenge. Normally I work in a very visceral, down to earth way, and everything that is in front of me gets photographed. What was really exciting about the 'Avengers Assemble', especially seeing it last night in the premiere, was just this whole new world revealed to me that had been created in computers and visual effects. The notion that there's a fellow cinematographer working alongside you, namely the visual effects supervisor, who's enhancing and embellishing the drama with photo-real effects is really enjoyable," said McGarvey.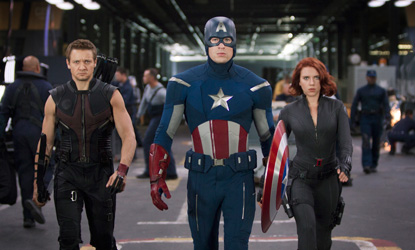 Avengers Assemble
A coy McGarvey told IFTN he "had no idea" why Whedon chose him as cinematographer on such a highly-anticipated project, but surmised the decision was actually down to his lack of experience of working on digital action adventures. He said "I think [I got the job] really because Joss didn't want some old DP who's done a million of these movies in the past coming around saying 'look this is how we do it'. So he wanted somebody who was probably as hungry for it as he was and I think that's why he got me involved. I was very very keen to be involved, and I'm keen to learn." And learn he did, by taking a three-week crash course in 3D which he admitted was "terrifying", but helpful to him in the long run.
McGarvey also admitted he'd like another crack at 3D filmmaking, acknowledging that technology is changing the way cinematographers work, "I really enjoyed seeing the un-photographical [come to life], particularly characters like The Hulk (played by Mark Ruffalo) who is a totally imagined character but done in a very believable way."
For now though, he is currently working on post-production of 'Anna Karenina', a period drama directed by Joe Wright, with whom he previously worked with on 'Atonement' and 'The Soloist'.
'Avengers Assemble' is in cinemas nationwide from Friday April 27. Check out the photo gallery from the IFTA 'In Conversation With... Seamus McGarvey' and masterclass here