'Harry Potter and The Deathly Hallows: Part Two' marks the end of an era for a whole generation of Harry Potter offspring in the form of cast and crew, many who have been with the production for close to ten years.
For Irish actress Evanna Lynch, it is the end of an incredible journey from Harry Potter super-fan to Harry Potter star. The young Teremonfeckin-born actress was picked out of 20,000 hopefuls at a London open audition at the age of 14 to play the part of Luna Lovegood in the epic films. As the end draws nigh with the release of the final installment of the series on July 15th in the UK and Ireland and the final press calls for the cast, IFTN caught up with the charming Evanna Lynch, along with fellow Harry Potter stars James and Oliver Phelps (Fred and George Weasley) to find out what they'll miss, what they'll always remember and what's next for the young stars of the massive Harry Potter franchise.
With filming having wrapped on the final movie over a year ago, the cast have had some time to accept the end and reflect on their experiences in the world famous Harry Potter film franchise. Louth native Evanna is only too aware of the amazing opportunity she has had acting in the films, having been a massive fan before being cast as the airy fairy Luna Lovegood: "I'll miss being a part of that because there are so many privileges from working on the film and I've been part of that group for so long. The other day we had a huge press conference with over 20 cast members and if you looked around the table there was Jason Isaacs beside me and Robbie Coltrane and Michael Gambon and Ralph Fiennes. To be part of that set, that can't be taken away from me. I'll always be so proud of that. And I've got to know them all, they are all so kind. Jason Isaacs was giving me advice the other day on acting. They are all lovely and to say that you worked with them and have taken advice from them gives me great confidence."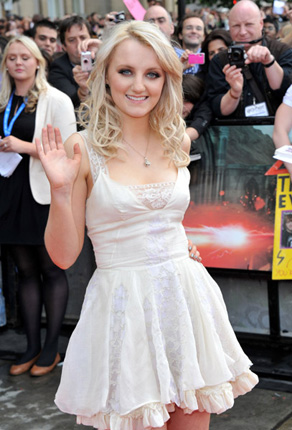 Evanna Lynch at the London Premiere of Harry Potter last week
For English identical twins James and Oliver, who have dyed their hair red for ten years to play the roles of Fred and George Wealey, the world premiere held in London on Thursday July 7th was the moment when it became "very apparent that we weren't going to be doing these again. It was kind of like our graduation…but the world is watching. I think we'll miss the camaraderie with the cast and crew because we had such a laugh making them. Although we will hang out with everyone still, we are not going to be in that same group for a long time." Speaking of their experience on set, the James ensures IFTN that they "never pretended to be each other. We did mess with people on set but we never played on the whole identical twin thing. If there is a prank war going on we like to be involved. But the twin thing is too easy, it's too obvious."
The most memorable moment for Evanna is one which is hard for the 19 year old to pick. "There are too many moments to mention," says Evanna, "but one that does stand out is when I met JK Rowling. It probably stands out because everything was so new at the time and feelings were intensified. I worshipped her. I used to write letters to her. It's like part of you not believing that she's a real person so when I met her in person...I just kind of looked at her for a few moments. I couldn't believe that all of this, all the films all of what we are doing now, it has all come from this one person. She just looked small when you think of it like that. That was a really cool moment. She was so kind to me, so generous with her time and everything so that meant a lot."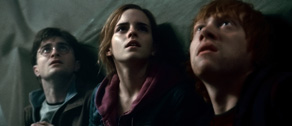 Co-stars Daniel Radcliffe, Emma Watson, Rupert Grint
Evanna Lynch's amazing story is a dream come true for the young actress, but she remains hopeful that this is just the beginning. "There is a feeling that this [the Harry Potter Films] is so big that there will never be anything as good - but you don't want to think that way. I'm only 19 and I don't want to think that the best part of my life is already over. It is definitely a unique phase for me. I'll always treasure it, but I like to think that I'll look back on it not with regret that it is over, but just with happiness to have been there. I like to think there will be more, that I will see all these people again and it will just enrich all my other life experiences."
Having spent the last year studying and sitting her leaving-certificate, Evanna hopes to pursue acting. "I don't think you can go back after having done this. Going back to school was always very hard because it just seemed so normal and quite dull," says Evanna. James and Oliver Phelps are also pursuing a career in acting having spent a part of the year out in Hollywood to "check out the whole scene there. They have a completely different way of doing things than the way it is done in the UK. I really enjoyed it. We had some meetings and some potential opportunities became available," says Oliver, although there is been "no pen to paper yet" on potential projects.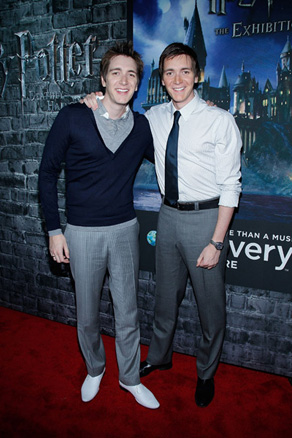 James and Oliver Phelps
With Evanna saying she feels "no urgent need" to continue with a college education, she also hopes for more screen appearances. "I want to explore acting roles and I think it is a great thing to do when you are young. You are still finding out about yourself and what it is you are meant to do. With acting, you are always meeting new people and you are playing someone else and that makes you think harder about yourself." Evanna hopes to progress to more "challenging" roles. "I'd love to do something different. I loved Luna and she was a great character but I found her quite easy to play. I just understood her. I remember Emma (Emma Watson, 'Hermoine') talking at the Press conference in London on Wednesday about how in the last scene when she was doing the epilogue that she had to play a mother - someone who had 19 years more life experience than her. I'd like to try something like that, where it is a challenge to try and get to that stage of understanding so that you can play the character." So would she consider a low budget indie after the epic Harry Potter sets? "I'd love to do that. I'd like to get that sense of working really hard. A lot of the time on Harry Potter, I felt like 'This is so easy!' I'd like to do some hard work."
The twins admit that working on smaller productions will "take some getting used to. The Harry Potter films are huge. You only have to look at the crew and there are over 1,000 people," says Oliver. "But we were always aware that this isn't your usual film experience. Principle photography on part one and two took about 18 months. We know that it is not the norm but everyone on the crew is down to earth so we'll just appreciate the work that comes our way and hopefully try and make that half as successful as Harry Potter has been."
James Phelps already experienced work outside of his role as Fred Weasley when he took on a role of runner ("my official title was P-set PA") on 'Harry Potter and the Half-Blood Prince'. He says production is something he would "potentially pursue, whether that be producing or directing later on down the line. But I learnt a hell of a lot doing that job because I saw all the different departments. As an actor you are sheltered from how many early starts there are. You do have early starts but not compared to the others. I think my average call time when I was running was 4.30 in the morning so I learned to appreciate a lie-in as an actor."
As the young stars look to their futures, the subject of Harry Potter remakes arises with James and Oliver saying "If it ain't broke, why fix it? I think it's kind of like Star Wars. You don't want to remake the original Star Wars films." On the other hand, Evanna says she would like to go back and play "an older Luna. I think they should do a Luna spin-off series. Everyone just likes her." But if her favourite character wasn't an option, Luna says she would be interested in playing "the divination teacher. They have a cool job. I'm really interested in horoscopes and astrology and that sort of thing."
'Harry Potter and The Deathly Hallows: Part Two' will be released nationwide on July 15th.