Cork is one of Ireland's prime filming locations. Accessible by land, sea and air, the southernmost of the Irish counties (and the largest of those at 7,457 km2.), reaps the benefits of a vastly varied landscape. IFTN examines the convenient and worthwhile reasons for choosing Cork as a shooting location.
Cork is a very accessible shooting location; Cork Airport is one of Ireland's main airports and is located just to the south of Cork City. It offers eight scheduled airlines which fly to over 40 destinations with over 60 flights a day. For productions with shipping needs, the Port of Cork is situated at Ringaskiddy, just south of Cork City from where there are direct services to France and the United Kingdom. A new motorway, the M/N 8, opened in 2010 and has meant that Cork can be reached from Dublin in approximately two hours.

And it's not just Cork city that is easily accessible, but all parts of the county; John Burns, location manager for 'The Runway' brought the film's production team to remote Cork towns such as Goleen and Schull and tells us the team had everything they needed for the operation to run smoothly: "Where communications are concerned things are perfect down here," he says. "The entire county has quick broadband coverage and Cork airport is literally on the edge of Cork city so you can be out there in 15-20 minutes which is obviously very convenient." Cork City and County council are currently in the process of establishing a Cork Film Commission Office, filmmakers currently looking to apply to film in the county shoudl contact the local city and county council offices in their chosen location(s) who, as John tells us, try to make location managers' jobs as easy as possible: "The local county councils are very helpful," he tells us. "They really go out of their way to help you." So much so, in fact, that John is currently in pre-production with his own feature film, 'Rebel City Rumble' which will shoot in Cork City early next year.
Mayor of Co. Cork, Jim Daly (2010) (current mayor is Cllr Tim Lombard 2012) tells IFTN that a Cork film commission is very much so in the pipeline: "Filmmaking has been done well but slightly haphazardly in Cork so far," he explains. "With the film commission we'll hope to have a database of locations, actors and crew members under one roof, along with someone on hand to explain the logistics of transport and road closures etc."
Niall Mahoney, Location Manager for Musketeer Production Services Ltd (2010), (currently Cork Screen Commissioner 2012) who was commissioned to find and collate the locations for the database also commented on the county's new infrastruture: " It was a really interesting project to work on,"he tells us. " The sheer wealth and diversity of locations on offer and the friendliness of the people made it a pleasure. To have the beautiful coastline of West Cork and the Manor Houses of North Cork contrasted with the urban landscape of the City makes it a highly desirable place to film."
Cork as a film setting:
The Runway
Section 481, the Irish filmmaking tax scheme is not the only attraction in using Cork as a film setting - the county has proved chameleon-esque in recent years. Conor McPherson, director of Tribeca and IFTA winning atmospheric feature 'The Eclipse' in Cork in 2009, summed up his experience saying: "Wherever we shot, the locations were always so inspiring. There also seemed to be a magical quality to the light, giving us great photographic images".
Cllr. Jim Daly, Mayor of the County of Cork puts it simply, telling IFTN:"If you want to find any kind of Irish scene you'll find it in Cork!"
A short drive brings one from the coastal, hill-top town of Cobh through fields, mountains and lakes to Cork city whilst beaches and jagged sea cliffs line the county's 1094km length of coastline. Cork towns are nestled at the foot of several mountain ranges including the Slieve Miskish and Caha Mountains on the Beara Peninsula, the Ballyhoura Mountains on the border with Limerick and the Shehy Mountains which reach a height of 706 m, Cork's highest point. Cork has three major rivers; the Bandon, the Lee and the Blackwater and in one part of cork an area has formed where the River Lee breaks into a network of channels weaving through a series of wooded islands with the results that there are now 85 hectares of swamp around Cork's wooded area.
Cork has welcomed film crews for decades; John Huston famously bringing his 1956 production of 'Moby Dick' to Cork's coastal areas. Various parts of the county have enjoyed temporary film set status ever since, hosting the likes of John Robert's 'War of the Buttons' in 1993; Paddy Breathnach's IFTA winning, 'I Went Down' in 1997; Kirsten Sheridan's BIFA nominated, 'Disco Pigs' in 2000 and Aisling Walsh's IFTA winning, 'Song for a Raggy Boy' in 2003.
In recent years Cork has enjoyed a huge resurgence of interest from filmmakers seeking to add a certain depth or specific emotional tone to their projects. In 2006 location manager Maria.O'Connor was charged with finding the perfect settings for Ken Loach's 'The Wind that Shakes the Barley'. She found most of the film's locations in North Cork, making use of Mallow's barracks and traditional Irish 'big houses' along with areas in Ballyvourney on the Cork/Kerry border (one of which was used for the infamous recreation of Béal na mBláth - where Michael Collins was killed during Ireland's War of Independence). Maria also brought the filming to Kilgarvan and Bandon for the film's town scenes.
The feature shot in sequence, something which Maria found easy to manage: "It worked out very well because everything was so near, we got very lucky," she tells us. "And people in Cork really went all out to help us. Bandon is an extremely busy place, a lot of trucks go through it. And the local people shut the whole down for us, for three whole days. It was amazing."
Conor McPherson chose the labyrinthine coastal town of Cobh as the setting for his 2009 atmospheric feature, 'The Eclipse'. The last stop of the ill-fated Titanic on its departure for New York, Conor is very aware of the impact of the town on his film: "I have no doubt that Cobh's striking nineteenth century architecture - allied to its wonderful coastal geography - gave our film so much of the special atmosphere that made it a success," he starts. "We also found fantastic locations at Ballycotton, Castlemartyr and Youghal, we lived on Fota Island while making the film and also spent time in the nearest towns, Midleton and Cork City, whenever we got a break. Cork is a great city, full of history and so nice to stroll around. Midleton is also a lovely town - really clean and beautifully kept. The people were so friendly and welcoming wherever we went. I would definitely consider shooting a film in the Cork area again. It felt really lucky for us while we were there - and so it proved. Many of the international reviews of 'The Eclipse' have claimed the film made them want to visit Ireland . What compliment could be higher?"
Cork's talent pool: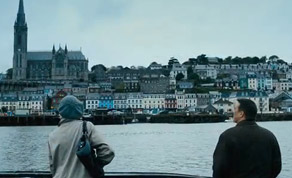 The Eclipse
Cork has produced a huge amount of acting talent in the shape of 'The Tudors' Jonathan Rhys Meyers; 'Inception' actor, Cillian Murphy; 'Harry Potter' actress, Fiona Shaw; 'Father Ted' actor and presenter, Graham Norton; 'The Magdalene Sisters' Eileen Walsh and 'Bachelors Walk's Don Wycherley to name a few. Behind the camera the county has brought us the likes of 'Eamon' director, Margaret Corkery; 'Strength and Honour' director, Mark Mahon; 'The Crucible' costume designer, Bob Crowley; BAFTA winning 'Boy A' director, John Crowley and 'Gone Baby Gone' soundtrack musician and composer, Kim Carroll.
Cork is playing host to several features in the near future including Peachy Vision's 'Rebel City Rumble' before Eddie Izzard's Long John Silver will arrive on Cork's shores in late November in 'Treasure Island', a Parallel Films' co-production for Sky 1 HD.
Locations Ireland:
Locations Ireland - a thorough and comprehensive guide to Irish film locations has information on over 80 filming locations to be found in Cork. IFTN, in association with Cork County Council has researched and assembled these locations in order to aid location managers and as a way of illustrating Cork's many sumptuous destinations. To start exploring visit http://www.iftn.ie/locationsireland/irishlocationsregion/sublinks_static4/cork/