16 years ago Cathal Gaffney and Darragh O'Connell founded Brown Bag Films. In a pre-digital era the pair set up the studios as a means of making their own films. The group was founded at a time when Ireland has the biggest animation industry in Europe with the ironic fact that none of the studios here were Irish-owned. The company has since moved from its hand-drawn and painted beginnings to boast a staff of 57 in its Dublin studios which are equipped with a state of the art High Definition picture and Audio post production facilities. Furthermore the group has, as of July this year, a new Hollywood-based office. IFTN caught up with co-founder and managing director Cathal Gaffney to talk about the future of the company and Irish animation as a whole.
Brown Bag Films has, in the last few months seen ever more accolades added to its bulging trophy case. An Academy invitation to one of the company's founders, Darragh O'Connell alongside IFTA animation awards; an Ernst and Young Entrepreneur of the Year Awards nomination for Cathal and the title of the Cartoon Forum's European Producer of the Year in 2009 are only a small selection of the accolades this animation house has won over the years.
The most recent of these honours, the coveted Oscar nomination, came in February 2010 year as a result of the animated short 'Granny O'Grimm's Sleeping Beauty' - but this excitement has not had the impact on the workings of the company that people might expect, as Cathal explains: "The [Oscar] nomination is fantastic but it's really a feature film accolade. We are in the television business and it's more an anecdotal story to tell - the people you meet at the nominees lunch and all that." That said, Cathal and the rest of the team have decided to take advantage of the company's second Oscar nomination to move into the world of animated features with the opening of an office in LA. "We've brought in a very experienced Executive guy called Gregory Little and he now runs the office for us over in LA," Cathal says. "He'll bring a wealth of experience and contacts, because there is no point in running a sales office as such out of LA unless you've got an American on the ground there. I am not going to be getting on a plane every Friday to LA for three or four days."
Brown Bag Films are now two months into a 24 month plan now to pull in a pure animated feature and bring it to Dublin for production. "The office has been running since the start of July and we have a number of projects that are under review," Cathal explains, "but it's going to be family and children's films - that's what we do. We're looking for hybrid movies as well - which would be live action and animation - but primarily animated films, and for the US market. We are looking for the Global market, that's really what we are focussed on."
This move into feature film production was first mentioned to IFTN during an interview with Darragh last October and it's quite clear that a lot of planning has gone into the operation since. Within the company there is to be both a technology R&D department and a content R&D department. Brown Bag's technology R&D department is currently developing all the tools and software that will be needed for projects in 18 months. Cathal further describes the steps involved; "We have a team of people that are developing computer animation technology at the moment," he explains. "These are for projects that we have not even started and we don't even know about but it's all about developing your pipeline and making sure that you can take on large volume of data and work through it efficiently." Thoughthe productions in question are swathed in secrecy Cathal can tell us that the team are currently working on a one hour Stereoscopic 3D project – Ireland's first project of this kind! "Over the last 12 months we've built a whole stereoscopic 3D pipeline, so we are producing and outputting standards to the version of it and a whole stereoscopic version of it as well. I guess it's the first stereoscopic work that has been done here. So, we have really gone through a steep learning curve with it."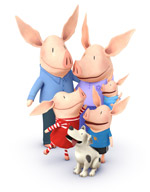 Olivia
As to the logistics of running the office on Seward Street in North Hollywood, Cathal expects that Irish directors will be brought over to pitch with Gregory Little in U.S. studios. He also mentions that Brown Bag are willing to welcome directors from across the pond also "We're not adverse to working with US directors and pulling in very experienced US directors and bringing them back over to Ireland," explaining that, "realistically it is a very young industry here in Ireland, and for the animation sector to grow, it will take an extraordinarily long time to do it organically, or else we can pull in the talent from overseas and speed up that learning curve." He continues by mentioning the talents of 'Granny O'Grimm' director Nicky Phelan and Darragh O'Connell who he would like to see work on the upcoming projects - adding, however, that "it will really have to suit their sensibility. We won't be pushing Darragh for a project that he does not want to do, or similarly with Nicky, it would totally depend on whether the script suits them."
For a business that stemmed from its founders' desire to make quality Irish animation for themselves the group has certainly grown enormously with animations from Brown Bag Films now screening on television sets around the world. The team is currently working on the second season of 'Olivia' for Nickelodeon in the U.S. with Chorion. The former Creative Director of Cartoon Network, Tim Bjorklund has relocated from California to the company's Smithfield studios to direct this series whilst former 'Rugrats' director Norton Virgien has also left California to work in the Brown Bag Studios in his role as director of 'Doc McStuffins' for Disney L.A. Created by Chris Nee (Blue's Clues), the series is the first commission that Disney have made under the soon-to-be re-launched Disney Junior Channel. Despite the recent luck Ireland has had recently Cathal still has some trepidation when it comes to raising certain topics with the pair: "We are not sure what Tim or Norton have made of the Irish weather yet," he explains. "I am afraid to ask them actually, as we come into a wet autumn!"
The other big project the group is currently working on is the 52 x 11minute BBC series, 'Octonauts' which IFTA winning co-founder Darragh O'Connell is directing. Other series Brown Bag has produced include 'Wobblyland', for HIT Entertainment and Nick Jr., and 'I'm an Animal' which has sold to more than 100 countries worldwide along with the short films that include the Oscar nominated 'Give Up Yer Aul Sins', 'The Last Elk' and 'The Boy Who Had No Story'. And it all adds up very nicely for the studios. "Last year we would have produced 26 hours of animation, all high definition computer animation," Cathal tells us. "I guess, by volume, that puts us as one of the top producers in Europe of actual animation, and we are on track to do every bit as much and more for this calendar year."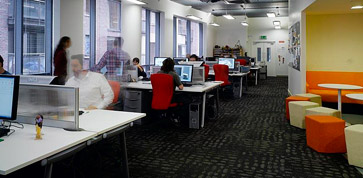 Brown Bag Films' HQ in Dublin
As to Brown Bag's most recent success story 'Granny O'Grimm', the geriatric behind this year's Oscar nomination and a 2009 IFTA win is to enjoy a well deserved rest Cathal says. "We've parked further development of Granny," hurrying to add that this "is something that we really regretted because it's a story that we really wanted to tell. There are a number of reasons behind it but ultimately we decided that it was in the best interest of the project for it to park."
Another factor cited as a reason behind Granny O'Grimm's break is the large volume of projects on Brown Bag's slate. The huge workload shared by the 57-strong team seems to defy the media industry's reputation for insecure employment opportunities. How is this possible in a sector that has only really come into its own in Ireland in the last few years? "It's a growth area," Cathal reasons. "There are career paths so people can come in and work on one project in a junior position and work their way up, and then another project comes in and they keep going, it's probably about the only job in the independent film and TV Sector where you can actually have a career path for five years solidly working with the one company. There are performance reviews, and training and all of those kind of things that you probably would not normally associate with the traditional film/TV kind of job."
Sustainable employment is only one of a few traits that the Irish animation sector has to celebrate – fellow Oscar nominees Cartoon Saloon are working steadily as are the teams behind Monster Animation, Caboom, Kavaleer, Magma and Telegael – to name just a few. So what does the Irish Animation sector need to do now to keep this huge growth in check? Keep things Irish it would seem. "We need to sort out our domestic market first," Cathal says, after a pause. "It really saddens me that RTÉ spends less than half a percent of their independent production unit budget on animation every year, out of between €50 to €60 million they spend €300,000 a year on animation. The real shame in that is that Irish children are going to miss out and they are going to expect to see red post boxes and yellow school buses.
"I think to really grow an industry domestically you do need the support of all the State Agencies and the National Broadcaster." That said, the producer does realise the importance of outside support also: "We are fortunate because we have moved primarily to an export market," he says of Brown Bag films. "There is nothing like hopping on a plane, I think about half of the attendees at MIP are normally animation producers. We are a very, very tight bunch, we all look out for each other and we have got together on www.animationireland.com as a website. We certainly pass information on to one another and would sooner see the animation sector grow in Ireland. Really, our competitors would tend to be France, or the UK rather than the group down the road.
It was with a similar sense of Irish community that Cathal and Darragh greeted the news of fellow Ballyfermot College graduate, Richie Baneham's invitation following the latter's nomination at this year's Oscars. "We joked about it at the Galway Fleadh," Cathal recalls. "The first time I was there was in 1991 as a student. There's a photo of Darragh and myself in a tent at the Spanish Arch that was actually taken by Richie. The three of us were great mates in our first year in college, as we still are now. And now both Darragh and Richie have been invited to join the Academy and both of them were Oscar nominees this year. When 'Give up Yer Aul Sins' was nominated for the Oscar in 2002 Darragh invited Richie as his date at the Oscar launch and so when Richie was nominated this year he called Darragh and said 'I'll be bringing you to the launch, not my wife.' But of course Darragh had his own invite."
Judging by the work mentioned above it seems unlikely any of the Brown Bag Films team will attend such events as a 'Plus One' ever again.