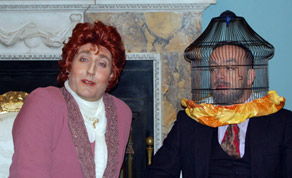 The Savage Eye
Shooting is underway on the set of the second series of the IFTA nominated comedy series, 'The Savage Eye'. Shooting in and around Dublin and Wicklow for the next five weeks and directed by Kieron J. Walsh (Raw), the series will see the return of Dave McSavage (Dental Breakdown) alongside his co-writer John Colleary (Touching People) and his fellow impressionists Pat McDonnell (Father Ted) and Dermot McMurrow (Emily's Song).
Each week 'The Savage Eye' explores one subject in its entirety using vox pops from members of the public to inspire the comedy sketches and unflinching rants from numerous fictional characters.
Produced by Katie Holly (One Hundred Mornings), the show's director of photography is Patrick Jordan (Croke Park Lives). Audiences can catch the new season of the show when it starts transmission on RTÉ Two on November 15th.