We caught up with director/writer Cathy Brady and actor Nora Jane Noone to find out more about their incredibly poignant drama Wildfire – the unique workshopping process, developing an intimate shorthand, and shining light on taboo subject matters.
Wildfire is currently on release across a number of cinemas in the UK and Ireland.
Filmed on location in Northern Ireland and the Republic of Ireland, Wildfire stars the late Nika McGuigan (The Secret Scripture, Traders), and Nora-Jane Noone (Brooklyn, The Magdalene Sisters, The Descent), and tells the story of a missing woman who returns home, igniting an intense bond with her sister. United, they unearth their mother's past, but the truth has devastating consequences. The legacies of the past are political as well as personal on the Irish border and they soon find themselves on a collision course with everyone around them.
Developed and produced with funding from Northern Ireland Screen, Wildfire is the first feature film from Newry-born writer/director, Cathy Brady.
At the time of the interview, Brady and Noone had just arrived in Galway after travelling down from Clones Film Festival where the night before they had attend a special screening with the family of their deceased colleague Nika McGuigan.
McGuigan tragically passed away two years ago following a short illness and later posthumously received the 2021 Irish Academy Award for Best Actress in a Leading Role in Film for her performance in Wildfire. Before the screening, Nika's IFTA Award was presented to her parents Barry and Sandra McGuigan by founder and Chief Executive of the Irish Film and Television Academy, Áine Moriarty.
"We were saying last night that neither of us had been to Clones before, but we had heard so much about Clones from Nika," Brady told IFTN. "It was incredible to go and meet everyone. We'd heard so many stories about her growing up," Noone added.
Stories of Nika's youth and time spent in Clones played a part in inspiring Brady as she wrote the script for the film, something the writer/director said can be seen within the film. "Like the lake scene… it just felt incredible to be in that space and incredibly heart-breaking as well," Brady explained.
Due to the pandemic, Wildfire has had to wait for its moment to feature in cinemas in front of general audiences following a successful festival run, which began with an Official Selection at the Toronto International Film Festival. "Last night was our first launch of the film publicly," Brady told IFTN.
"We've done the festivals virtually for the guts of a year, but it feels like the conversation is changing," added Brady. "I feel like now that it's meeting a more general public and not just film fans - the real power of the film is starting to shine."
That power can be tracked back to the unique collaborative process with which Wildfire was developed and workshopped. A journey that began when Brady arranged for Nora Jane and Nika to meet each other having previously worked with both actors. "I thought, 'What would happen if these two met each other?' That's where it started," Brady told IFTN.
"I felt like a yin had met a yang," Brady explained, when discussing the actors first meeting. "There was something incredibly complimentary and yet different. I could see that they had this ability to unlock something in each other, but I had no idea what."
It has been seven years since Noone, Brady, and McGuigan had that first meeting, which took place over tea and later progress to pints of Guinness – in something of a quintessential Irish escalation. "I still got that photograph," Noone smiled.
"Yes, we've got a photograph of them, they've got their two pints of Guinness and the look of 'we're making a film together,'" Brady laughed.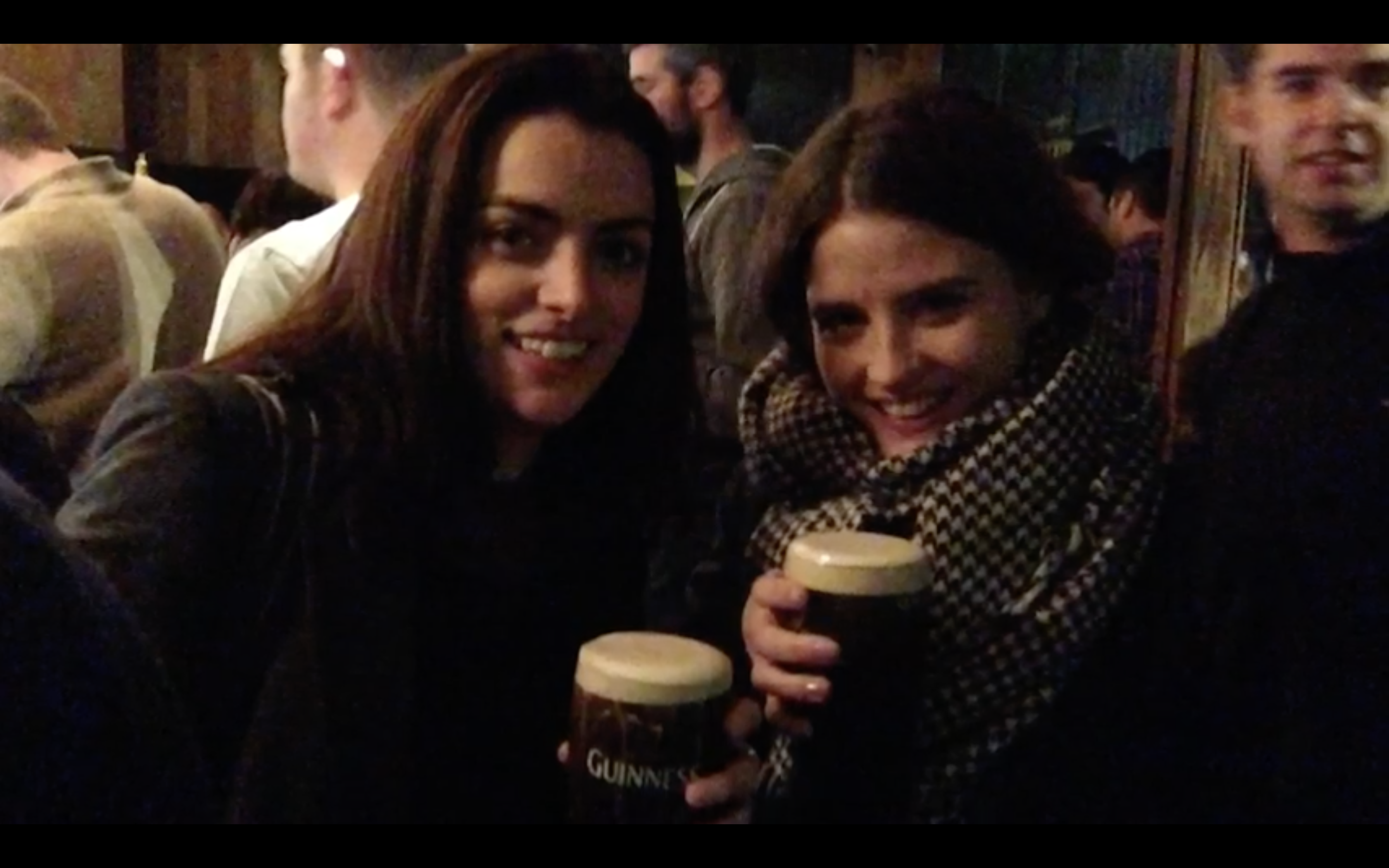 "We began conversations about stories and characters and people that inspired us. We knew that we want to tell the story with fierce women at the heart of it," said Brady. "We talked about the documentary Madness in the Fast Lane, about the twin sisters who had the shared psychosis."
An event where authorities found twin sisters, Sabina and Ursula Erikson, walking along the middle of the M6, throwing themselves into oncoming traffic and miraculously surviving. "This act of two sisters deliberately throwing themselves into oncoming traffic became our spring board," Brady said.
At the time of their first meeting, there was no script or pitch - other than the genesis of an idea, but Noone explained that herself and Nika were already committed to whatever Brady had in mind due to their previous experiences working with the director. "I think we were just so excited by that challenge," Noone explained, "because we knew she would go deep and push us. To be able to help shape that was huge. We were all in before we knew what it was going to look like."
Brady had been spurred on to explore this experimental approach after filming an improvised short with Johnny Harris and Eileen Walsh called Morning. During this experience, the director said that she realised the value of character building with an actor. "I had confidence gleaned from that and I wanted to see how much of that crossover into a feature," Brady explained.
"It wasn't too long after that where we started communicating through images, books, and film references," Brady continued. "We had a Facebook page and we were starting to tie all these ideas together."
Producers Carlo Cresto-Dina and Charles Steel also came on board the project from the early stages and completely embraced the process of developing the story with the cast already attached. "The confidence they had in me and their willingness to get behind this process is the reason this film has been made," Cathy insisted.
David Collins of Samson Films later boarded the Irish-UK co-production, with Wildfire receiving support from the BFI, Screen Ireland, Northern Ireland Screen and the Wellcome Trust.
As an actor, Noone found the entire workshopping process incredibly satisfying as herself and Nika were encouraged to bring the things that they were drawn to and passionate about into the equation. "To be able to bring all of yourself into something and have that shape a story in a relationship with another actor - it's amazing and you feel so embedded in it," said Noone.
"Also, just to see where your limits are and to keep pushing and push past them over and over and over again. That was it. I think that was the challenge," added Noone. "It was like we both wanted to grow and to just see what we were made of and we really pushed each other in that way."
When asked about the development of herself and Nika's intimate shorthand during the workshopping process, Noone said it was quite tough keeping up with McGuigan in the early stages. "Nika was like a professional athlete and so trying to work with her physically was exhausting! But she kept making me try. I was like, 'Cathy, come on?!'" Noone laughed.
"Those first couple of workshops were just completely free and completely open, and anything could happen," Noone recounted. "There was just something so special about that and having that time to just feel each other out."
The process began with several workshops in London, which then moved to Kerry once the trio got to grips with certain elements of the character and the backstory. "(At that stage) it was just incredible to be in wild Ireland - we got to road test some scenes, some moments," said Brady.
"(But) it wasn't all a walk in the park," Brady laughed. "Being very frank, it's very demanding on an actor because it's not rehearsal, it's workshop. If an actor only dials in 80%, that 20% can actually affect your story because there's a truth that isn't been fully earned or honed in. It required the actors to be switched on a hundred percent all the time."
Brady described the work done during the workshop process as the broad palette. "We realized certain temperaments, certain shades for certain scenes, but we were never committing to it," Brady explained. The dynamic of which was then shifted once the film went to production with the introduction of supporting cast such as Martin McCann, Helen Behan, and Kate Dickie.
"That became very interesting how to navigate these very much lived-in characters with supporting cast who were coming on board and reading the script at face value," said Brady. "These actors were incredibly switched on and yet able to take that supporting role so that Nika, and Nora-Jane could do their thing."
When asked about taking on powerful overarching themes such as shared psychosis and transgenerational trauma across the borderland of Ireland, Brady said: "I think sometimes the north can feel a little pathologically secretive. Things have changed, but it's a case of not speaking the truth so directly because you don't want to upset the applecart, or even with the Good Friday Agreement - prisoner's being released for the sake of peace," Brady told IFTN.
"I feel that's so complicated, and I feel like through Wildfire, you get to sit into characters who don't quite know how to move on," Brady added. "Kelly wants to cut through the trees all the time, but it terrifies Lauren because she'll have to face something that she's been hiding,"
"In places like that on the border, the truth is dangerous," added Noone. "Not only that, there's something dangerous about suicide, but people don't want to talk about it."
Noone believes that these secrets are what led to the creation of this intense bond between the two sisters in the film, who were left alone after their mothers passing. "In trying to protect her sister, Lauren just locked off of this part of herself," Noone explained. "To be honest, that for me, I found the most challenging parts of the film - was holding that and being so locked off in that way."
Wildfire is currently on release in select Irish cinemas nationwide.