Limerick Hotels are booking up for the autumn, with production due to start on the NBC-Universal television adaptation of 'Nightflyers', George R.R. Martin's sci-fi novella.
Details are to be announced, but IFTN understands that the set for the show is currently being constructed at the Limerick Studio, with a pilot and season one due to shoot over a sixteen-week period from later this year. Over five hundred are expected to work on the show.
Ahead of official announcements on the scale of the project, 'Nightflyers' already marks an achievement for the Irish industry, as the 350,000 square foot Troy Studios opens its doors to an international production for the first time.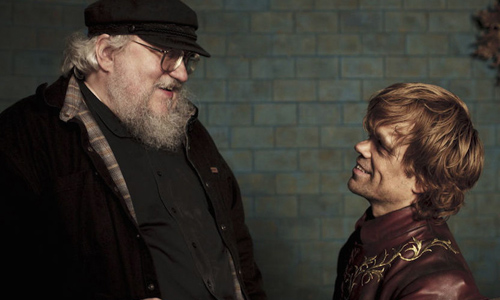 George R.R. Martin & Actor Peter Dinklage on the 'Game of Thrones' set
The series also sees the work of iconic sci-fi writer George R.R. Martin crafted on Irish soil yet again, just as the wind-down of fantasy series 'Game of Thrones' comes to Northern Ireland.
A major asset to the South-West, Troy Studios is built upon the site of former Dell site in Castletroy, and is now the biggest production studio on the island of Ireland.
Talks first began to develop the studio in 2014, when Innovate Limerick, a newly formed developmental arm of Limerick City and County Council, introduced the directors of the studio to three potential sites; LEDP, the former Dell site and a third bordering with Co. Clare.
The council purchased the Dell site from owner Peter Noonan the following year. This resulted in the studio becoming a tenant of Limerick City and County Council with a lease of no less than twenty years.
A deciding factor in choosing this location is the 15m height of some 70,000 square foot of the site in total, which allows for cost-effective, two-storey stages.
Construction of the studio wrapped late last year, when it was announced international bookings for Troy Studios were to be managed by Pinewood On Location, which is the production services division of Pinewood Studios.
Troy Studios Limited was established by Ardmore Studios' Chief Executive Siún Ní Raghallaigh, Ardmore co-owner Ossie Kilkenny and producer John Kelleher.