The new Kat & Alfie spinoff TV drama 'Redwater' starts this weekend on RTÉ One, Sunday, May 14th at 9.30pm ahead of BBC One's broadcast on Thursday 18th May.
In an introduction piece about the thrilling new six- part show Executive Producer, Dominic Treadwell-Collins discusses how they decided on Ireland and in particular how the village of Dunmore East, County Waterford should be the location setting for the drama.
"We felt Kat's search for her son couldn't just be limited to the confines of Albert Square and a couple of location scenes. We considered it as a special EastEnders week away, which the show used to do fairly regularly - and we pitched to Ben Stephenson this special week of EastEnders set in Spain.
"We knew that the Slaters had frequently holidayed in Spain so it felt obvious. But as Ben and I were speaking, we realised that there was so much to tell even just for that week. In fact enough for a series of its own. Kat and Alfie are such beloved, rounded, classic EastEnders characters, they could work in a whole new universe - and other characters and their stories could be created around them.
"Something still didn't sit right and that was Spain. It was obvious - too obvious. We wanted this to be fresh, different and to have soul. It was while I was on holiday in New Orleans that I came up with the idea to set this new drama in Ireland. It was St Patrick's Day and there were huge parades through the city, everyone was drinking in the sunshine…and everyone was claiming to be Irish.
"Ireland hasn't been seen in a big mainstream television way since Ballykissangel in the 90s - and in the Slater family biographies they say that the Slaters' origins were in Ireland. Shane Richie and Jessie Wallace are both from big Irish families, as am I. Ireland felt right.
"Soon, scripts were coming in and Vicky was driving around Ireland with BBC Production Executive Christine Healy to find the village that would be our Redwater - and setting up a whole new production team over in Ireland.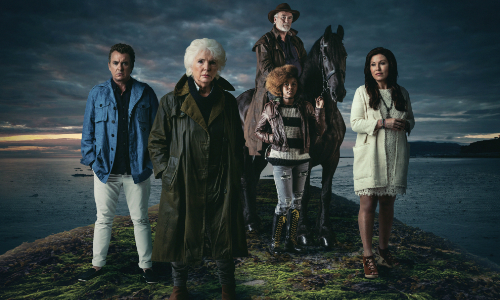 "Filming began around the beautiful seaside town of Dunmore East last summer with a talented, hard-working Irish crew and a cast of Irish acting royalty. It's become a cliche to say that the cast and crew on a show become a little family - but this happened and we hope that the love we all have for Redwater shows through on the screen.
"We've created a companion character piece to EastEnders, a whole new world of secrets and lies and a new cast of characters that we hope viewers will take to their hearts, as much as they have Kat and Alfie."
Six weeks of on-location filming took place in the village of Dunmore East, County Waterford, with Coliemore Harbour in Dalkey also used as a filming location.
The script called for a seaside town or village and out of the options found by the location management team, Dunmore East was chosen. Dunmore East was essentially renamed to Redwater during filming, with the local council and businesses getting involved.
When asked about the different process and experience of filming the new drama in Ireland compared to shooting 'Eastenders' Jessie Wallace the actress who plays Kat said:
"It's a much steadier pace and it's all shot on single camera, which looks beautiful. When you're shooting a drama like EastEnders it is such a fast turnaround, that you're filming about 26 scenes a day. Whereas here you can spend a whole day on one scene and concentrate on another level of detail."
Talking about the Irish crew and cast working on 'Redwater' and if she had any particular highlights from shooting in Waterford Jessie remarked, "We've had an amazing team to work with that have such interesting drama backgrounds, from Ripper St and Game Of Thrones to Penny Dreadful . I think they are the best team in the world; it's been a whole new experience being here.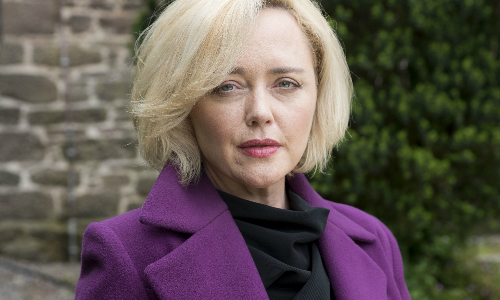 "I've done my own stunts and my highlight would probably have to be where I jump from a boat into the sea, and the underwater sequence. Although we shot that in Dublin and it was freezing cold!
"Dunmore East is a little jewel that I'd never heard of. Every corner you turn there's something beautiful, with stunning beaches, and the people here are so friendly and welcoming."
An all-Irish cast join EastEnders Kat and Alfie for the brand new drama series which is a co-production between Ireland's Element Pictures for RTÉ and the BBC. Includes actors such as Ian McElhinney (Star Wars: Rogue One), Fionnula Flanagan (Song of the Sea), Angeline Ball (The Commitments), Peter Campion (Brooklyn) and more.
Angeline Ball had this to say about working on 'Redwater' "I guess we all had to merge styles and characters in this and make it work. They're a lovely, lovely pair to work with and we all really enjoyed it. It's great to see such established British actors come here and absolutely enjoy the way we work.
"We've welcomed them with open arms and they've done the same, so it's been a two-way street. And hey, we got to shoot in stunning Irish locations all over the summer!"
'Redwater' starts this weekend on RTÉ One, Sunday, May 14th at 9.30pm ahead of BBC One's broadcast on Thursday 18th May.
You can watch the recent trailer released by RTÉ for 'Redwater' below.