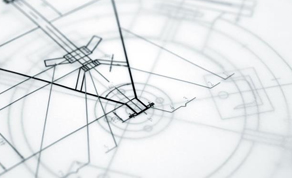 Drafting Sample
The five-day course begins Monday May 8th, 2017 and takes place in Smithfield, Dublin. It is aimed at trainees, trainee drafts people and assistant art directors interested in honing their skills to intermediate level.
The deadline for applications is Thursday April 27th. A breakdown of training topics per day is provided below.
Day 1
Review of basics of surveying, use of surveying equipment and information that needs to be acquired on a survey, sketching of plans and elevations for purposes of recording data
Use of photography to record detail
Introduction to the interior/exterior space to be surveyed with a view to the areas of greatest interest
Review of participants' survey notes
A quick review of principles of scale and dimensioning prior to drawing up of the surveys
Day 2
Time to finish survey drawings if required
Introduce the main exercise of drawing up of a new set to either complement an exterior space or fit in an interior space
Setting up new drawing, choosing a scale and starting plans/elevations of a new set
Short slideshow at end of day using an example of a set from Game of Thrones to demonstrate how the design process works from preliminary concepts, choosing a location, creating construction drawings and building the final set
Days 3-5
Carry on with drawing up of a set
Introduction to doors and windows and other important details
Discussion of line weight, using texture to indicate set finishes
Dimensioning and annotating drawings
Introduction to use/need for backing flats, painted backing/translates. Introduction to camera angles, lens tables
Review of drawings, Q&A based on participants' questions
Short presentation to finish up
About Brendan Rankin
Brendan Rankin is an art director and draftsperson with 20 years' experience in film and television. Art director credits have included Game of Thrones, Grabbers, Hunger, Closing the Ring and Leap Year, as well as draftsperson credits on a wide variety of productions from Braveheart, The Count of Monte Cristo, Veronica Guerin and City of Ember, as well as The Tudors, The Fall, Ripper Street and Vikings.
Visit Screen Training Ireland Online to Apply Now