In a 1940s vintage cream and gold dotted dress, Amy Huberman graced the stage to accept her IFTA award for Best Actress in a Lead Role in Drama on Saturday evening in the Round Room of the Mansion House in Dublin.
Recognised for her lead role in Striking Out the Irish based original drama series for RTÉ One, following the tumultuous professional and personal life of Dublin-based solicitor, Tara Rafferty (Amy Huberman) and her fledgeling legal firm.
Speaking at the IFTA's, IFTN asked Amy how it felt to win the award: "Honestly and I really mean it I'm not trying to be all faux humility. I genuinely hand on my heart was just chuffed to be nominated. I'm such a fan of all the actresses in that category as women and as actresses. I'm really grateful. I'm a little bit surprised. I'm proud of our show [Striking Out], I know this award is for me but it feels like it's for all of us involved in the show."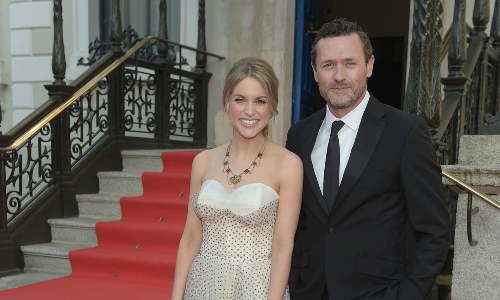 Amy Huberman on the red carpet with Jason O'Mara who won Best Actor in a Supporting Role Film for Siege of Jadotville
IFTN: 'Striking Out' is now available in America. How does it feel to have the show being viewed by an audience there?
Amy: "I knew it was being made available in America, but I didn't know what platforms it was going to be on and you never know what the reactions might be like. Being reviewed by The Hollywood Reporter and that stuff felt a bit surreal."
IFTN: Is there going to be a second series of 'Striking Out'?
Amy: "Yes!"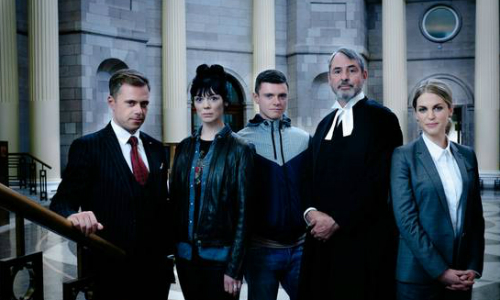 IFTN: How do you find Drama in Ireland? Do you think we've come a long way in terms of the standard that we bring to the table?
Amy: "Well I think yeah, I think drama is always evolving and there are great American shows that we see and that we're influenced by, and other European shows, and they all kind of lend to each other and then bring out their own individual flavour as well. But yeah I think things have certainly. Hopefully they continue to grow, we're producing really good content that we can enjoy here and that we can show abroad and be proud of."
IFTN: Do you think we are punching above our weight in terms of the standards considering we wouldn't have the same budgets as America for drama?
Amy: "I think we absolutely hold our own, and obviously yeah our budgets are smaller and everything, but we've got a really talented pool here and our industry has always worked like that because it's never been, we haven't ever had huge budget things unless it has been a big-budget production and so I guess it's usually the way we've worked and it's the budgets we're used to and I think we hold our own!"
IFTN: What do the IFTAs mean to you?
Amy: "The IFTAs is always such a great celebration of our little, small Irish industry and it's always a really, really good fun night supporting our actors, writers, directors, everyone! So it's always a fun night."
IFTN: What are you wearing?
Amy: " I'm wearing a 1940s vintage dress from Dirty Fabulous, and this is from a vintage shop Jenny Vander, so yeah I'm vintaged (laughs)– vintage face, vintage dress, vintage everything!"
Amy was nominated for Best Actress in a Lead Role in Drama in a very strong category of Irish talent which included, Caitriona Balfe (Outlander), Elaine Cassidy (No Offence), Ruth Negga (Preacher) and Anne-Marie Duff (Murder: The Lost Weekend).
'Striking Out' is produced for RTÉ by Katie Holly and Yvonne Donohoe of Blinder Films with international co-financing from DCD Rights and Acorn Media Enterprises. The series was created by James Phelan ('Wrecking the Rising'), written by Rob Heyland ('Between the Lines','Whistleblowers'), Mike O'Leary ('Eipic', 'Misfits') and James Phelan and directed by Lisa James Larsson.
Full coverage of the 2017 IFTA's will air on RTÉ One tonight Tuesday 11th April at 22:15.