TG4's 'Ros na Rún' cast and crew celebrated the wrap of its 21st season this month. Once the final scene was shot on set on Friday 10th February, the cast and crew of TG4's flagship Irish language soap opera made their way to the end of filming wrap party in the Connemara Coast Hotel.
While the show will continue to broadcast on TG4 until June 16th 2017, actors and crew let their hair down and celebrated completing their milestone 21st season of filming in true Connemara style!
Writers, directors, producers and camera crew mingled with actors while one-half of the 'Ros na Rún' 6, the original cast members on the show since the very beginning, Máire Éilis Ní Fhlatharta and Fionnuala Ní Fhlatharta danced with Ros na Rún's infamous publican Tadhg Ó Direáin, played by Macdara Ó Fatharta.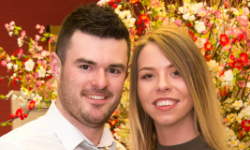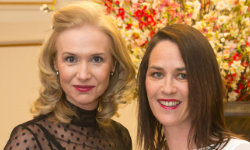 Assistant Editor of Irish Tatler, Domhnall O'Donoghue, who plays Pádraig on the soap popped in for a quick boogie before he jets off to Venice for a break. Kerry actor Seán Misteal and local Galway cast members discussed their story lines of the season.
Donegal cast members were out in force, and legendary Gaoth Dobhair actor Niall Mac Eamharcaigh who plays John Joe joked that they're lovingly referred to as the 'Japanese Knotweed' invaders by the Connemara crew on set!
Co-Producers of the series, Patricia Carroll, MD of Tyrone Productions and Siobhán Ní Ghadhra of Eo-Teilifís celebrated another successful series which employs a cast and crew of 160.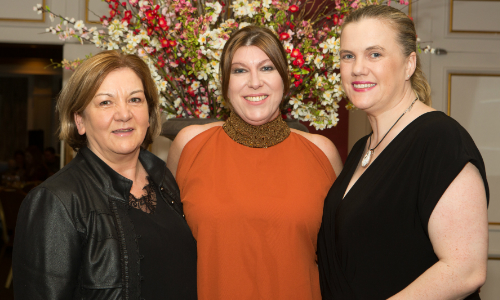 Pictured: Co-Producer of the series, Patricia Carroll (MD of Tyrone Productions), Deirdre Ní Fhlatharta (Executive Producer) and Co-Producer Siobhán Ní Ghadhra (Eo Teilifís).
Cast and crew enjoyed a feast of Connemara culinary delights; Galway Bay seafood washed down with a glass of bubbly before dancing late into the night!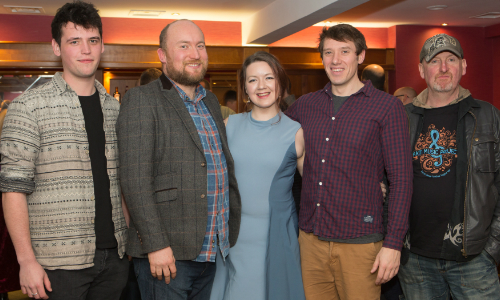 Filming of the season might be over, but the series continues to air until June 16th with many exciting stories in the lead up to the most explosive season finale 'Ros na Rún' has ever seen in the last 2 decades!
'Ros na Rún' airs on TG4 on Tuesday & Thursday at 8.30pm with an Omnibus at 7pm on Sundays.
For more information please visit www.rosnarun.com
Or like and follow 'Ros na Rún' on Facebook and Twitter.