The Irish actor best known for his role as Aethelwulf caught up with IFTN during a break on set, to talk about 'Vikings', which returns tonight on RTÉ 2 after it's mid season break, 'Black 47', Lance Daly's famine feature which Moe is currently filming, 'Handsome Devil', 'Patrick's Day', and his next project 'The Mute' filming in Poland later this year.
Moe: I'm in Kildare on the set of Black 47. We shot four weeks over in Luxembourg and we're filming in Ireland now; we're going to be travelling from Wicklow, Connemara and Kildare so we're going to see all of the Irish countryside filming.
IFTN: It's interesting that 'Black 47' is our first famine feature
Moe: Yes. I'm actually quite proud to be part of the story because it's probably the best cast I've ever worked with. It's a really exciting script, but also, it hasn't been done before in Ireland. It's a famine movie and it's important, really, to tell a story from that time. Especially with an Irish crew shooting on these locations, it feels good.
IFTN: And this is your first time working with Lance Daly?
Moe: It's wonderful yes. Lance has a really great attention for detail for all things. It's helpful for the actors. For example, how people would've looked in that time, down to the last detail, the grease on the hair. He really wants to make it accurate, and authentic.
IFTN: Let's talk 'Vikings'. It's been an amazing success. I don't know if Ireland realises how successful it is internationally. The show continues on RTE Two tonight, back after it's mid season break.
Moe: Absolutely. If I wasn't from Ireland, I would be proud of it myself because the show has all the elements.
I'm really proud to be part of the show - I really really am, and I hope that people know that it's going to be on a double episode this Wednesday night because the loyal fans waiting for it to air on RTÉ.
This season is better than any season yet, and all of the elements that people like of the series are in this. And it builds, builds and builds to a really exciting finish, which asks a lot of questions and which still pertains the idea of family and the continued story of family.
When you look at it, Ireland covers and doubles for, maybe, five or six countries on its own. They shoot France and Paris scenes there in Wicklow. They shoot England, they shoot Morocco, doubles for countries. But it just looks fantastic for the Scandinavian countries. I think that's why people are so hooked on it, essentially, yes, it's historic but it's based in reality and because it's such an interesting story of a simple farming man who is curious. I think people just really latched on that.
But it's become more successful and more popular this year and I think people are surprised when they hear that it's an Irish-Canadian co-production but 90% of the crew are Irish. They have been trained in colleges, in IADT, and in arts and crafts, hair and makeup, anyone who goes through film school and studies will go on to either intern or work on the show on some stage.
Growing up, I watched movies like 'Braveheart' and then you discover that those movies were shot in Ireland; and now I'm working on a show with a lot of the crew that worked on that job! So the show is a mix of this international talent from Scandinavia, Canada, Denmark, England and from all over the world mixed with the best Irish crew. I've learned a lot over the past four years, because I'm incredibly lucky to have even worked with the directors we get in each episode, and I learned a hell of a lot from the crew, they're as hard working as I've ever met, because they're so proud of the job and they love it.
IFTN: It sounds like a really tight group as well!
Moe: It certainly is! I'm working on Black 47 now and a lot of the background actors come from Vikings, so the fact that it's like a family crew here all over again.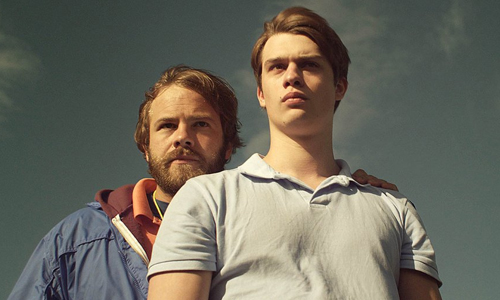 IFTN: And of course we'll see you next on the big screen in John Butler's 'Handsome Devil' with Andrew Scott.
Moe: Yes you will indeed. We were all excited to work with Andrew Scott, all the actors that played the rugby lads, but John really just created a relaxed energy on set and [laughs] he'd be the first person to joke to you that he was an absolute bully, but that was because he was so nice. But John has real understanding of language, the importance of it and each word really matters to him.
He understands it so well that he's confident in his work and allows the actors to just play with them, so each scene we'd do we had a lot of fun in completely different ways each take, it was the most fun I've had on a set on Handsome Devil, so I think it's a real crowd pleaser really.
And Andrew, I think he's really quite iconic at his role of Mr Sherry. Iit's a different type of part but just as Robin Williams was associated with or owned the role of Mr Keating in Dead Poets, Andrew has a similar sort of role.
I hope it goes out to people that it's written for, that John wrote it for and at this time-- it's a comedy but there are real serious elements of youngsters coming to terms with who they are and who do they listen to; do they listen to teachers just because they're in a position of authority or do they listen to discern it. It was lovely film to work on it.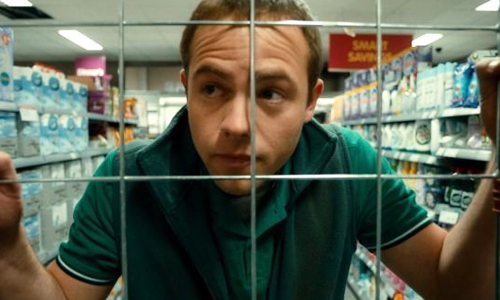 IFTN: 'Patrick's Day' (which earned Moe a Best Actor IFTA) received such a great response on social media – trending for two days after the broadcast on RTE. Writer/Director Terry McMahon spoke to IFTN about the hugely positive public response earlier this week. Tell us your thoughts on the reaction by the Irish public.
Moe: "I was just really glad that the people who didn't get a chance to see it in the cinema were able to see it on TV screens. I was really shocked with the response but the film touches the nerves.
"I was just so proud of Terry; the work that he's done with Home Sweet Home and that he is a man - and a writer of our times; he is a filmmaker of our time – he raises important issues to our society - mental health and homelessness. He's a genius of a writer and director, he really is. I was glad to see it went down so well.
IFTN: What's up next after 'Black 47'?
Moe: I go to Poland to shot a movie 'The Mute' by Oscar nominated director Bartek Konopka. We'll be shooting a movie for a couple of months and it's a really, really exciting tale set in Medieval times. It's really akin in themes to The Mission so I've been going over back in Ireland rehearsing with them, and start mid-March.
Vikings returns to RTÉ2 tonight at 9.30pm after the mid season break, with a double episode.