Vogue returns to our screens on RTÉ 2 at 9.30pm tonight with the second episode of her new four part 'On the Edge' series. Obsessed with perfection will see Vogue striving to understand the mind-set of a generation obsessed with extreme notions of physical beauty.
IFTN spoke with the 30 year old DJ, model and presenter about the new series, which was made by Waka TV for RTÉ 2, the production company have also made Vogues previous shows including 'Vogue's Wild Girls' and 'Vogue Does Straight A's'. When asked where the idea came from for the new 'On the Edge' show, Vogue said " Well, I write for the Sunday world as a columnist, so get ideas for topics that I want to talk about from things that are happening every day."
Throughout the four part 'On the Edge' series, Vogue who was a nominee for the IFTA Gala Rising Star award this year, investigates issues which affect the lives of her own millennial generation. Cheap on-line synthetic drugs, obsessive reverence for 'the body beautiful' and a sharp rise in body dysmorphia, she looks into gender dysphoria where people don't identify with the gender they were assigned at birth. And social anxiety issues, which are said to be the number one mental health problem faced by under 35's in Ireland.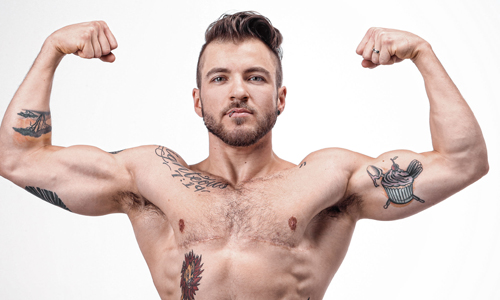 Vogue spoke about what it was like to present the new show, "I was engaged with all the topics we looked at across the series. I think it helps when you are interested. I always had a million and one questions to ask the people I met with," she said.
When asked about the expectations she had going into making the series and whether her perceptions may have changed on any of the topics she looked into Vogue told IFTN, "For the 'Transgender Warriors' episode I was really nervous, I felt it was so easy for me to say the wrong thing. But during filming I really felt their kindness, the whole transgender community was so welcoming to me, they were not judgmental and they were really informative and open to my questions."
Vogue spoke of the reactions she had received from that first episode which was broadcast last Tuesday night on RTÉ 2. "I was delighted as it was unexpected, in that it was all so positive the feedback, I've had people contacting me and coming up to me and thanking me for providing some more understanding around the transgender community."
"For the Addiction episode it was probably some of the most fun times I've had filming," Vogue told us of a particular memorable moment during filming on the streets of Dublin for the episode. "I was sat on the ground beside an addict who was sat on his bag and during conversation he jumped up and gave me his bag to sit on. He really had nothing but the small thing he did have he offered it to me. He was so polite and mannerly, his kindness as a person showed in that moment. You see addicts on the streets, but you never get to know them."
When asked what type of audience the show is aimed at Vogue responded, "I definitely think this type of show is great for all generations, I think anybody can watch this and find it informative, we can all learn something from the topics being discussed."
Tonight's episode see's Vogue compete in the bikini athletics category at one of Europe's biggest and most ferociously contested body fitness events in Birmingham. Vogue admits she trains five times a day but really didn't want to be eating chicken & broccoli all the time. She wanted to find a healthy balance between food & gym workouts. ""It was a totally different world. I found it really hard and daunting the dedication, the restrictions. There's so much hard work you put in to making yourself miserable to achieve perfection. They view it as a sport and I really think 8% body fat is too low, it's not healthy," she says about the 8% bodyfat level required of top 'Bikini Athletes'.
Vogue started shooting for the new series at end of April and said it took about 10 days for each episode. As part of the filming Vogue shot in various locations across Ireland, the UK, Zurich in Switzerland and LA and Chicago in America.
Waka TV is the name of the production company behind the new 'On the Edge' series. On camera was, Enda O'Looney and sound, Sue Downey. It was produced and directed by Marion Cullen. The executive producer for Waka TV was Warren Meyler
It was commissioned by Bill Malone for RTÉ, It was executive produced by RTE Entertainment and the executive producer for RTÉ was Brian Pairceir.
The off-line editor was Stephen Doran, on-line editors were Rory Gavin, Nik Dunne, and Derek Pelley. Sound mix, Colm O'Rourke, all post production was done at Raygun Studios.
The obsessed with perfection episode of 'On the Edge' airs tonight on RTÉ 2 at 9.30pm.