The six-part series boasts a wealth of Irish talent and chronicles the experiences of a traditional Irish band, with the death of their leader brings them back together after 25 years.
An Irish Film & Television Academy screening of 'Fir Bolg' will take place in the Sugar Club on Saturday August 30th at the Sugar Club in Dublin 2.
This will be first look at the new series, which has been commissioned by TG4 and produced by Danú Media and Dearg Films. Cast and crew will attend the screening and partake in an exclusive Q&A session on the night.
Synopsis
'Fir Bolg' is a 6 part comic drama directed by Tom Sullivan that tells the troubled story of a group of musicians. 25 years after an acrimonious split, Ireland's greatest traditional band decide to hit the road again. But, with the absence of their founding member, the road to a happy reunion is far from smooth. This series follows the Fir Bolg as they attempt to recapture a moment in time amid bitter breakups and sweet reconciliations.
Cast & Crew
Director Tom Sullivan is a two-time Galway Film Fleadh award-winner, with shorts 'Asal' and 'Mechanic' taking home the title of Best Live Action Short in 2011 and 2013 respectively. Producer/writer Brian Reddin holds multiple IFTA nominations, two for Best Documentary and a third for the Special Irish Language Award in 2012.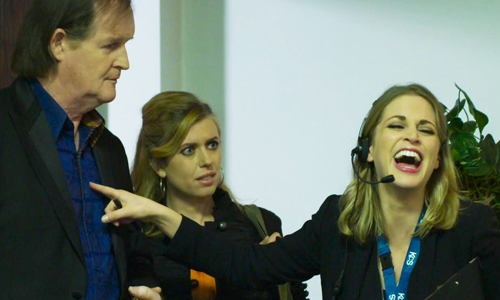 The cast is led by Irish actor Sean McGinley, whose credits show a longstanding involvement in Irish productions. This includes a wealth of projects from classics 'Braveheart' (1995) and 'The Butcher Boy' (1997) to a supporting role in 'The Wind That Shakes the Barley'.
Additional acting talent includes Caroline Morahan, Tim Creed, Peadar Cox and Don Wycherley. Cameo roles include appearances from Amy Huberman, Liam Cunningham, Daniel O'Donnell and Brendan Grace.
Writer/Producer Brian Reddin
We catch up with the writer and producer behind the project ahead of the event, who tells us all about the road to the small screen and how he attracted such a wealth of Irish talent. Reddin pitched the concept of the series to the former TG4 Commissioning Director Micheál O'Meallaig, who provided him with development funding in order to write the first of the six episodes.
He cannot overstate the level of support he received from Ó'Meallaig throughout the development process. He also helped the team secure additional funding from Section 481 and the BAI. Reddin insists the project would not have been completed without his support, and is grateful for his commitment and belief in him as a writer.
TG4 was Reddin's first and only choice, as he feels the combination of older original actors and the ability to tap into the Celtic music era is a perfect blend of content for the broadcasters' audience. He describes his story as an intimate drama with a lot of comedy, which can be a difficult format to pitch. Recent content produced by TG4 are a point of praise for Reddin however, who exclaims that projects such as 'An Klondike' and 'Éirí Amach Amú' are fantastic signs that the broadcaster is willing to take chances on risky series, which garner great success.
Reddin is no stranger to TG4, for whom he has written and directed a number of short dramas. It was his experience with documentary however, which gained him access to the stellar collection of Irish talent. He explains he interviewed several key members of the cast and cameo characters, such as Stephen Rae and Patrick Bergin for documentary projects. This initial relationship is what allowed him to schedule so many familiar Irish faces throughout the 6-week shoot.
Director Tom Sullivan is also well known for his work as an actor, which widened their range of contacts in acting circles wider still. Reddin commends the addition of Sean McGinley to the cast, describing him as a fine international actor who automatically added prestige and a high calibre of additional cast members to the project.
Impressively, the music which features in the show are all original songs, with an original sound created for the Fir Bolg band and all lyrics also penned by Reddin.
'Fír Bolg' is set to air in early November, with Reddin and his fellow crew members already eager to get the green lights for a second series of the show. The current series of this project is supported by TG4, the BAI and Section 481.