IFTN talks to Brian Nolan on what to expect from the upcoming workshops, where the initiative comes from and what life is like for film and TV professionals in the busy hub of Co. Kerry.
The Kerry ETB Training Centre is based in Tralee offering full and part time courses to those looking to progress in or re-enter the jobs market. Media has become a large segment of their offering with courses in Broadcast, Radio and Digital Media Production. Brian Nolan tells us more about the Dawn series.
Where does the Dawn Workshop series get its name?
Brian Nolan: The Dawn workshop series is a non-profit industry training initiative supported by the Kerry ETB Training Centre, Tralee. It is named in honour of the 1936 film 'The Dawn' which was shot in Killarney and was the first full-length "talkie" filmed in Ireland. My class have just finished a restoration of the film and we will be premiering this in September with, hopefully, some important guests!
When asked why he launched the Dawn Workshops initiative, Brian tells us he looked at attended similar training courses in the US and was overwhelmed at the costs. He also points out that a majority of Film and TV training in Ireland is run out of larger areas such as Dublin and Galway, with a need for improved opportunities in the South West.
Running since 2013, Brian coordinates the workshops in his spare time with a combination of participants' fees and a little support from Kerry ETB.
What training topics have you covered in the last three years?
Lighting for Features
Cinematography
SFX Makeup
Health & Safety Passport
Lighting for Features
Multicam Directing
Grip for film & TV
Lighting & Cinematography
Post - HDR & Quality Control
What can we expect from the upcoming workshops in July?
The latest Dawn Workshops are a free training opportunity focusing on post production for Intermediate to Advanced Industry Personnel. Running on the 4th and 5th of July in the Tralee Training Centre:
4th July: HDR (High Dynamic Range) & WCG (Wide Color Gamut) with Martin Parsons
5th July: Quality Control & Deliverables for Broadcast with Martin Parson & Michael Wrightson
Why did you choose these topics for your next workshops?
HDR/WCG video will definitely be the future. This is the delivery mechanism that will be able to show the true quality of those cameras in the market at the moment that can shoot beyond REC709 - RED, ARRI, or BM. The deliverable for students at the end of the workshops is to really understand what broadcasters require, as it is a prerequisite for anybody in post.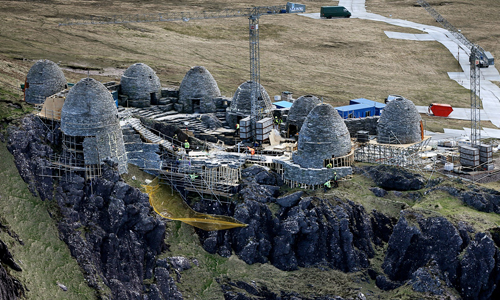 What at the atmosphere in the South West been like with 'Star Wars' filming in Kerry?
Kerry is on a roll at the moment. Film tourism is huge and the true extent of Kerry's exposure in 'Star Wars', 'The Lobster', 'The Bachelorette' and 'Top Gear' will take years to quantify. On a personal note it has been amazing to have our trainees work on these shows and others in our backyard.
Dingle looked fantastic in the recent 'Top Gear' episode. Would you say it has inspired confidence in filmmakers living outside of the busier hubs like Dublin?
Even without a dedicated film resource in Kerry, like the Galway Film Centre or Filmbase, Kerry Filmmakers are just doing it. I am getting calls from new local filmmakers everyday asking for advice and assistance.
We have such a varied landscape down here that whatever genre you want to shoot we have a backdrop to suit, just have a look at local filmmaker Pat O'Neill's trailer for his amazing visual spectacle 'The Uncountable Laughter of the Sea'
Can we expect more Dawn Workshops in the future?
Brian has a host of topics lined up, and not surprisingly locations features in the list:
Color Grading
Visual Effects (VFX)
Technical Direction (TD)
Assistant Directing
Dual Cinematography
Location Sound
Keep up to date with The Dawn Workshops on Facebook, and Kerry ETB Training Centre online.

IFTN Company Profile: The National Skills Centre