Creative post-production company Gorilla Post has moved premises from their previous space on Herbert Lane to a 3,500 square foot custom-designed new facility on Merrion Square.
Gorilla Post was founded in 2009, and quickly attached itself to some well-known Irish titles - providing post-production work on the IFTA-winning TV series 'John Lonergan's Circus' (Independent Pictures), Gerard Barrett's critically lauded debut feature 'Pilgrim Hill' and the box office success 'The Hardy Bucks Movie' (Hardy Films) and the sound mix for the IFTA-winning documentary 'The Pipe' (Scannan Inbhear).
With past credits also including popular television series like 'The Mario Rosenstock Show' (Caboom), sports documentaries such as 'The Notorious Conor Mc Gregor' (Motive TV) , "Tommy Bowe's Bodycheck" (Independent Pictures), and "Galvinised" (Loosehorse Productions) the upscaling of the company to its current premises was inevitable to its' founder Barry Reid.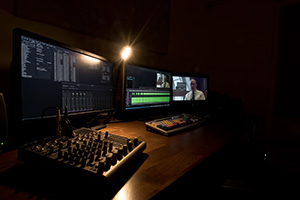 Speaking to IFTN he said: 'Since setting-up five years ago we gradually began to outgrow our previous office on Herbert Lane. Towards the end we eventually had two Mews buildings side by side, which ran our audio and video departments - but space was limited. The next logical step was to start looking for a bigger facility that fitted everything under one roof - and gave us more room to expand. So we found the perfect space in Merrion Square.'
Gorilla Post's new facility comprises of three edit suites, two large recording studios, a large grading & finishing suite and spacious client / reception areas. They now provide the full post production service from offline editing, grading, VFX, mixing and finishing - in a much bigger space.
Reid continued: 'It's a major investment but this is how we saw our business develop. We weren't happy just doing audio or just being a finishing house. I feel we have a great deal more to offer now having multiple edit suites as well. All three are currently in use on a series and without them we wouldn't be working on the rest of the post. We've also "multi-purposed' these rooms for sound design and graphics, not just for video editing. So we made sure to make each suite as flexible as possible. We've also invested in our broadband and network infrastructure, which is vital as broadcasters now request file-based delivery and upload. And fast!'
A busy 2014 saw Gorilla Post working on well-regarded animation series such as 'Puffin Rock', produced by the recently Oscar nominated Cartoon Saloon. Other animation series include Kavaleer's 'Wildernuts' and 'Inis Spraoi' by Monster-Magpie Productions. So far 2015 has seen the much talked about Conor McGregor six part series 'The Notorious' land at their door (after providing some post production work on the original documentary in 2014) and Reid lets us in on what else they will be working on in 2015.
'2015 so far is actually proving to be 'the year of the second series' for us. For example "The Estate – Darndale", 'Prison lives', 'Cork Mega Port' and in animation 'Puffin Rock', and 'Wildernuts' are back for a second series too. These are all booked and in post-production right now. It's always a good sign when a second series comes back. It means we're doing our job right!'
So, with 2015 the year of the second series, what makes all these projects consistently return to Gorilla Post, according to Reid?
'I think we've carved out a distinct niche for ourselves over the last few years. What makes us unique is our relative size and our approach. We're a "one-stop shop" so clients can do all their post under one roof – in superb facilities - yet our clients are given much more flexibility and attention. As an owner-operator I'm across all projects supervising the mixes, grades, edits and the onlines. I'm regulalry liasing with our clients making sure everything is as it should be. So we provide that certain level of attention and consistency, which often isn't found in other facilities, I believe. And it shows in our repeat business and regular referrals.'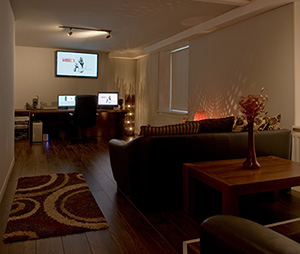 More information about Gorilla Post, their new facilities and upcoming projects can be found on their website: gorillapost.ie.