The extension of the Irish film and television tax incentive has officially been signed into law, with the publishing of the Finance Bill this week.
The Irish film and television tax incentive, known widely as Section 481, has officially been extended to 2020, following Minster for Finance Michael Noonan's announcement last December, in Budget 2013.
The Bill confirms the current value of Section 481 will increase from 28 per cent to 32 per cent of qualifying expenditure from 2015.
Minister for Arts Heritage and the Gaeltacht Jimmy Deenihan (TD) welcomed the confirmation today, as he visited the set of 'Frank', the latest feature film to benefit from Section 481.
Speaking from the set, Minister Deenihan said: "The commitment to Section 481 highlights the support of the Government for the film and television industry in Ireland. Supported by the Irish Film Board and Section 481, 'Frank' is an example of the excellent work the Irish film industry is producing and I was delighted to meet the cast and crew on set today."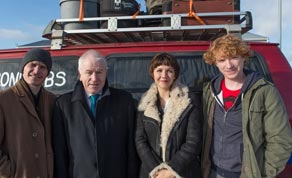 Minister Deenihan (second from left) with 'Frank' cast
'Frank', directed by Lenny Abrahamson and co-produced by Ireland's Element Pictures and the UK's Runaway Fridge Productions, is currently shooting in locations in Dublin and Wicklow.
Kerry actor Michael Fassbender is starring alongside recent IFTA-winning actor Domhnall Gleeson and Oscar-nominated actress Maggie Gyllenhaal. All three actors are expected to sing in the film, which is centred on a band, fronted by eccentric lead man Frank, played by Fassbender.
'Frank' is the latest big-budget project to benefit from Section 481, following 'Vikings', which shot in Wicklow last year, and brought in more than €20m revenue to the country. A World 2000 Entertainment, Octagon and Take 5 production, 'Vikings' stars Gabriel Byrne and Travis Fimmel, and will air on The History Channel on March 3.
As well as 'Vikings', BBC series 'Ripper Street', also an Element co-production with the UK's Tiger Aspect Productions and Lookout Point, put an estimated €8m back into the Irish economy, having benefited from Section 481. 'Ripper Street' has just been commissioned for a second series.
Commenting on the recent amendments to Section 481, James Hickey, chief executive of the IFB, said: "The legislation published this week demonstrates the proactive approach that the Irish Government is taking in its commitment to the Irish film, television and animation industries. The enhancements to Irish tax incentive, Section 481, together with a modern film studio infrastructure, experienced local producers, award-winning cast and crew and beautiful film locations, makes Ireland a competitive base for international film and television.
"The Irish film, television and animation industry has demonstrated itself as an important contributor to the Irish economy, investing over €200 million, in terms of Irish spend on jobs and services, to the Irish economy in 2012."
Learn more about Section 481 on IFTN.