'What Richard Did' & 'Love/Hate' dominated the IFTA Awards last Saturday night, picking up 11 awards between them.
'What Richard Did', the feature film of the night, won five awards out of a total of 10 nominations, including Best Film and Best Director for Lenny Abrahamson.
Lead actor Jack Reynor, who played wealthy teen Richard Karlsen in the Element Pictures production, picked up the Best Actor Award, while screenwriter Malcolm Campbell won Best Script.
The feature was well represented on the night, with Abrahamson, Reynor and Campbell all in attendance, as well as producer Ed Guiney, Andrew Lowe, Nell Roddy, and many more from the Element team. The production company, which had a total of 20 nominations across both film and TV categories, also produced 'Shadow Dancer' and distributed 'Grabbers' and 'Good Vibrations', all of which were nominated for Best Film.
Representing the TV categories, RTÉ series 'Love/Hate', which was nominated for 11 awards in total, went home with six awards.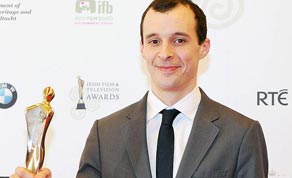 Tom Vaughan-Lawlor with his Best Actor TV IFTA
It took home Best Drama, Best Director for David Caffrey and Best Script for Stuart Carolan, while actor Tom Vaughan-Lawlor picked up Lead Actor TV for his role as gangland boss Nidge, and his co-stars Charlie Murphy and Susan Loughnane picked up Best Actress and Best Supporting Actress respectively.
'Moone Boy' was another big winner in the TV categories, picking up Best Entertainment Show, with cast Chris O'Dowd, David Rawle, Aoife Duffin, Peter McDonald and Claire Monnelly all in attendance, along with the show's co-writer Nick Vincent Murphy.
Other winners include Gerard Barrett, director of 'Pilgrim Hill', who won the Irish Film Board Rising Star Award, and Domhnall Gleeson, who picked up Best Supporting Actor for 'Anna Karenina'.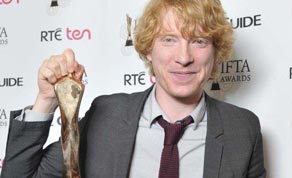 Domhnall Gleeson with his Best Supporting Actor IFTA
In the craft categories, 'Ripper Street', the Irish-English co-production which has just been commissioned for a second series, picked up Best Production Design, accepted by designer Mark Geraghty, with Sharon Doyle and Eileen Buggy winning for Best Makeup and Hair.
Niall Byrne won Best Original Score for TV series 'Loving Miss Hatto', while psychological thriller 'Citadel' picked up best Sound. Seamus McGarvey was awarded best Director of Photography in Film for 'Anna Karenina', while Michael O'Donovan won for TV for 'Gaeil Nua Eabhrac'.
In total, 41 IFTAs were awarded on the night. The 10th anniversary event was held at the Convention Centre in Dublin, with more than 1,000 film and TV industry members in attendance. Simon Delaney was the host for the third year in a row, while Jack L and the RTÉ Concert Orchestra provided the musical entertainment.
A gala dinner was held in the ballroom of the CCD, with The Camembert Quartet the house band.
You can catch the IFTA ceremony on RTÉ Player now.
The full list of winners:
FILM
What Richard Did (Ed Guiney, Andrew Lowe, Element Pictures)
Death of a Superhero (Michael Garland, Astrid Kahmke, Bavaria Pictures, Grand Pictures)
Good Vibrations (Chris Martin, Andrew Eaton, Canderblinks Films)
Grabbers (David Collins, Martina Niland, Forward Films, High Treason Productions, Samson Films)
Shadow Dancer (Ed Guiney, Andrew Lowe, Element Pictures)
DIRECTOR FILM
Lenny Abrahamson, What Richard Did (Element Pictures)
Pat Collins, Silence (South Wind Blows and Harvest Films)
Ian Fitzgibbon, Death of a Superhero (Bavaria Pictures, Grand Pictures)
Martin McDonagh, Seven Psychopaths (MomentumPictures)
SCRIPT FILM
Malcolm Campbell, What Richard Did (Element Pictures)
Kevin Lehane, Grabbers (Forward Films, High Treason Productions, Samson Films)
Martin McDonagh, Seven Psychopaths (MomentumPictures)
Kieron J Walsh, Steve Brookes, based on the stage play Jump by Lisa McGee, Jump (Hotshot Films)
ACTOR FILM
Jack Reynor, What Richard Did (Element Pictures)
Richard Dormer, Good Vibrations (Canderblinks Films)
Colin Farrell, Seven Psychopaths (MomentumPictures)
Martin McCann, Jump (Hotshot Films)
Jack Reynor, What Richard Did (Element Pictures)
ACTRESS FILM
Ruth Bradley, Grabbers (Forward Films, High Treason Productions, Samson Films)
Anne Marie Duff, Sanctuary (Venom Films, Wajda Studio)
Roisin Murphy, What Richard Did (Element Pictures)
Seana Kerslake, Dollhouse (The Factory)
SUPPORTING ACTOR FILM
Domhnall Gleeson, Anna Karenina (Universal Pictures)
Ciaran Hinds, The Woman in Black (Momentum Pictures)
Michael McElhatton, Death of a Superhero (Bavaria Pictures, Grand Pictures)
David Wilmot, Shadow Dancer (Element Pictures)
SUPPORTING ACTRESS FILM
Bríd Brennan, Shadow Dancer (Element Pictures)
Bronagh Gallagher, Grabbers (Forward Films, High Treason Productions, Samson Films)
Charlene McKenna, Jump (Hotshot Films)
Gabrielle Reidy, What Richard Did (Element Pictures)
SPECIAL IRISH LANGUAGE
Lón sa Spéir – Men at Lunch (Sean & Eamonn Ó'Cualáin, Sónta)
Bernard Dunne's Bród Club (Production Team, Independent Pictures)
Congo 1961 (Akajava Films)
Rásaí na Gaillimhe (Great Western Films)
GEORGE MORRISON FEATURE DOCUMENTARY
Mea Maxima Culpa: Silence in the House of God (Trevor Birney, Eimhear O'Neill, Ruth O'Reilly, Below The Radar)
Barbaric Genius (Paul Duane, Screenworks)
John Ford: Dreaming the Quiet Man (Sé Merry Doyle, Loopline Films)
Skin in the Game (Donald Taylor Black, Poolbeg Productions)
SHORT FILM
Morning (Cathy Brady)
The Girl with the Mechanical Maiden (Andrew Legge)
Fear of Flying (Conor Finnegan, Lovely Productions)
Rhinos (Shimmy Marcus)
ANIMATION
Macropolis (Flickerpix Animations)
After You (Damien O'Connor, Cell Division)
Fear of Flying (Conor Finnegan, Lovely Productions)
Peter Rabbit's Christmas Tale (Brown Bag Films / Silvergate)
INTERNATIONAL FILM
Argo (Warner Bro)
Amour (Artifical Eye)
Life of Pi (20th Century Fox)
Lincoln (20th Century Fox)
INTERNATIONAL ACTOR
Daniel Day-Lewis, Lincoln, 20th Century Fox
Ben Affleck, Argo, Warner Bros
Bradley Cooper, Silver Linings Playbook, Canal Entertainment Film
Joaquin Phoenix, The Master, Entertainment Film
INTERNATIONAL ACTRESS
Marion Cotillard, Rust and Bone, Studio Canal
Jennifer Lawrence, Silver Linings Playbook, Entertainment Film
Andrea Riseborough, Shadow Dancer, Paramount Pictures
Emmanuelle Riva, Amour, Artificial Eye
TELEVISION DRAMA
DRAMA sponsored by Broadcasting Authority of Ireland
Love/Hate (Suzanne McAuley, Steve Matthews, Octagon Films)
The Borgias (Neil Jordan, James Flynn, Octagon Films)
Game of Thrones (HBO)
Titanic: Blood and Steel (Paul Myler, Roberto Minni, Ciaran Donnelly, Epos Films)
DIRECTOR TV DRAMA
David Caffrey, Love Hate (Octagon Films)
Ciaran Donnelly, Titanic: Blood and Steel (Epos Films)
Declan Lowney, Moone Boy (Grand Pictures, Baby Cow Productions, Hot Cod Productions and Sprout Pictures for Sky 1)
Aisling Walsh, Loving Miss Hatto (Left Bank Pictures)
SCRIPT DRAMA
Stuart Carolan, Love/Hate (Octagon Films)
Colin Heber-Percy & Lyall Watson, Saving the Titanic (Tile Films)
Neil Jordan, The Borgias (Octagon Films)
Chris O'Dowd & Nick Vincent Murphy, Moone Boy (Grand Pictures, Baby Cow Productions, Hot Cod Productions and Sprout Pictures for Sky 1)
Actor TV
Tom Vaughan Lawlor, Love/Hate (Octagon Films)
Gabriel Byrne, Secret State (Company Pictures)
Colm Meaney, Hell on Wheels (Endemol)
Robert Sheehan, Love/Hate (Octagon Films)
Actress TV
Charlie Murphy, Love/Hate (Octagon Films)
Orla Brady, Sinbad (Possible Pictures)
Carrie Crowley, Rasai na Gaillimhe (Great Western Films)
Amy Huberman, Threesome (Big Talk Productions)
Supporting Actor TV
Andrew Scott, Sherlock (Hartswood Films)
Peter Coonan, Love/Hate (Octagon Films)
Allen Leech, Downton Abbey (Carnival Films)
Chris O'Dowd, Moone Boy (Grand Pictures, Baby Cow Productions, Hot Cod Productions and Sprout Pictures for Sky 1)
Supporting Actress TV
Susan Loughnane, Love/Hate (Octagon Films)
Cathy Belton, Roy (Jam Media)
Ruth Negga, Secret State (Channel 4)
Deirdre O'Kane, Moone Boy (Grand Pictures, Baby Cow Productions, Hot Cod Productions and Sprout Pictures for Sky 1)
CRAFT / TECHNICAL CATEGORIES (FILM)
COSTUME
Good Vibrations, Maggie Donnelly (Canderblinks Films)
Loving Miss Hatto, Alison Byrne (Left Bank Pictures)
King of the Travellers, Joan O'Cleary (Vico Films)
Ripper Street, Lorna Marie Mugan (Element Pictures, Tiger Aspect Productions)
DIRECTOR OF PHOTOGRAPHY
Seamus McGarvey, Anna Karenina (Universal Pictures)
PJ Dillon, Game of Thrones (HBO)
Tim Fleming, Citadel (Blinder Films)
David Grennan, What Richard Did (Element Pictures)
Editing Film/Drama
Nathan Nugent, What Richard Did (Element Pictures)
Dermot Diskin, Love/Hate (Octagon Films)
Mick Mahon, Saving the Titanic (Tile Films)
Helen Chapman, Ripper Street (Element Pictures, Tiger Aspect Productions)
Makeup & Hair sponsored by MAC
Sharon Doyle, Eileen Buggy – Ripper Street (Element Pictures, Tiger Aspect Productions)
Morna Ferguson, Dee Corcoran – Loving Miss Hatto (Left Bank Pictures)
Lynn Johnston, Eileen Buggy – Shadow Dancer (Element Pictures)
Tom McInerney, Dee Corcoran – Titanic Blood & Steel (Epos Films)
Production Design
Mark Geraghty, Ripper Street (Element Pictures, Tiger Aspect Productions)
Tom Conroy, Titanic: Blood & Steel (Epos Films)
Stephen Daly, Love/Hate (Octagon Films)
Ray Ball, Saving the Titanic – (Tile Films)
Original Score
Niall Byrne, Loving Miss Hatto (Left Bank Pictures)
Ray Harman, Love/Hate (Octagon Films)
Steve Lynch, Saving the Titanic (Tile Films)
Stephen Rennicks, What Richard Did (Element Pictures)
Sound Film/Drama
Citadel – Garret Farrell, Hugh Fox, Steve Fanagan
Game of Thrones – Ronan Hill, Mervyn Moore
Titanic Blood & Steel – Dan Birch, Jon Stevenson, Garret Farrell
What Richard Did – Paddy Hanlon, Steve Fanagan, Niall Brady
TELEVISION PROGRAMMES
Childrens/Youth
Roy (JAM Media)
The Octonauts (Brown Bag)
OMG! Jedward (Tyrone Productions)
Ó Tholg go Tolg (Red Pepper Productions)
Current Affairs
Spotlight: Sean Quinn's Missing Millions (BBCNI)
Midweek: Rural Ireland Fights Back (TV3)
Prime Time – Profiting from Prostitution (RTE)
Vincent Browne Tonight (TV3)
Documentary
Congo 1961 (Akajava Films)
A Time to Die? (Yellow Asylum Films)
MND: The Inside Track (Independent Pictures)
WB Yeats – No Country for Old Men (Hot Shot Films)
Documentary Series
Bullyproof (Firebrand Productions)
24 Hours to Kill (TV3)
The New Irish After the Bust (Animo Television)
Ray D'Arcy: How to Beat Depression (Animo Television)
Entertainment
Moone Boy (Grand Pictures, Baby Cow Productions, Hot Cod Productions and Sprout Pictures for Sky 1)
Mrs Brown's Boys (RTE / BBC / BOC Pictures)
The Savage Eye (Blinder Films)
The Voice of Ireland (Screentime ShinAwiL)
Factual
The Radharc Squad (Tyrone Productions)
Dead Money (ProMedia Productions)
Room to Improve (Coco Television)
The Zoo (Moondance Productions)
Reality
Jockey Eile (Abú Media)
Masterchef (Screentime ShinAwil)
ICA Bootcamp (Independent Pictures)
Come Dine with Me (ITV Studios for TV3)
SPORTS
When Ali Came to Ireland (True Films)
Olympics (RTÉ)
Paralympics (Setanta Ireland)
Jump Boys (Touchline Media)
CRAFT / TECHNICAL CATEGORIES (TELEVISION)
DIRECTOR TV
Maurice Sweeney, WB Yeats No Country for Old Men (Hot Shot Films)
Alison Millar, The Shame of the Catholic Church (BBC Northern Ireland)
Damien O'Donnell, The Savage Eye (Blinder Films)
Lynda McQuaid, Masterchef (Screentime ShinAwil)
DOP TV
Michael O'Donovan, Gaeil Nua Eabhrac (Real Films)
Ronan Fox & Mick O'Rourke, WB Yeats No Country for Old Men (Hot Shot Films)
Kieran Slyne, My Civil War (RTÉ)
Feargal O'Hanlon, Lorg na gCos (Colm Bairéad Ltd/Midas Productions)
Editing TV
Brenda Morrissey, Inside the Department (Wildfire Films)
Mick Mahon, Gaeil Nua Eabhrac (Real Films)
Mick Mahon, Chaplin the Waterville Picture (Keeshla Communications Ltd) Zaini Darragh, The West's Awake (Iris Productions)
Sound TV
Am An Ghátair – Mark Henry, Conall de Cléir, John Brennan (Magamedia)
Scéal na Gaeilge – Paul Rowland, Niall O'Sullivan (ROSG)
WB Yeats No Country for Old Men – Killian Fitzgerald, Fiachra O'Hanlon (Hotshot Films)
The West's Awake – David O'Regan, Killian Fitzgerald, Zaini Darragh (Iris Productions)
IRISH FILM BOARD RISING STAR NOMINATIONS
Gerard Barrett (writer-director-editor-producer, Pilgrim Hill)
Lisa Barros D'sa & Glenn Leyburn (directors, Good Vibrations)
Ciaran Foy (director, Citadel)
Jack Reynor (actor, What Richard Did)